Summer salad dishes are perfect for lunch or dinner. They're simple to bowl together and are flavorful nonetheless. When the summer heat is in full swing, there's nothing as refreshing and satisfying as nutrient-packed salad dishes. Bursting with seasonal flavors and colorful ingredients, this makes it beautiful, delicious and also nourishing to our body.
So, put on your apron and get ready to embark on a culinary journey as we explore these seven appetizing and wholesome summer salad dishes that will leave you wanting more with every refreshing bite.
10 Healthy Summer Salad Dishes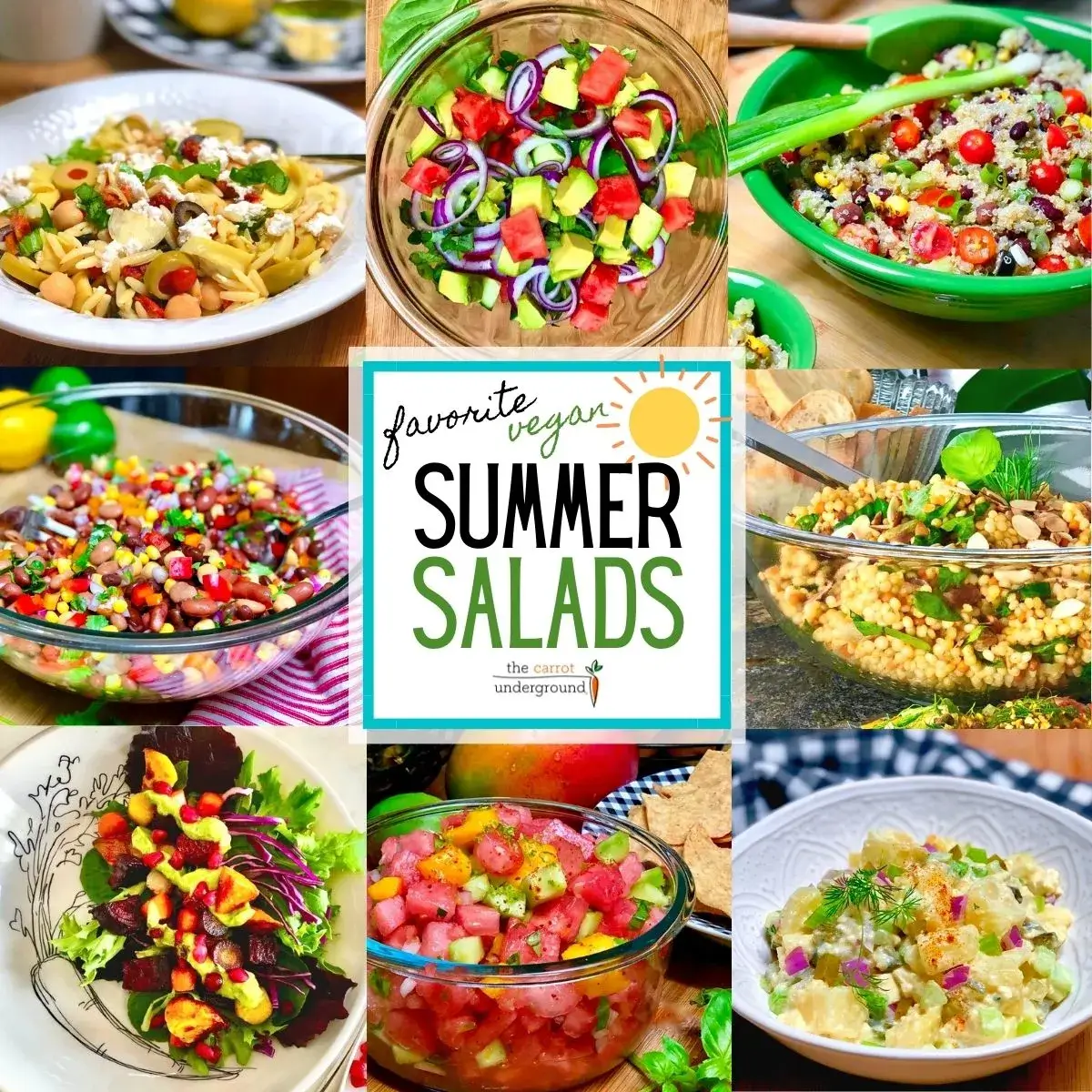 If you're looking to elevate your salad dishes and embrace the ton of summer produce, I have gathered seven healthy and mouthwatering salad dishes that are perfect for the season. From crisp greens to juicy fruits and crunchy veggies, these recipes are sure to delight your taste buds and keep you feeling rejuvenate all summer long.
#1 Grilled Chicken Salad With Apple and White Cheddar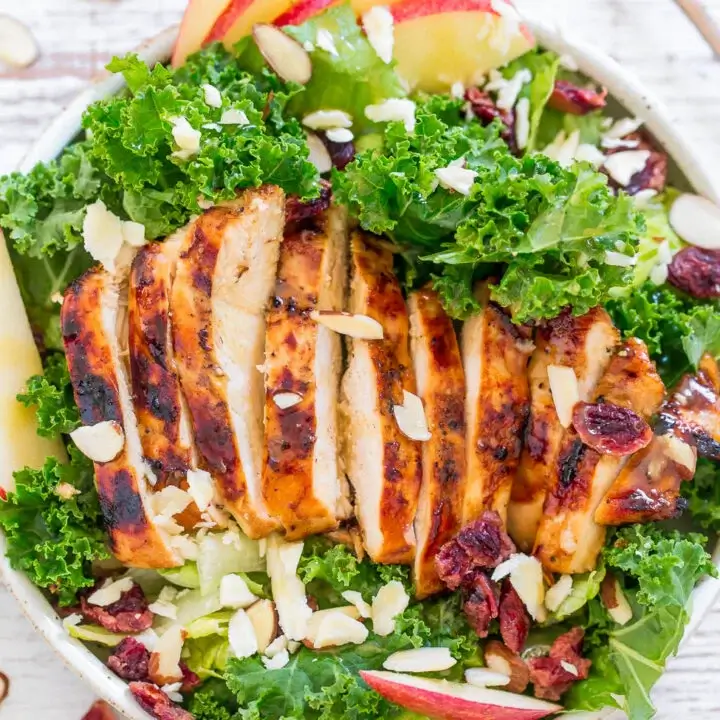 For a fast and healthy dinner, try this grilled chicken salad with apple and white cheddar. Get ready to tantalize your palate with this delicious and healthy summer salad dish and embark on an edible adventure. This sweet summer salad is perfect for an easy dinner or a healthy and hearty lunch. The honey-apple cider vinaigrette doubles as a pickle for the chicken and a dressing for the salad to save you time.
 Ingredients
Olive oil
Honey
Apple cider vinegar
Mustard
Chicken breasts
Lettuce
Apple
White cheddar cheese
Nuts
Method of preparation
Add the salad dressing ingredients to a jar and shake to combine. Set aside half the dressing to use over the salad.
Add the other half of the dressing to a zip lock, then add the chicken breasts. Seal the bag, toss to coat chicken evenly, and set aside to marinate for at least 20 minutes.
Grill the chicken and assemble the grilled chicken and apple cranberry salad.
Serve in a salad bowl!
#2 Watermelon and Feta Salad With Mint Summer Salad Dish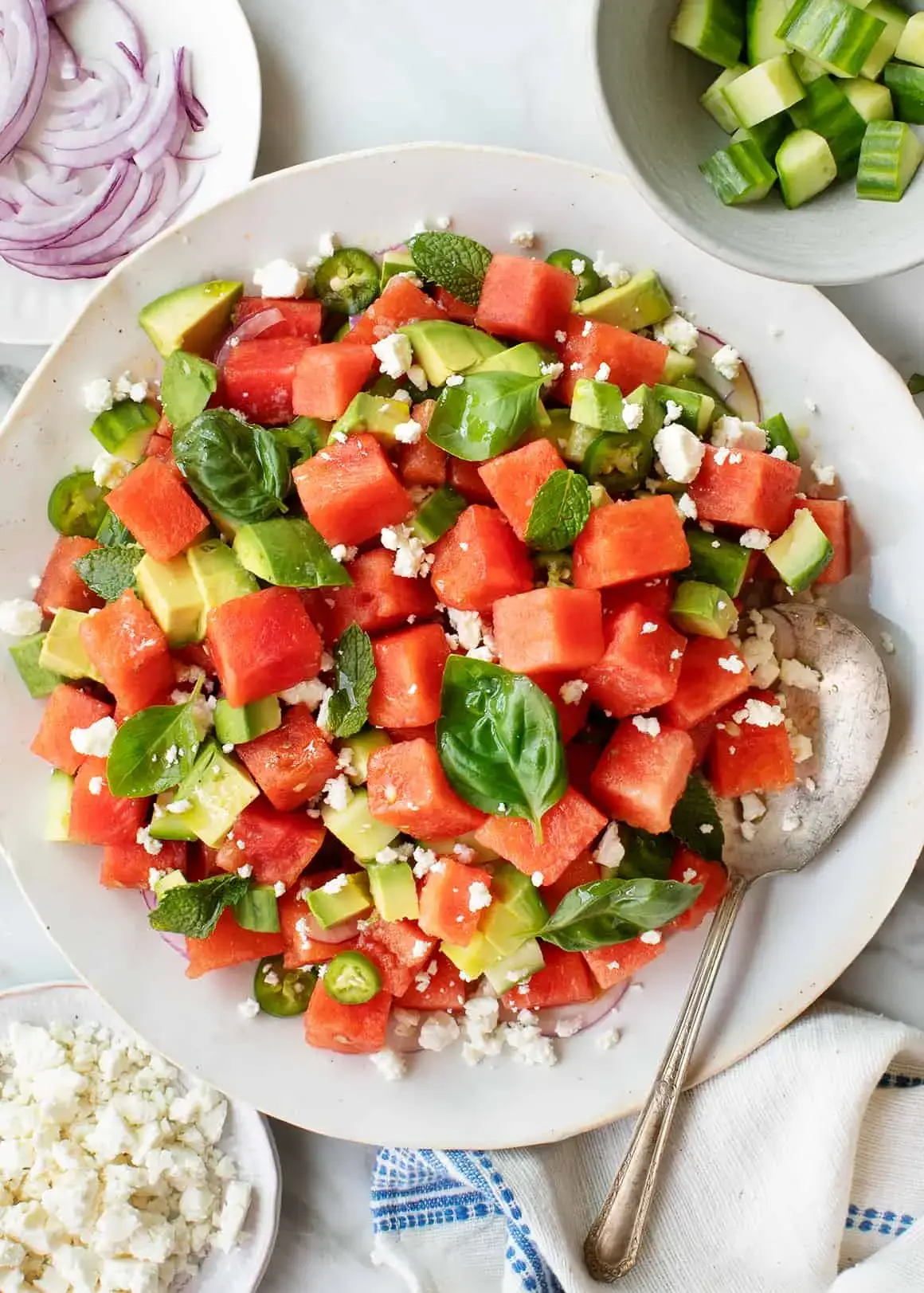 This Watermelon Salad with Feta and Mint summer salad dish is simple and refreshing for hot summer days. This is a nutritious dish that combines hydrating watermelon, creamy feta cheese, and fresh mint. Watermelon provides essential vitamins, minerals, and antioxidants, while feta cheese offers calcium and protein. Mint adds a burst of freshness and potential digestive benefits. Enjoy this simple and flavorful recipe!
Ingredients
Watermelon; cut into large cubes
Fresh lime juice
Olive Oil
Honey
Pepper
Feta cheese
Mint leaves; chopped
Method of Preparation
Cut the Watermelon into large cubes and add them to a colander to remove some of the watermelon juices. Lightly shake out the excess juices before adding to a large bowl.
In a small bowl, whisk together the olive oil, honey, lime juice and pepper.
Drizzle the dressing over the top of the watermelon.
Top it with the mint and feta cheese and lightly shake.
Serve in a salad bowl of your choice!
#3 Grilled Peach Salad With Arugula & Goat Cheese Summer Salad Dish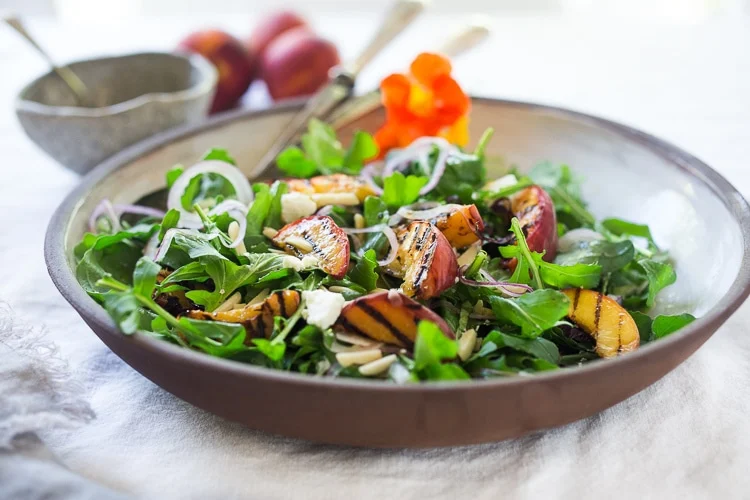 The Grilled Peach Salad with Arugula & Goat Cheese summer salad dish not only tantalizes your taste buds but also provides several health benefits. Arugula contributes essential nutrients like vitamin K, A, and C, while peaches offer a dose of vitamin C and antioxidants. The goat cheese adds protein, and the salad dish is also high in fiber content.
By enjoying this refreshing summer salad, you can support bone health, boost your immune system, promote healthy skin, aid digestion, and contribute to overall well-being. So, savor the flavors and nourish your body with this delicious and nutritious salad dish.
Ingredients
Ripe peaches

Arugula (or other favorite green)

Crumbled goat cheese
Red onion, thinly sliced
Toasted slivered almonds
Basil leaves
Honey
Olive oil
Pinch salt and pepper
Method of Preparation
When grilling the peaches, preheat the grill.
Mix the salad dressing together in a jar.
Wash peaches, cut them into halves, scoop out the seeds and brush with a little olive oil.
Grill for 4-6 minutes over medium heat uncovered until they have noticeable grill marks. Turn over and grill one more minute. Cut peaches into wedges.
Shake greens, onions, basil leaves, slivered almonds and goat cheese in a medium bowl with some of the vinaigrette.
Place the grilled peaches on top, sprinkle with optional nasturtium petals. Enjoy!
#4 Zesty Quinoa and Chickpea Salad With Lemon Vinaigrette
What are the 5 main types of salads?
The 5 main types of salads include the following: green salad mixed or prepared individually, bound salad (cooking or steaming of the main ingredients such as pasta, corn, potato, meat, fish, turkey and other), vegetable salad (either eaten raw or cooked and garnished with protein such as shrimp, lobster, crab etc.), fruit salad (the use of sweet or sour fruit for dressing your salad), combination salad (mixture of any of the above four types of salad).
Related Posts