A balanced diet involves providing the body with the right combination of important nutrients from different food groups. These essential nutrients include carbohydrates, proteins, fats, vitamins, minerals, and fiber. Each nutrient plays a unique role in maintaining bodily functions, facilitating development and preventing disease. By incorporating a variety of foods into our eating habits, we can ensure that our bodies are receiving the basic building blocks needed for optimal health.
The concept of a balanced diet remains a regular pillar of health and vitality. Also, it goes beyond simply selecting food items; It includes emphasizing the importance of incorporating a variety of rich foods. This article dives into the nutritional benefits of different foods and their significant impact on overall health as part of a balanced diet.
Balanced diet: Nutritional and health Benefits of Food
Fruits and Vegetables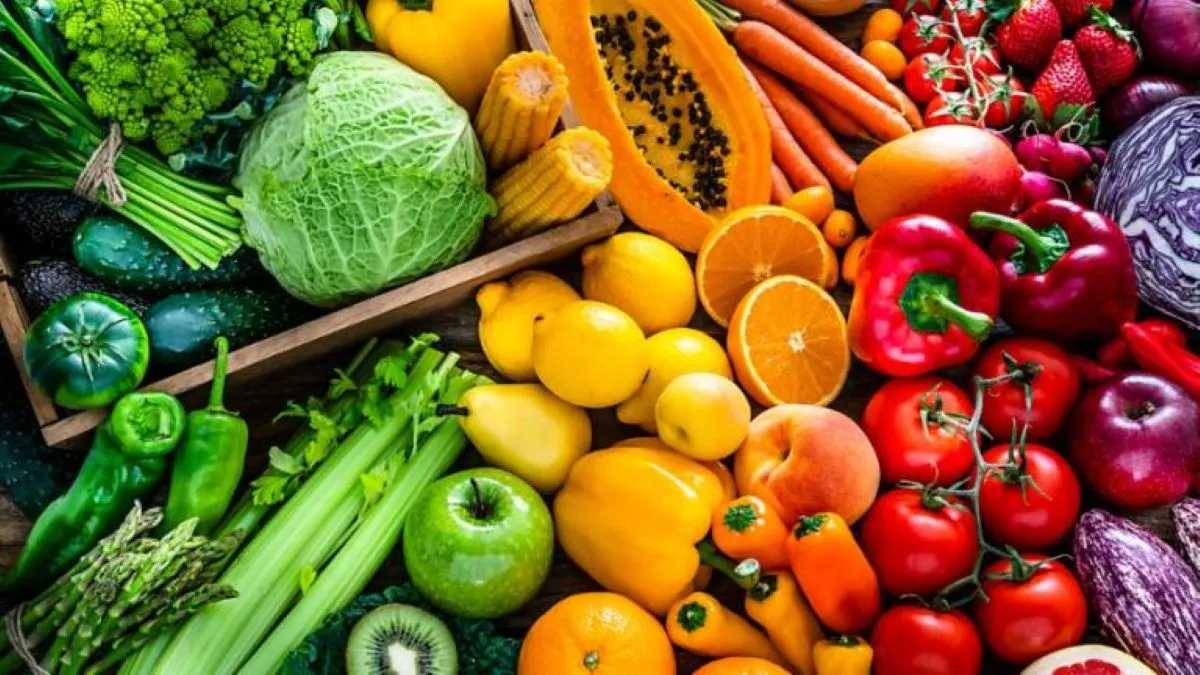 Fruits and vegetables are essential and varied sources of nutrients. Filled with vitamins, minerals, antioxidants and fibre, they play an essential role in maintaining optimal health. The antioxidants found in berries, such as blueberries and strawberries, fight oxidative stress and reduce the risk of chronic diseases like cancer and cardiovascular disorders. Green leafy vegetables like spinach and kale are rich in vitamins K and C, which are essential for bone health and immune function. Citrus fruits, especially oranges and grapefruits, are known for their high vitamin C content, which supports the immune system and promotes collagen production. Carrots, thanks to their beta-carotene content, contribute to healthy vision and skin. The fibre found in fruits and vegetables promotes digestive health, prevents constipation, and helps maintain a healthy weight.
Benefits
Abundant in Vitamins and Minerals: Fruits and vegetables serve as exceptional sources of vital vitamins, including vitamin C (essential for immune function and skin health), vitamin A (vital for immune health and vision), and an array of B vitamins (crucial for energy production and metabolism). They also supply essential minerals like potassium (supportive of heart health and fluid balance) and magnesium (integral to nerve and muscle function).
Antioxidant Potency: A multitude of fruits and vegetables boast a wealth of antioxidants such as flavonoids, carotenoids, and polyphenols. These compounds act as protective shields for cells, warding off damage induced by free radicals. This defense mechanism diminishes the risk of chronic ailments like cancer, heart disease and neurodegenerative disorders.
Dietary Fiber Enrichment: Fruits and vegetables are reservoirs of dietary fiber, which plays a pivotal role in promoting digestive well-being. By facilitating regular bowel movements, averting constipation, and nurturing a balanced gut microbiome, dietary fiber elevates digestive health. It further contributes to stabilizing blood sugar levels and engenders a sensation of satiety, thereby aiding weight management.
Support for Heart Health: Fruits and vegetables abundant in potassium, such as bananas, oranges, and leafy greens, contribute to the regulation of blood pressure and the fortification of heart health. Additionally, the fiber content present in these foods participates in diminishing cholesterol levels and enhancing overall cardiovascular function.
Assistance in Weight Management: While being modest in calories, fruits and vegetables are voluminous in nature and teeming with nutrients. Their incorporation into your dietary regimen can satiate hunger with fewer calories, rendering them invaluable for controlling portion sizes and effectively managing weight.
Whole Grains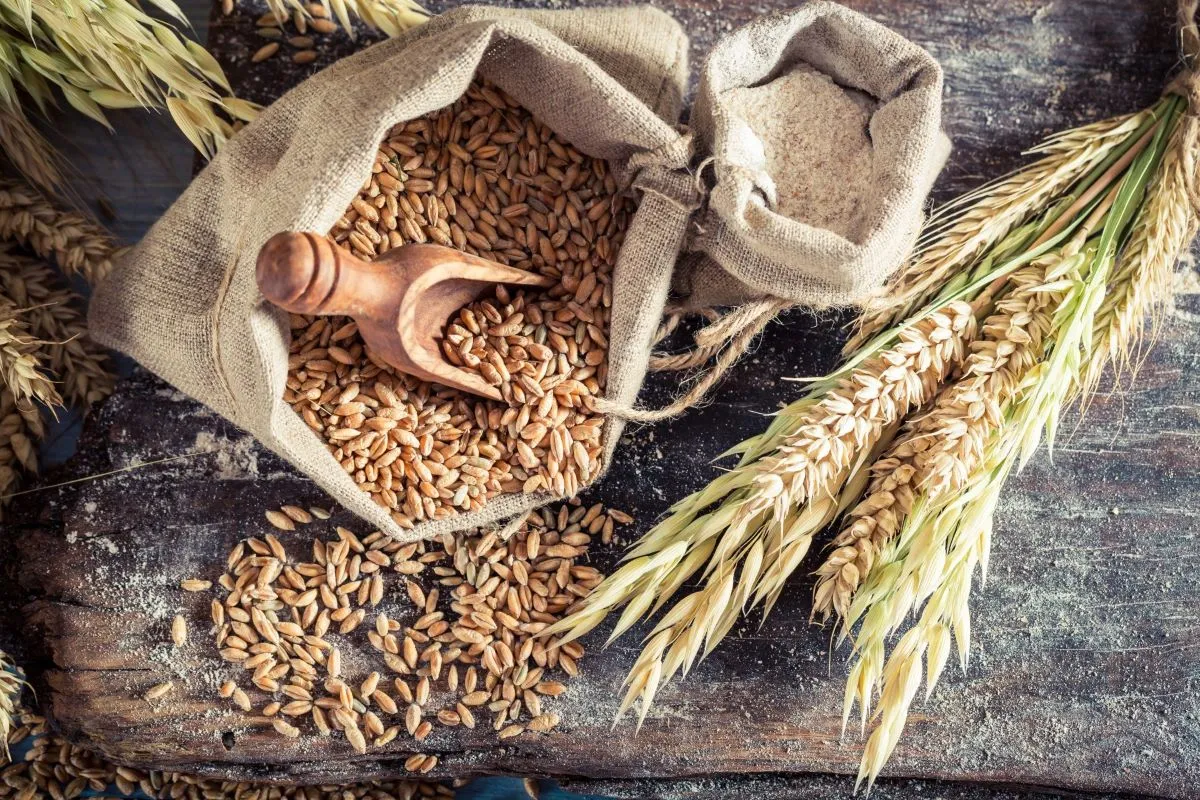 Whole grains, such as brown rice, quinoa, and oats, are an excellent source of complex carbohydrates and dietary fibre. These nutrients provide sustained energy, prevent blood sugar spikes, and promote satiety. The fibre in whole grains supports digestive health by facilitating regular bowel movements and fostering a healthy gut microbiome.
Moreover, the consumption of whole grains is associated with a reduced risk of type 2 diabetes, heart disease, and obesity. The vitamins and minerals present in whole grains, such as B vitamins and iron, contribute to overall vitality and well-being.
Benefits
Dietary Fibre: Whole grains are excellent sources of dietary fibre, which supports digestive health by promoting regular bowel movements, preventing constipation, and supporting a healthy gut microbiome. Fibre also helps control blood sugar levels and contributes to a feeling of fullness, aiding in weight management.
Nutrient Density: Whole grains are rich in essential nutrients such as B vitamins (e.g., B vitamins thiamine, riboflavin, and niacin), which play a critical role in energy metabolism and nervous system function.
Mineral Content: Whole grains provide essential minerals such as magnesium, which supports muscle and nerve function, bone health, and blood pressure regulation. Phosphorus, another mineral found in whole grains, is crucial for bone and teeth health.
Antioxidants: Some whole grains, like quinoa and barley, contain antioxidants that help protect cells from damage caused by free radicals. These antioxidants contribute to overall health and may have a role in reducing the risk of chronic diseases.
Heart Health: The soluble fibre found in whole grains, such as oats and barley, can help lower LDL (bad) cholesterol levels, reducing the risk of heart disease. Whole grains also contain phytochemicals that support cardiovascular health.
Lean Proteins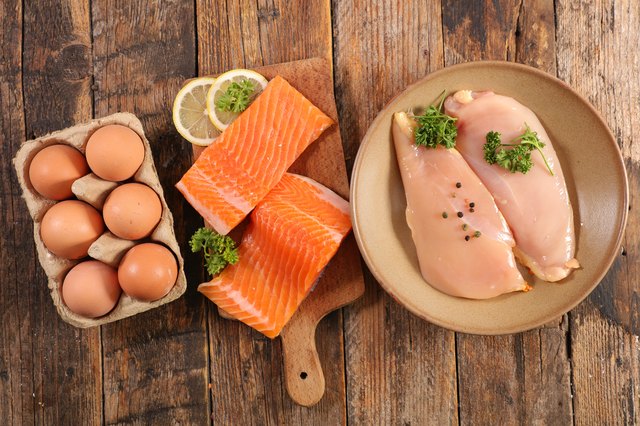 Lean protein sources, including skinless poultry, lean cuts of meat, fish, tofu, legumes, and beans, are integral for muscle repair, growth, and immune function. Protein-rich foods also play a crucial role in weight management due to their ability to induce satiety.
Also, lean proteins provide essential nutritional benefits like iron, which is vital for oxygen transport in the body, and zinc, which supports immune function and wound healing.
Benefits
Muscle Maintenance and Growth: Lean proteins provide essential amino acids that are the building blocks for muscle tissue.
Metabolism Boost: Protein has a higher thermic effect of food meaning that the body expends more energy (calories) to digest and metabolize protein. This can contribute to a slight boost in metabolic rate, supporting weight management efforts.
Satiety and Weight Management: Protein-rich foods are satiating, helping to curb appetite and reduce overall food intake. Including lean protein sources in meals can help you feel fuller for longer periods, aiding in weight management by preventing overeating.
Blood Sugar Regulation: Protein consumption can help stabilize blood sugar levels by slowing down the digestion and absorption of carbohydrates. This is particularly beneficial for individuals with diabetes or those aiming to manage their blood sugar levels.
Bone Health: Certain lean protein sources, such as poultry and fish, provide phosphorus and magnesium, which are essential minerals for maintaining strong bones and teeth.
Healthy Fats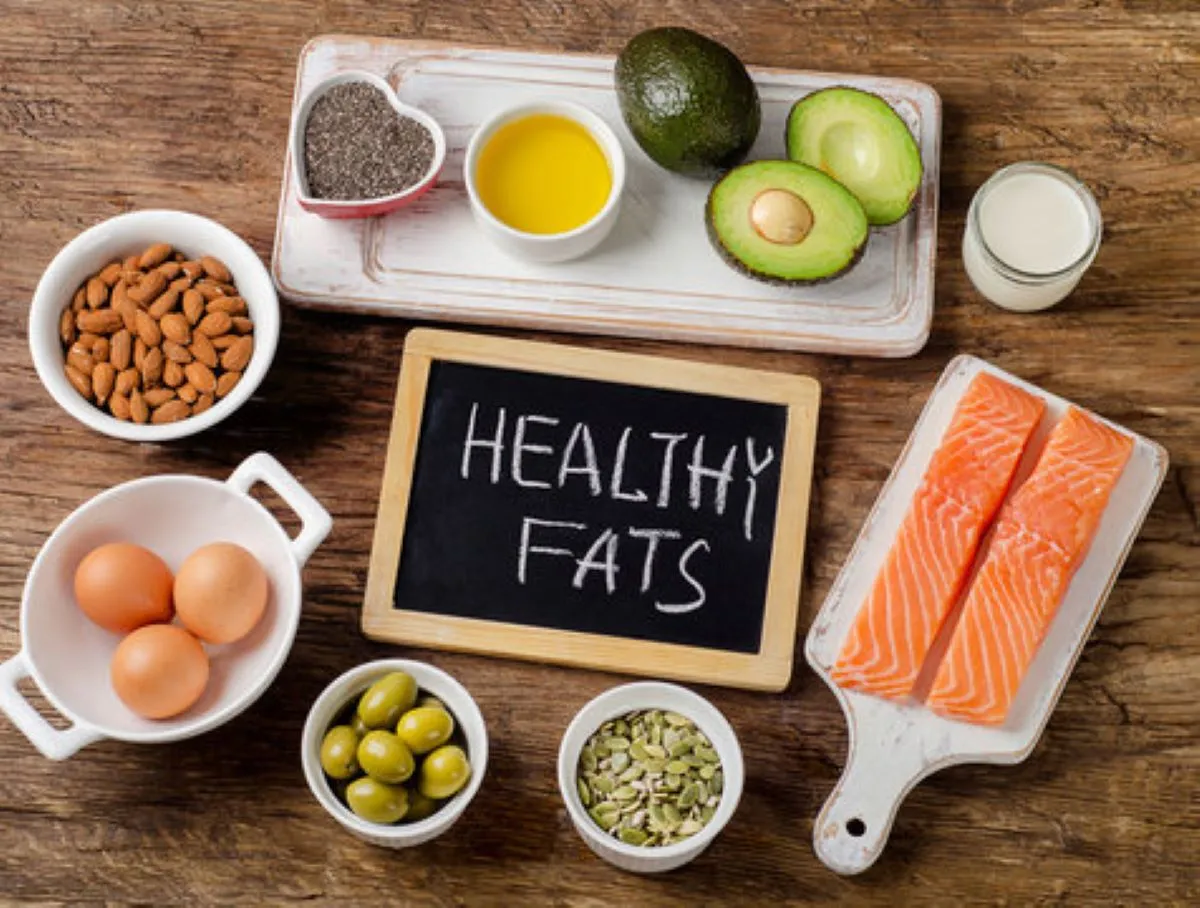 The demonization of fats in the past has given way to a greater understanding of their importance in our diets. Healthy fats, such as monounsaturated and polyunsaturated fats found in avocados, nuts, seeds, and olive oil, are beneficial for heart health. Also, they can lower levels of bad cholesterol (LDL) and reduce the risk of heart disease.
However, omega-3 fatty acids, predominantly found in fatty fish like salmon, mackerel, and sardines, have garnered attention for their anti-inflammatory properties and their role in promoting brain health. Consuming these healthy fats in moderation is essential for reaping their benefits without excessive caloric intake.
Benefits
Heart Health: Monounsaturated and polyunsaturated fats, found in foods like avocados, nuts, seeds, and olive oil, have been linked to improved heart health. They can help lower LDL (bad) cholesterol levels and reduce the risk of heart disease and stroke.
Brain Health: Omega-3 fatty acids, found in fatty fish like salmon, mackerel, and walnuts, are essential for brain health. They support cognitive function, memory, and mood regulation.
Inflammation Reduction: Omega-3 fatty acids also have anti-inflammatory properties, which can help reduce chronic inflammation in the body. This is important for preventing and managing conditions related to inflammation, such as arthritis.
Hormone Production: Healthy fats are essential for hormone production and balance. Fats are needed to synthesize hormones, including those that regulate metabolism, stress response, and reproductive functions.
Vitamin Absorption: Fat-soluble vitamins (A, D, E, K) require fat for proper absorption. Healthy fats in your diet facilitate the absorption of these important vitamins, supporting various bodily functions.
Dairy and Dairy Alternatives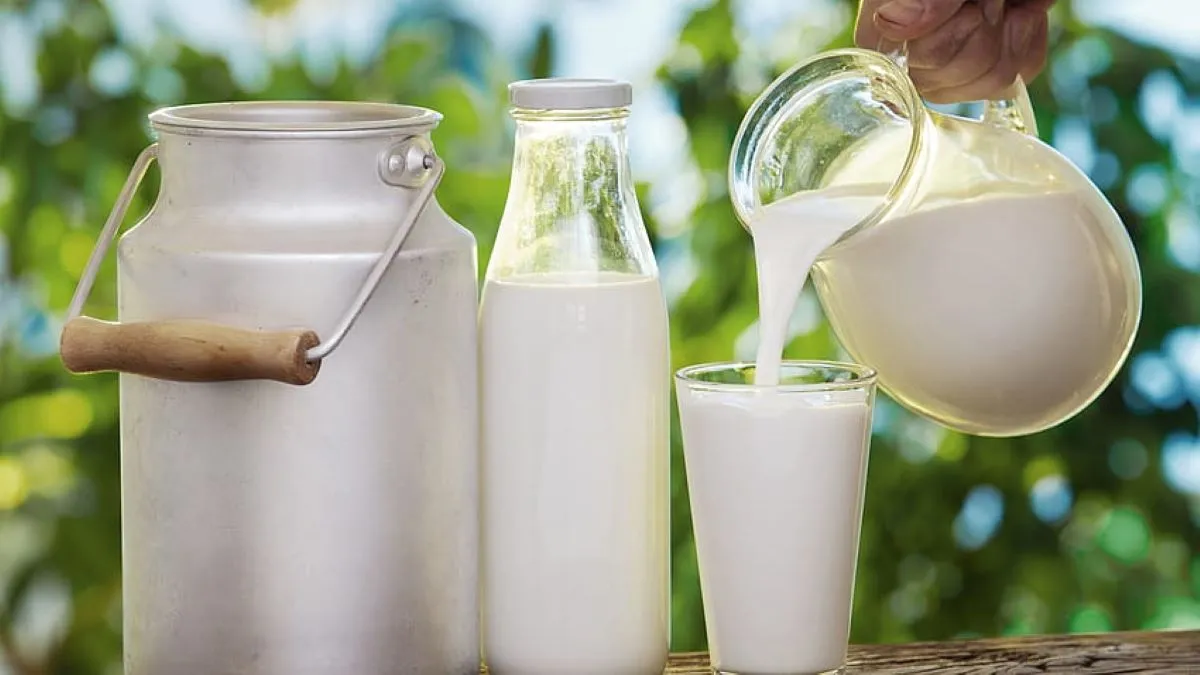 Dairy products and their alternatives, such as almond, soy or oat milk, provide essential nutrients like calcium and vitamin D needed for bone health. These nutritional benefits play an important role in preventing osteoporosis and promoting strong teeth.
However, dairy products can be high in saturated fat and choosing low-fat or low-fat products can provide benefits without harm. Dairy alternatives are suitable for people who are lactose intolerant or those following a vegan diet.
Benefits
Calcium and bone health: Milk is an excellent source of calcium, a mineral needed to maintain strong bones and teeth. Getting enough calcium during childhood and adolescence is especially important for achieving maximum bone mass and reducing the risk of osteoporosis later in life.
Vitamin D absorption: Many dairy products, including milk, are fortified with vitamin D. Vitamin D is important for calcium absorption and bone health. It also plays a role in immune function and general health.
Protein source: Milk is a high-quality protein source containing all the essential amino acids. Protein is essential for muscle repair, growth, and general functioning of the body.
Vitamins and minerals: In addition to calcium and vitamin D, milk provides other essential vitamins and minerals, including vitamin A, vitamin B12, riboflavin (B2) and phosphorus. These nutrients are important for various bodily functions, including vision, red blood cell production, and energy metabolism.
Hydration: Milk has a high water content, which contributes to moisture. Staying hydrated is important for maintaining body functions, circulation, and temperature regulation.
Legumes and Beans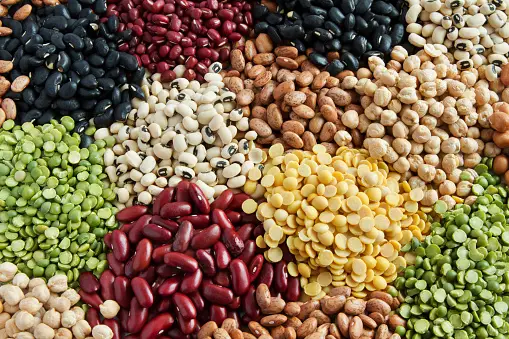 Legumes and beans are nutrient powerhouses rich in protein, dietary fibre, and complex carbohydrates. These foods stabilize blood sugar levels, promote fullness, and contribute to heart health. Legumes' cholesterol-lowering effects are pivotal in reducing the risk of heart disease.
Additionally, the protein and fibre content of legumes and beans supports digestive health and can aid in weight management. The versatility of these ingredients makes them valuable additions to various dishes.
Benefits
Great source of plant-based protein: Legumes and legumes are among the best plant-based sources of protein. They provide the essential amino acids needed for muscle maintenance and repair and overall body functions.
Fiber: Legumes and legumes are high in fiber, which promotes digestive health by promoting regular bowel movements, preventing constipation, and supporting a healthy gut microbiome. Fiber also contributes to satiety, thus facilitating weight control.
Regulate blood sugar: The complex carbohydrates in legumes and beans help regulate blood sugar by delivering a slow and steady release of glucose into the bloodstream. This is especially beneficial for people with diabetes or those who want to control their blood sugar.
Heart health: Legumes and beans are low in saturated fat and high in soluble fiber, which can help lower LDL (bad) cholesterol levels. Their potassium content promotes heart health by regulating blood pressure.
Reduce your risk of chronic diseases: Regular consumption of legumes and beans has been linked to a reduced risk of chronic diseases, including type 2 diabetes, heart disease, and certain types of cancer.
Nuts and Seeds

Nuts are a great source of protein, healthy fats, vitamins and minerals. For example, almonds are rich in vitamin E, an antioxidant that helps protect cells from damage. Walnuts stand out for their omega-3 fatty acid content, which is beneficial for heart and brain health.
In addition, chia and flaxseeds are high in fiber and omega-3 fatty acids, which help support digestive health. Incorporating a handful of nuts into your diet can be a quick yet nutrient-dense snack.
Benefits
Heart health: Nuts are high in unsaturated fats, especially monounsaturated and polyunsaturated fats, which are heart-healthy fats. These fats help lower LDL (bad) cholesterol levels and reduce the risk of heart disease.
Omega-3 fatty acids: Certain nuts like walnuts and some nuts like chia seeds and flaxseeds are high in omega-3 fatty acids. Omega-3s have anti-inflammatory properties, support brain health and contribute to a healthy cardiovascular system.
Antioxidants: Nuts are high in antioxidants, like vitamin E, which help protect cells from oxidative stress and reduce the risk of chronic disease.
Proteins and Amino Acids: Nuts are a great source of plant-based protein that provides a variety of amino acids for muscle recovery and growth.
Fiber content: Nuts are high in fiber, which supports digestive health, regular bowel movements and a balanced gut microbiome. Fiber also aids weight management by promoting satiety.
The Impact of a Balanced Diet on Health
Weight

management:

A

balanced

diet

helps

maintain

a

healthy

weight

by

providing

essential

nutrients

and

avoiding

overeating.

Nutrient-rich

foods

satisfy

hunger

while

providing

fewer

calories,

making

weight

control

efforts

easier.

Heart

health:

Combining

fruits,

vegetables,

whole

grains,

lean

proteins,

and

healthy

fats

will

help

promote

heart

health.

These

foods

help

lower

cholesterol

levels,

lower

blood

pressure

and

reduce

the

risk

of

cardiovascular

disease.




Immune

function:

A

variety

of

nutrient-rich

foods

help

strengthen

the

immune

system,

making

the

body

more

resistant

to

infection

and

disease.

The

vitamins,

minerals,

and

antioxidants

in

these

foods

play

a

key

role

in

supporting

immune

function.




Digestive

health:

Fiber

from

fruits,

vegetables,

whole

grains

and

legumes

supports

healthy

digestion,

prevents

constipation

and

supports

a

balanced

gut

microbiome.

Good

digestion

contributes

to

general

health.




Cognitive

abilities:

A

balanced

diet

rich

in

vitamins,

minerals

and

healthy

fats

will

support

brain

health

and

cognitive

function.

These

nutrients

support

memory,

concentration

and

mood

regulation.

Reduce

your

risk

of

getting

sick:

Eating

a

variety

of

nutrient-dense

foods

reduces

the

risk

of

chronic

diseases

like

heart

disease,

type

2

diabetes,

and

some

cancers.

Antioxidants

and

phytonutrients

found

in

fruits

and

vegetables

play

a

role

in

disease

prevention.




Energy

level:

Nutrient-rich

foods

provide

sustained

energy

throughout

the

day.

Carbohydrates

provide

immediate

energy,

while

proteins

and

fats

provide

long-term

fuel,

improving

performance

and

overall

health.
Incorporating a Balanced Diet into Everyday Life
Achieving the equilibrium of nutritional advantages from a variety of foods can be attained through conscious eating and well-informed food selections. Here are some practical suggestions to seamlessly integrate a balanced diet into your daily routine:
Meal Planning: Craft well-balanced meals that encompass a diverse spectrum of food groups, guaranteeing the assimilation of an array of vital nutrients.
Portion Management: Exercise mindfulness concerning portion sizes to prevent overindulgence and ensure a suitable caloric intake.
Embrace Diversity: Strive to incorporate a vibrant array of fruits and vegetables into your diet, embracing a kaleidoscope of vitamins, minerals, and antioxidants.
Lean Protein Choices: Opt for sources of lean protein to nurture muscle health, while being cautious about excessive saturated fats.
Prioritize Whole Grains: Favor whole grains over their refined counterparts to harness the potential of complex carbohydrates and dietary fiber.
Nourishing Fats: Integrate sources of nourishing fats such as avocados, nuts, and olive oil, bolstering both heart and brain well-being.
Curtail Processed Foods: Endeavor to minimize the consumption of processed foods, particularly those laden with added sugars, unhealthy fats, and sodium.
Hydration: Sustain hydration levels by quenching your thirst with ample water throughout the day. This practice not only fuels bodily functions but also augments overall wellness.
5 importance of balanced diet
Balanced nutrition:
The essence of a balanced diet is to ensure a supply of important nutrients – vitamins, minerals, proteins, carbohydrates and fats – necessary for the normal functioning of the body.
Effective weight control:
The balance achieved through a balanced diet contributes to optimal weight maintenance. This is done by providing the body with appropriate portions and a variety of nutrient-rich foods, thereby reducing the risks associated with obesity and malnutrition.
Maintained energy level:
The harmonious combination of carbohydrates, proteins and fats found in a balanced diet will provide a constant supply of energy throughout the day. This avoids energy fluctuations and increases overall vitality.
Improve digestive health: A balanced diet rich in fiber from sources such as fruits, vegetables, and whole grains promotes good digestive health. It prevents constipation, promotes a balanced intestinal microflora and ensures loose stools.
Support cardiovascular health: A balanced diet promotes heart health by promoting heart-healthy foods like lean proteins, whole grains, and healthy fats. This approach helps lower cholesterol levels, reduce the risk of heart disease, and maintain heart health.
Balanced diet food list
Fruits and vegetables
whole grains
Nuts and seeds
Lean protein
Legumes and beans
Healthy fat
Dairy and dairy alternatives
Conclusion
In conclusion, the impact of the nutritional benefits derived from different foods profoundly affects our health. A nutritious diet rich in fruits, vegetables, whole grains and low-fat dairy products acts as a shield.
However, a balanced diet is not a fad; It is the foundation for optimal health and vitality. Enjoying the multitude of nutritional benefits provided by a wide variety of foods has a positive effect on our overall health. Also this influence extends to physical health, disease prevention, cognitive capacity and sustained energy levels. Recognizing the wisdom inherent in a balanced diet is not just a decision in the present; it's an investment.
Ultimately, let your plate transform into a mural of nutrient-rich foods that help form the tapestry of your wellness journey.
Finally, as we navigate the complexities of modern life, it's paramount to prioritize food choices. By prioritizing whole foods, sources of lean protein, healthy fats, and plenty of fruits and vegetables, we harness the nutritional potential to fuel both our bodies and our mental abilities.
Also, never forget that a balanced diet combined with regular physical activity is the foundation of a healthy lifestyle.
FAQ's
Related Posts