Digital Marketer! In this fast-paced digital world of 2023, businesses are constantly seeking for innovative ways to connect with their target audience and stay ahead of the competition. Therefore, digital marketers are highly needed.
These dynamic professionals who possesses the skills and expertise to navigate the ever-evolving digital space is a gold and must-have asset for every brand that desires digital identity. In this blog post, we will explore who a digital marketer is and why their role has become increasingly vital for businesses in the digital age.
Hence, buckle up and get ready to dive into the exciting world of digital marketing with us.
Ready? Let's get started!
Who is a Digital Marketer?
A digital marketer is a skilled professional who specializes in promoting products, services, or brands through various digital channels. So, They are responsible for developing and implementing marketing strategies that leverage the power of the internet and digital technologies to reach and engage with a target audience. In addition, digital marketers possess a deep understanding of online consumer behavior, search engine algorithms, social media platforms, and other digital marketing tools. Hence, They utilize a combination of creativity, analytical skills, and technical knowledge to drive brand awareness, increase website traffic, generate leads, and ultimately, achieve business goals in the digital realm.
What Are The Roles of a Digital Marketer?
1. Digital marketers have the ability to precisely target specific audiences based on demographics, interests, and online behavior. Therefore, businesses can reach the right people.
2. Digital marketers employ various strategies such as search engine optimization (SEO), content marketing, and social media marketing to enhance a brand's online visibility. Hence, helping businesses stand out in a crowded digital landscape and attract more potential customers.
3. Compared to traditional marketing methods, digital marketing is often more cost-effective. So, Digital marketers can optimize social media advertising on a budget.
4. Digital marketers utilize interactive content, social media platforms, and email marketing to engage with customers on a personal level. Thereby, this fosters stronger relationships, builds trust, and encourages customer loyalty.
5. Digital marketing provides businesses with valuable data and analytics in real time. So, they can track and measure the performance of marketing campaigns, allowing for quick adjustments and optimization to achieve better results.
6. Through targeted marketing campaigns, personalized messaging, and optimized user experiences, digital marketers can significantly improve conversion rates. Therefore, they understand the customer journey and employ strategies to guide potential customers toward making a purchase or taking a desired action.
7. In today's digital world, businesses that do not have a strong online presence risk being overshadowed by their competitors. Thereby, digital marketers help businesses stay ahead by implementing innovative strategies. Also, staying updated with industry trends, and adapting to changes in consumer behavior.
8. With the internet breaking down geographical barriers, digital marketers enable businesses to expand their reach beyond local markets. 
9. Digital marketers play a crucial role in managing and maintaining a positive brand reputation online.
10. Digital marketers can provide businesses with detailed reports and insights on key performance indicators (KPIs), enabling data-driven decision-making and continuous improvement.
Skills and Qualities Every Digital Marketer Should Possess
1. Analytical Skills
Digital marketers need strong analytical skills to interpret data, track campaign performance, and make data-driven decisions. They should be able to analyze metrics, identify trends, and optimize strategies accordingly.
2. Creativity and Innovation
Digital marketers should have a creative mindset to develop engaging content, design eye-catching visuals, and come up with innovative marketing campaigns. They should be able to think outside the box to capture the attention of the target audience.
3. Communication and Interpersonal Skills
Effective communication is crucial for digital marketers to collaborate with team members, understand client requirements, and engage with the audience. Therefore, they should be able to convey ideas clearly, write compelling copy, and engage in meaningful interactions.
4. Adaptability and Flexibility
The digital marketing landscape is constantly evolving, so digital marketers need to be adaptable and flexible. They should be open to learning new tools, techniques, and strategies, and be able to quickly adapt to changes in algorithms and trends.
5. Strategic Thinking
Digital marketers should possess strategic thinking skills to develop comprehensive marketing plans, set goals, and prioritize tasks. They should be able to align digital marketing efforts with overall business objectives and make informed decisions to achieve desired outcomes.
6. Technical Knowledge
Digital marketers should have a solid understanding of various digital marketing tools and platforms. This includes knowledge of SEO, social media management, email marketing, content management systems, analytics tools, and more.
7. Data Analysis
Proficiency in data analysis is essential for digital marketers to measure campaign performance, identify areas for improvement, and optimize strategies. So, They are able to interpret data, generate reports, and extract actionable insights.
8. Time Management
Digital marketers often juggle multiple tasks and projects simultaneously. Therefore, strong time management skills are crucial to prioritizing tasks, meeting deadlines, and ensuring efficient workflow.
9. Curiosity and Continuous Learning
Digital marketing is a rapidly evolving field, so digital marketers should have a curious mindset and a thirst for knowledge. Hence, stay updated with industry trends, attend webinars or conferences, and engage in continuous learning to stay ahead.
10. Problem-Solving Abilities
Digital marketers should be adept at problem-solving. So, they should be able to identify challenges, find creative solutions, and adapt strategies to overcome obstacles and achieve desired outcomes.
How to Become a Digital Marketer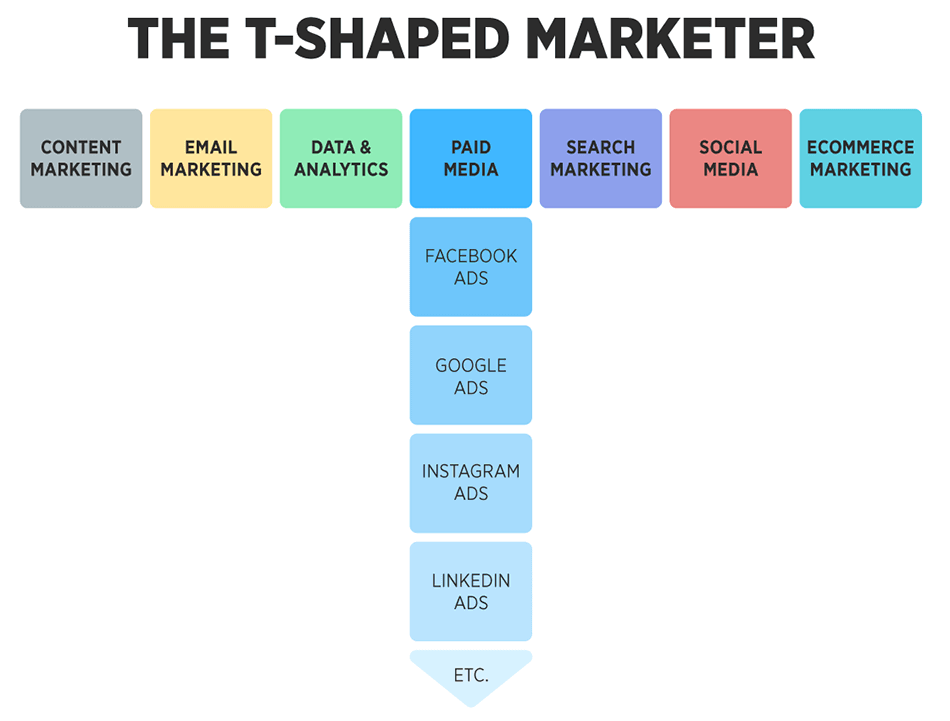 1. Gain a Solid Foundation: Start by acquiring a strong foundation in marketing principles. So, consider pursuing a degree or certification in marketing, advertising, or a related field.
2. Develop Digital Marketing Skills: Familiarize yourself with the various aspects of digital marketing. So, This includes search engine optimization (SEO), social media marketing, content marketing, email marketing, pay-per-click (PPC) advertising, and analytics. Therefore, you can take online courses, attend workshops, or join digital marketing programs to gain practical knowledge and skills.
3. Build a Digital Presence: Create your own digital presence to showcase your skills and expertise. So, you can start a blog, create a personal website, or develop a portfolio of digital marketing projects.
4. Gain Practical Experience: Look for internships, entry-level positions, or freelance opportunities to gain hands-on experience in digital marketing.
5. Stay Updated with Industry Trends: Digital marketing is a rapidly evolving field, so it's crucial to stay updated with the latest trends, tools, and techniques.
6. Obtain Certifications: Consider obtaining certifications from reputable organizations such as Google, HubSpot, or Facebook.
7. Network and Collaborate: Attend industry events, join digital marketing communities, and connect with professionals in the field. Because, networking can open doors to new opportunities, provide mentorship, and help you stay connected with the latest industry insights.
8. Continuously Learn and Adapt: Digital marketing is constantly evolving, so it's essential to embrace a mindset of continuous learning.
9. Specialize in a Niche: Consider specializing in a specific area of digital marketing that aligns with your interests and strengths. Therefore, this could be social media marketing, SEO, content marketing, or email marketing.
10. Build a Strong Personal Brand: As a digital marketer, your personal brand is important. Therefore, showcase your expertise through thought leadership, contribute to industry publications, and engage with the digital marketing community.
Final Thoughts
In the increasingly expanding digital space, the role of a digital marketer has become increasingly vital for businesses. A digital marketer is a skilled professional who leverages the power of digital channels and technologies to promote products, services, or brands. They possess a diverse skill set that includes strategic thinking, creativity, analytical abilities, and technical knowledge.
Digital marketers will be important for businesses in 2023 for several reasons. Because, they have the expertise to reach targeted audiences effectively, ensuring that businesses connect with the right people at the right time. This targeted approach leads to increased brand visibility, customer engagement, and ultimately, higher conversion rates.
In 2023, businesses face the challenge of standing out in a crowded digital space. Digital marketers bring creativity and innovation to the table, developing engaging content, captivating visuals, and interactive campaigns that capture the attention of the target audience.
In addition, digital marketers are essential for businesses in 2023. Their expertise in targeting audiences, increasing brand visibility, analyzing data, and adapting to changes in the digital landscape can significantly impact a business's success. By harnessing the power of digital marketing, businesses can thrive, connect with their customers, and achieve their marketing goals in the dynamic digital era.
FAQs on Digital Marketer
What is digital marketing?
Digital marketing is promoting products or services using digital channels and technologies. So, this involves various online strategies and tactics to reach and engage with a target audience. Furthermore, digital marketing encompasses a wide range of activities, including search engine optimization (SEO), social media marketing, content marketing, email marketing, pay-per-click advertising, and more. Finally, the goal of digital marketing is to increase brand awareness, drive website traffic, generate leads, and ultimately, convert those leads into customers. Hence, it leverages the power of the internet and digital platforms to connect businesses with their target market in a more targeted and measurable way.
Where can I learn digital marketing?
You can learn from various Digital Marketing Institutes. But I personally recommend Digital Marketing Skill Instiute (DMSI).
Related Articles