Oversized shirts are pretty different from plus-sized fashion. They depict a form of style, sophistication, swagger, and elegance. Although it portrays some form of masculinity, feminine women today are beginning to adopt the fashion as it accentuates their sophistication.
Oversized shirts have been in style as far back as the 1920s after the First World War (WWI) when the ills of war forced women to live life in more comfortable clothes in preparation for any future resistance or violent outbreaks. But that has changed with evolution.
Although several opinions suggest the reason for this evolution, one opinion that overrides this is the strife for women to gain societal acceptance.  
From then on, oversized shirts have revolutionized from one generation to another as an important piece of clothing, and women aren't left out in this magnificent change. In this article, we will uncover reasons for this fashion fad.
5 Benefits of Oversized Shirts
1. Comfortable
Oversized shirts have loose fits and are made with breathable fabrics that allow you to move comfortably in any weather. Oversized shirts allow ventilation and easy passage of breeze around your body.
2. Sophisticated
Ever since the evolution of baggy shirts, it has never gone out of fashion. Oversized shirts are unlike the *cliche fitted outfits for women. This unique piece of clothing that has come to stay gives another level of swagger. No matter your body type or size, an oversized shirt is an outfit that fits all kinds of women. From a typical shirt length to a shirt dress, you are good to go any day, anytime. 
3. Versatile
Not only are oversized shirts comfortable and fashionable but can also be worn everywhere. This is one major reason why this item stands out. This outfit can be worn for both indoor and outdoor purposes. They can be worn for official purposes, to a dinner date, to an event, and even as your play clothes around the house. 
4. Good as a Mirage 
There is no single person in this world who was born with a "perfect body". Good thing oversized shirts have come to the rescue. Oversized shirts have a brilliant way of creating an illusion about your body. Do you have some insecurities about your body type or do you have some physical flaws or any off thing about any part of your body that you are not confident to expose? Oversized shirts are perfect to cover it all up. 
5. Suits Muscular Frames
There are certain women with muscular upper features like broad shoulders or muscular arms who prefer to hide those features for special occasions. Oversized shirts help to hide those slightly masculine features which can be styled any way they choose. 
Many women have faced disappointments regarding this supposed-to-be "one item suits all." These disappointments usually stem from oversized shirts not suiting them the way they expect. The reason this happens is that many of them do not understand the proper way to rock their oversized shirts. 
There are many ways to solve this problem which will be addressed here. Before then, we have carefully selected and explained 13 simple ways you can style your baggy shirts to give you the perfect masculine-feminine, yet elegant balance. 
How should a woman wear an oversized shirt?
1. Wear It As A Jacket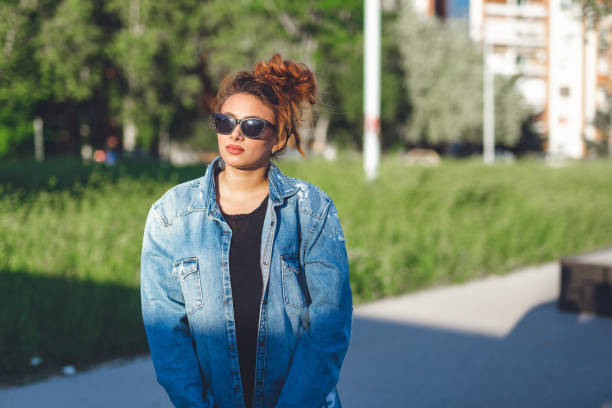 Yo by combining it with a tucked-in tank top. Wear it over wide-legged trousers. This combination gives a chic look. And just in case the weather gets cold, swap the tank top for a polo shirt to protect your exposed chest area.
2. Wear Over Skinny Jeans With Heels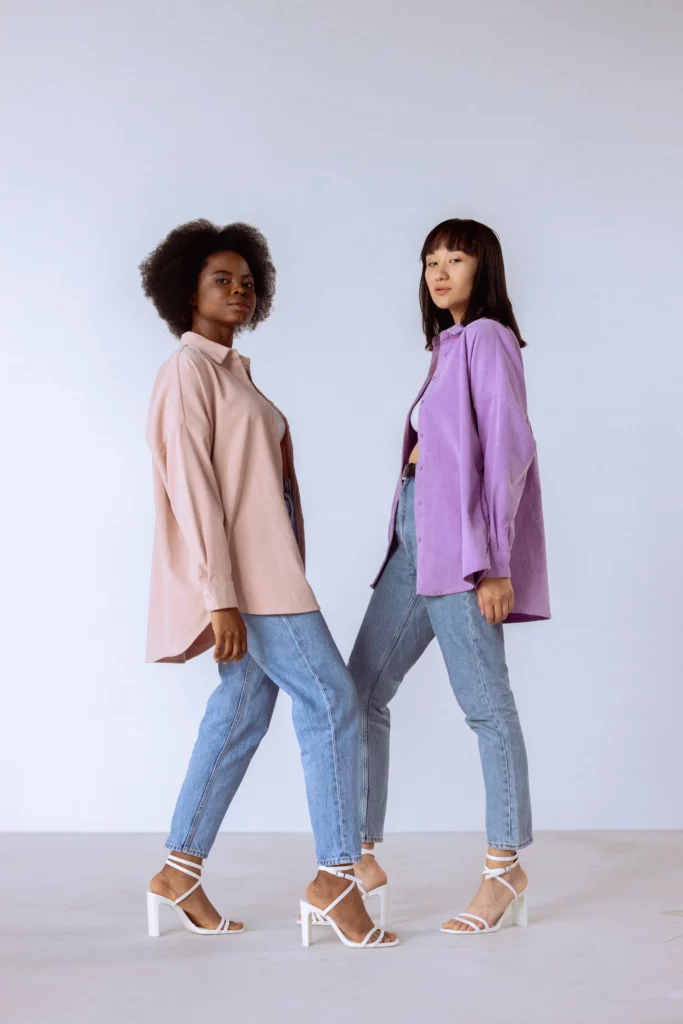 Combine your baggy shirt over tight-fitted trousers with stilettos to give it a more feminine look. It looks great when going for business casual meetings, giving you a partly serious, yet sophisticated look.
3. Pair With A Miniskirt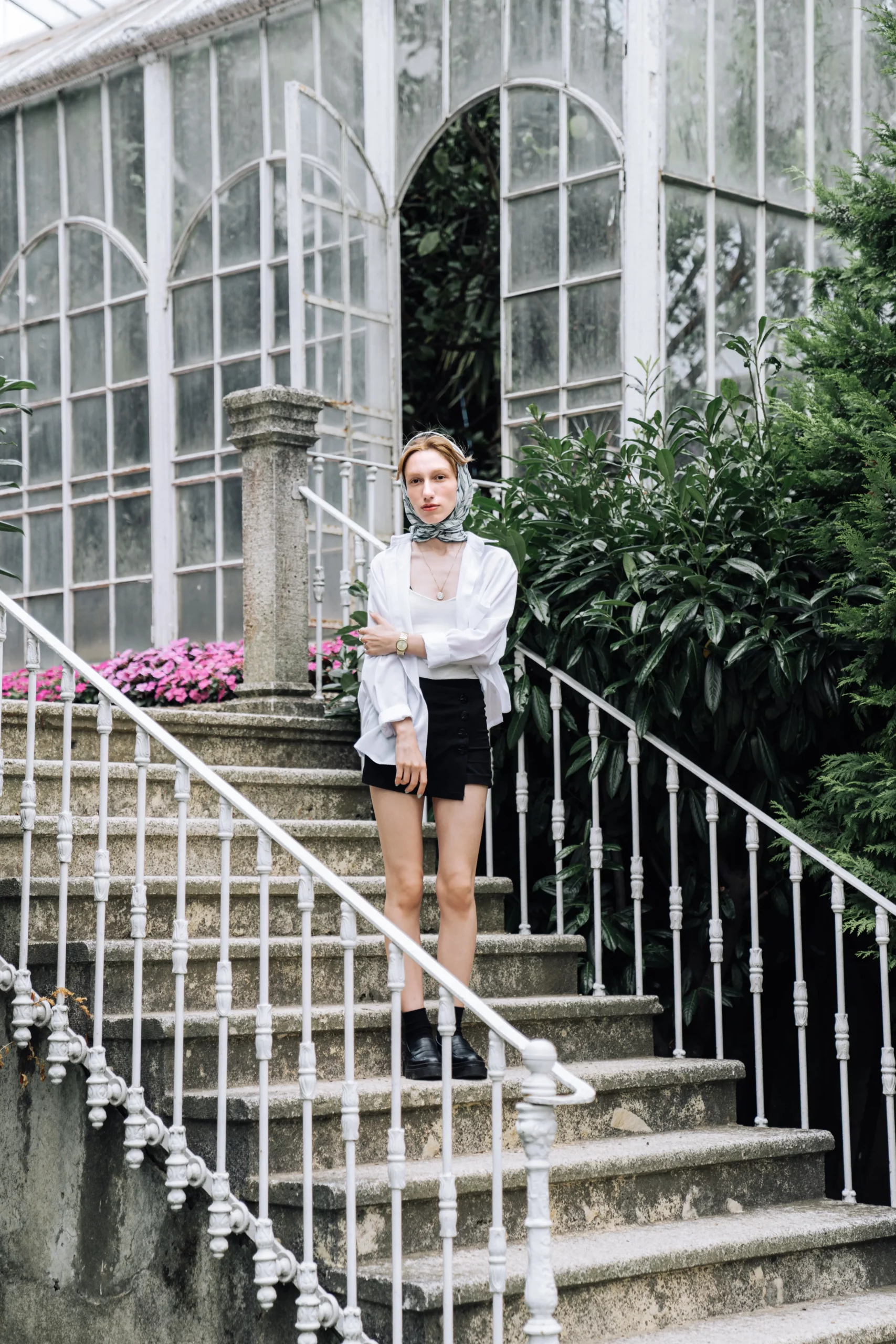 Style with one side of your shirt slightly tucked in a miniskirt with a pair of knee-length boots. Don't forget to roll up your sleeves. The 90s blockbuster, "Pretty Woman" will give you a sense of this perfect combo. 
4. Crop It Up With A Knot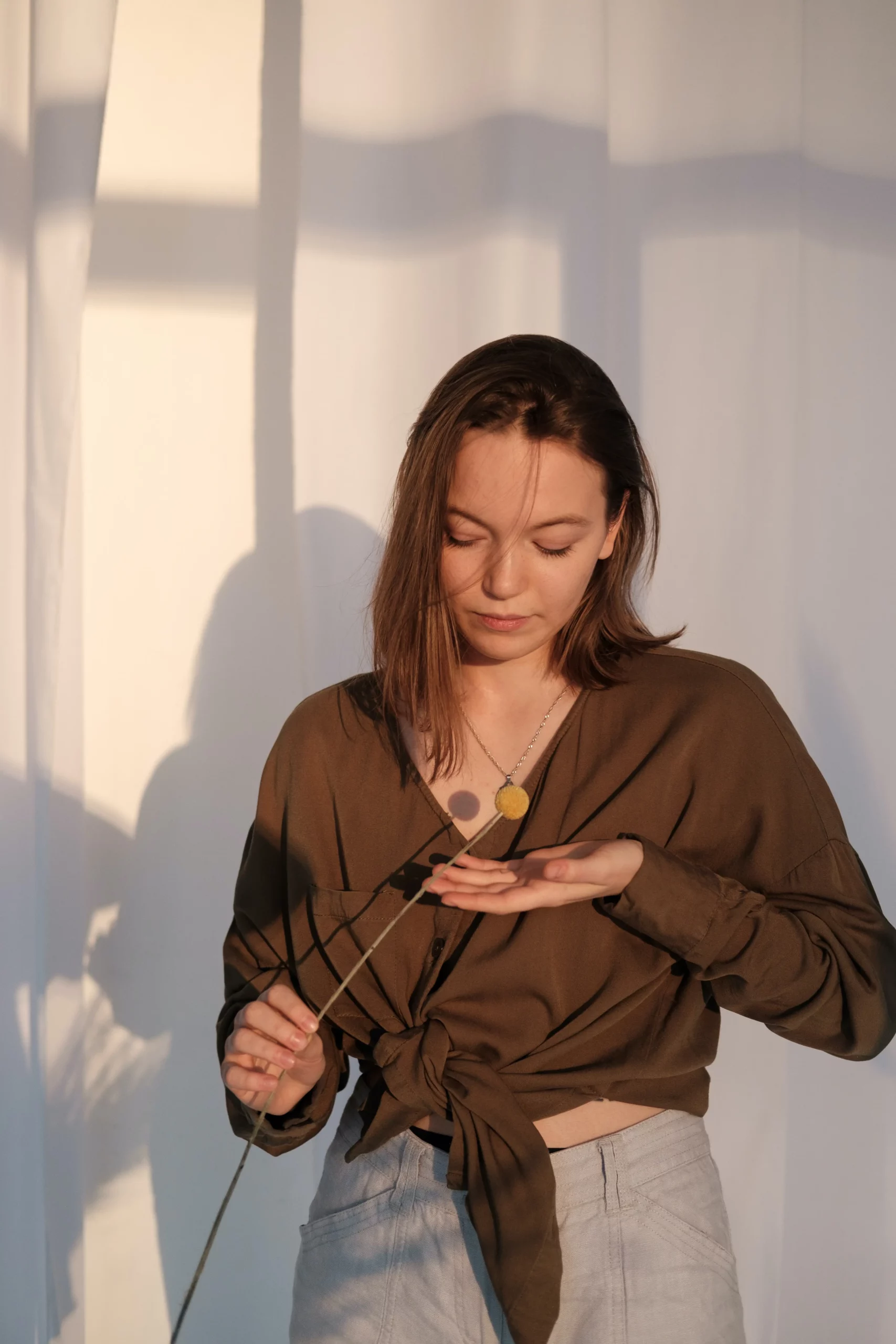 Knot your shirt and roll up the sleeves if you feel like it. Wear it over a bodycon or high-waisted trousers. This accentuates your sexy slim curves and flat tummy.
5. Show-off Your Arms
Rock your day in an oversized muscle shirt on baggy trousers or joggers. Trust me, you'll look so cool. 
6. How About A Simple Shirt Dress?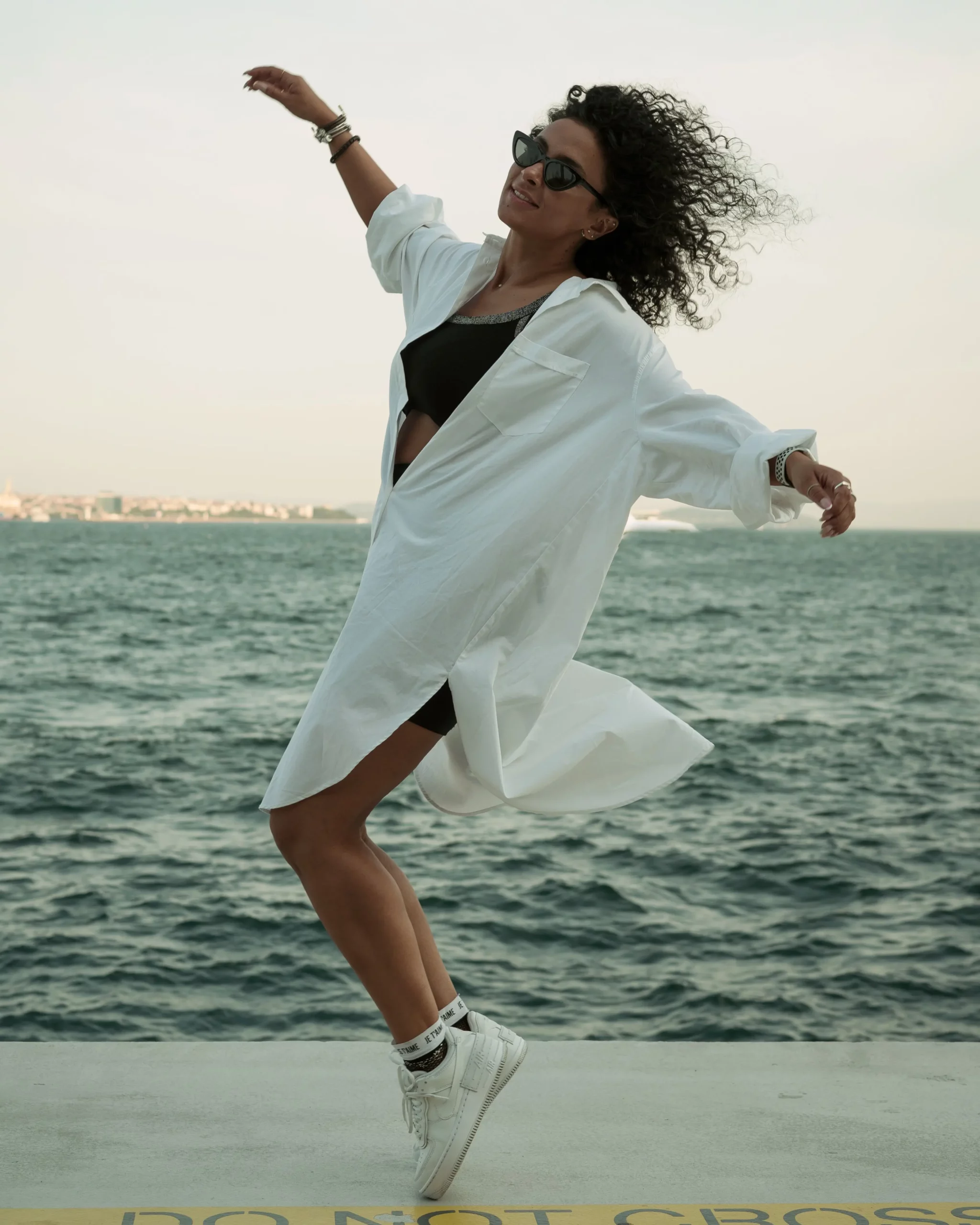 Wear a plain bright coloured shirt dress with lovely heels or a pair of cute mules. Rock your shirt dress plain-coloured, striped or patterned. Switch things up with a monochromatic look by styling with shoes of the same colour. 
7. Spice It Up With An Alté Vibe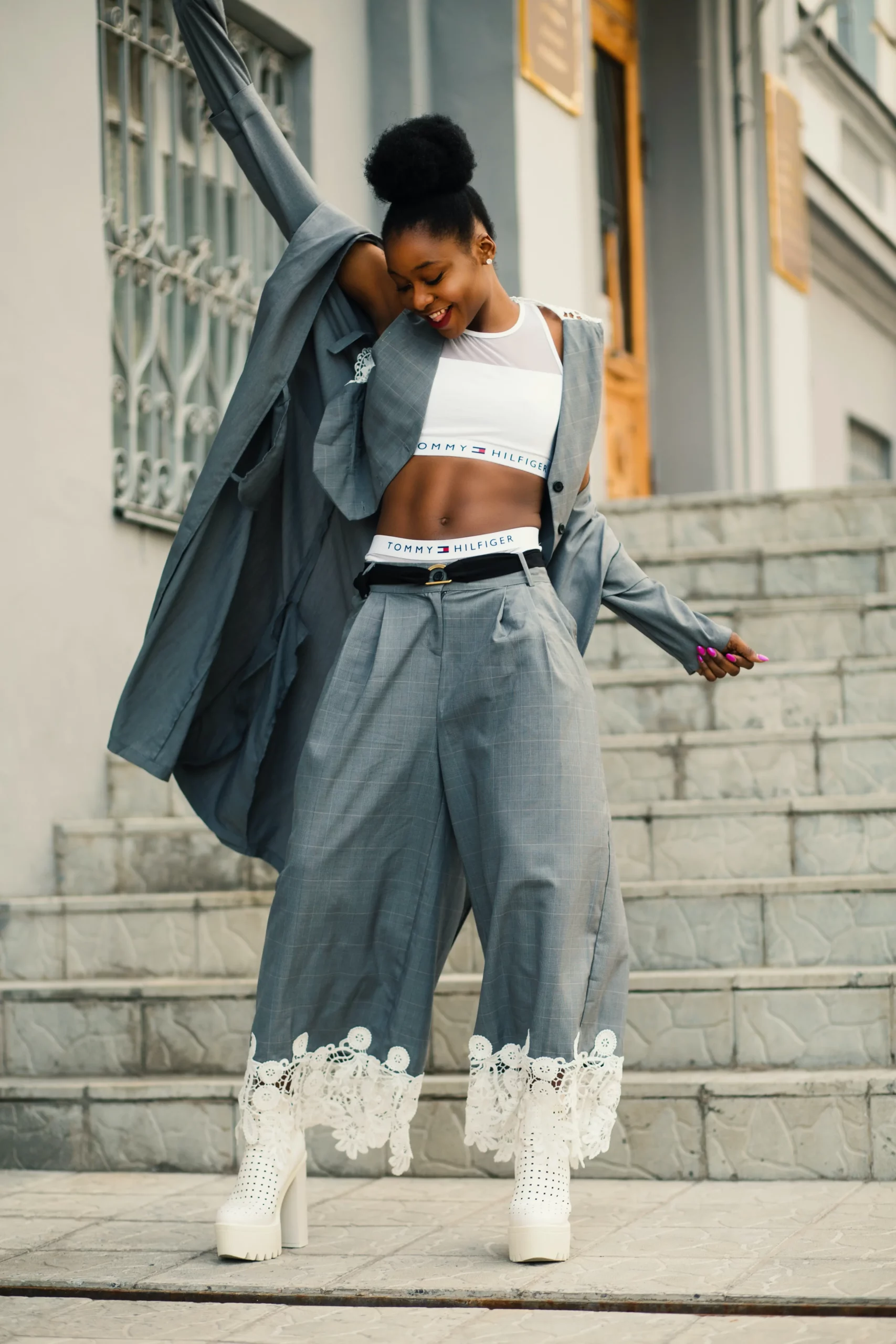 If you are a Tomboy who likes things gothic, rockstar, or masculine, style your shirt on ripped baggy leather trousers, with boots. Accessorize with heavy chains, rings, and all the blings in the world. 
8. Wear Matching Trousers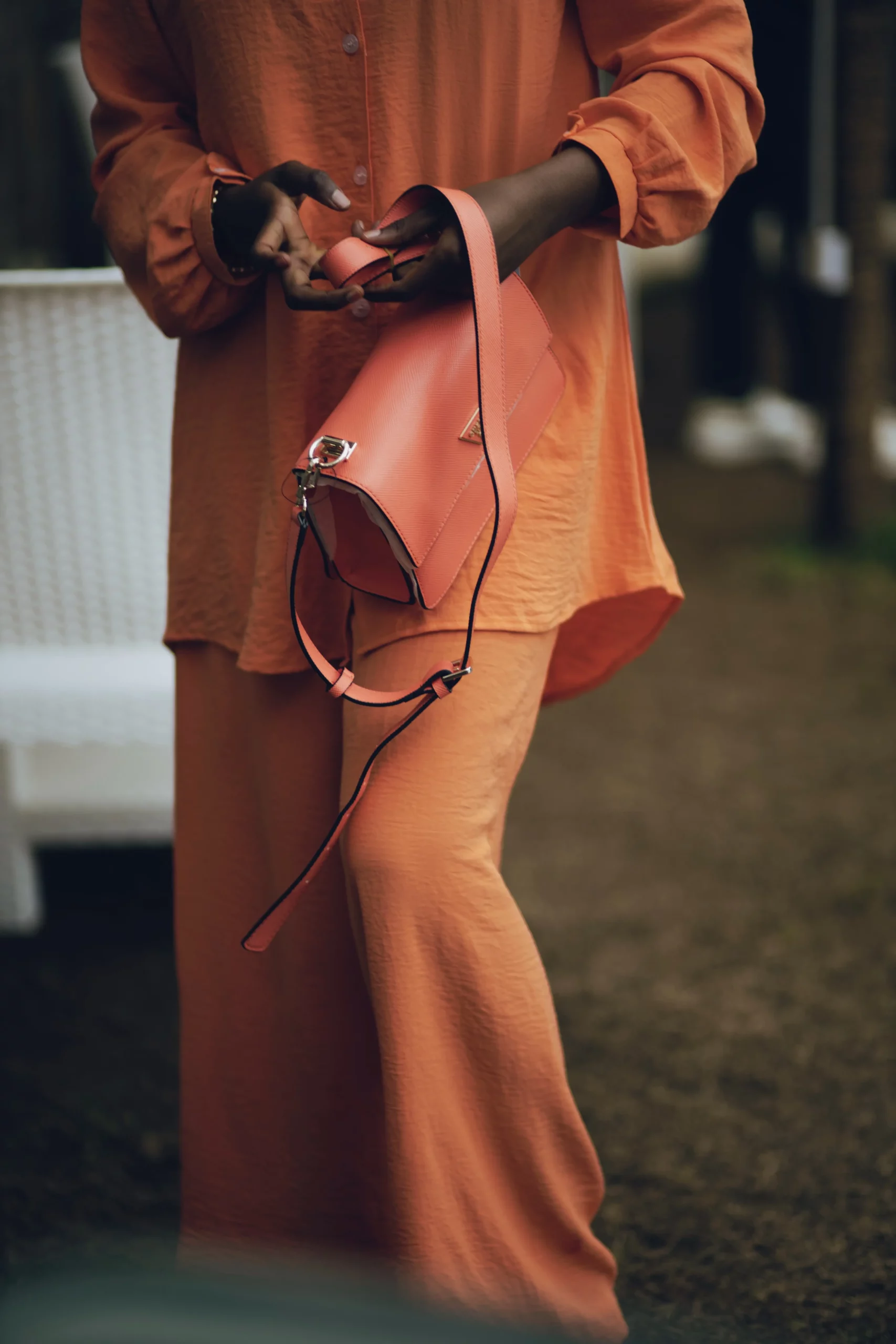 Two-pieces have never gone out of fashion. Match your big shirts over the same pattern and material of trousers. The outfits are usually made for a dress-down but unique outlook.
9. Combine Over Shorts
Wear your baggy shirts over a pair of shorts. These shorts come in different fabrics ranging from chinos, to corduroy, denim, or even leather. 
10. Sweat It Out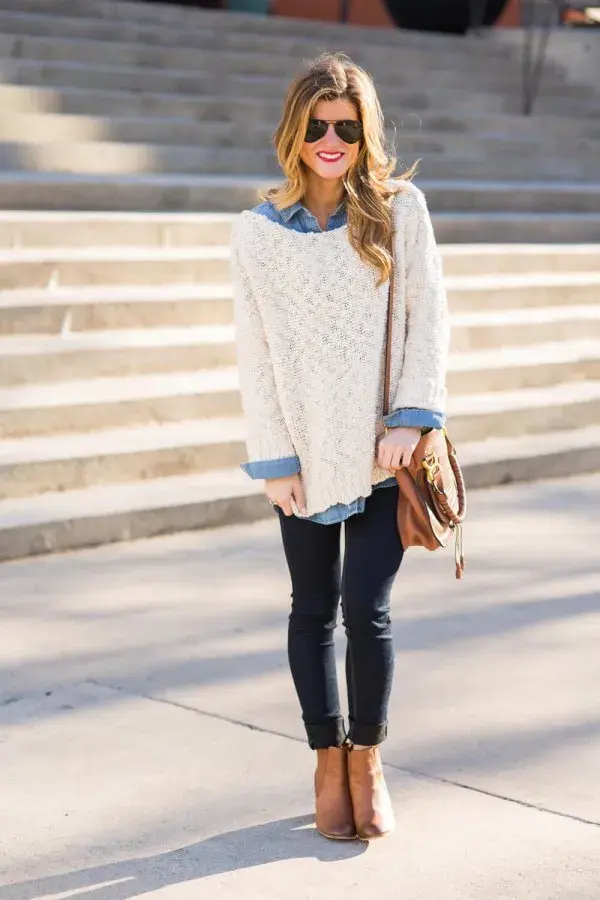 Have you noticed how wearing a sweater over an oversized shirt gives a whole transformative look? If you have not then, experience this magic happen when you look in the mirror. Give it more sophistication by sleeving up or leaving it buttoned up.
11. Restyle As An Off-shoulder
Unbotten few buttons of your shirt to give more room to slip down the arm of your shirt. This gives your outfit a new vibe. Rock it over your baggy trousers with lovely neck accessories to give your chest a more defined look.
12. Wear A Jacket Over It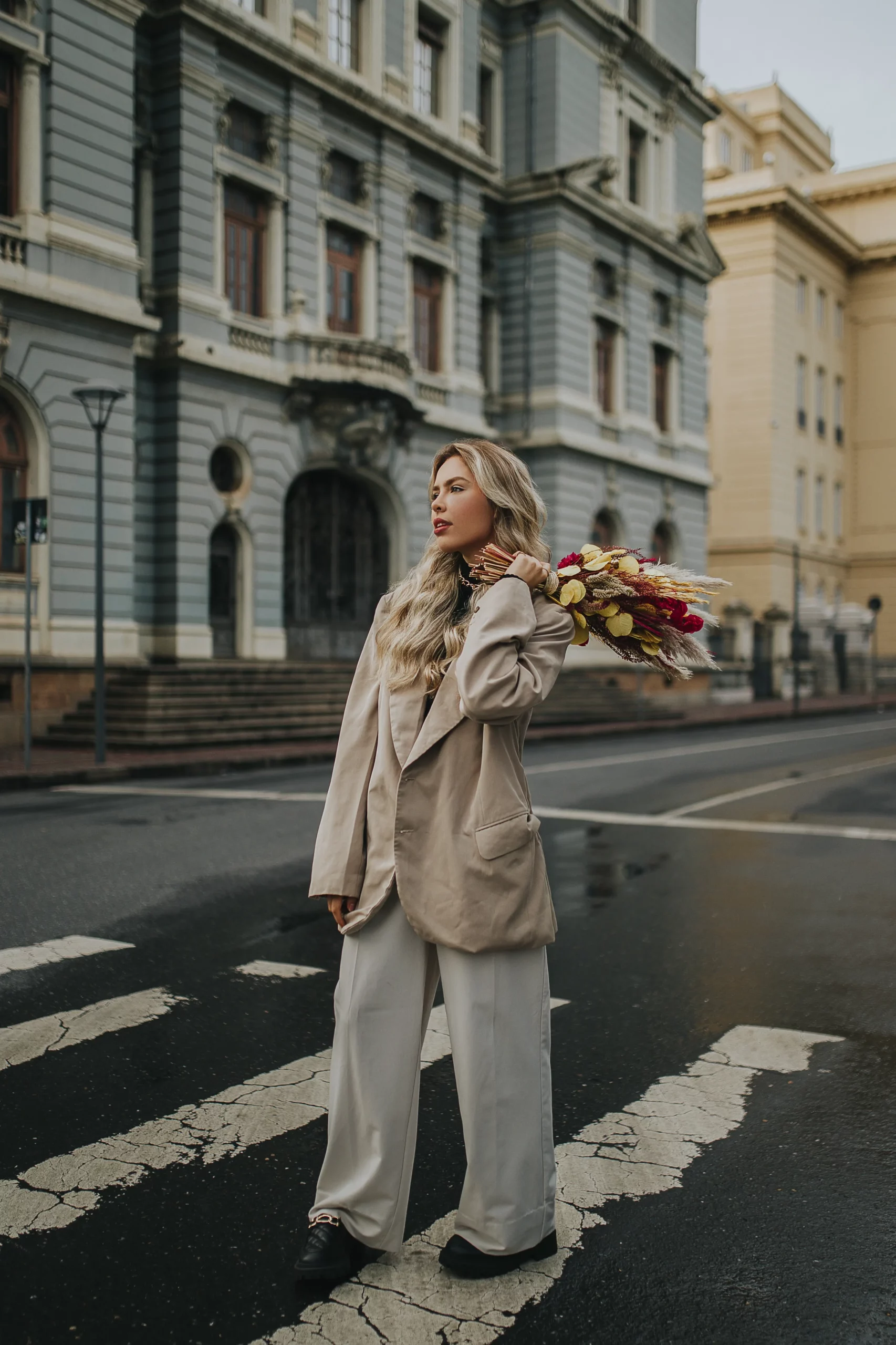 Your shirt cannot only be worn as a jacket but a jacket can be styled over your baggy shirt to tweak your style. Why not switch it up by styling a jacket over your shirt? It gives you a hippy and cool look. 
13. Wear With A Corset
Do not dress in the regular boring fashion every time. Instead, switch it up a bit by wearing a corset on your oversized shirt which accentuates your curves and flat tummy, making you look like the boss lady that you are. 
What to Consider Before Rocking An Oversized Shirt
As much as oversized shirts look good on every body shape and size, there are minute things you need to pay attention to to get the perfect fit that looks like it was custom-made for you. Just as there are certain footwear or jewelry that may not suit you for some reason, there are also oversized shirts that may not look good on you. This is simply because you didn't pay attention to some vital things about oversized shirts.
If you have an inverted body shape typical of a triangle – one with broad shoulders and a slim waist, an oversized shirt is a perfect recommendation for you especially when accessorized with a corset. It projects your body frame in a chic manner. 
Final Thoughts
Generally, when it comes to picking the right oversize, find out your regular shirt size then, go for two sizes up. For instance, if you normally wear a medium, go for an XL. Ensure that the shirt fits loosely around your waist and your shoulders. Be sure that the length is a few inches longer than your regular shirt length. 
Plain oversized shirts could almost make your nice features disappear. If this is not your goal, consider wearing a shirt with a splash of colour, with a pattern, embroidery, or just one that has a spice to it. 
Remember that an oversized shirt is the neutral power player of your wardrobe. Whenever you are experiencing creative blocks on what to wear, make sure you have an oversized shirt as a backup plan. Take the bold step. go for a striped fabric. Wear a white or blue shirt as you can never go wrong with these two colours. You will find that its versatility is limitless. With the 13 practical guides to styling your shirts in this article, you can definitely build your own unique style. 
Do you have a unique baggy shirt-style combo that we missed? Do share it with us. We would love to learn one or two things from you. 
FAQs
How can I tell the accurate size for my oversized shirt?
Find out your regular shirt size. Then, go for a shirt two sizes up.
What colours or prints are perfect to wear during spring?
Go for gentle and calm colours such as mustard, pink, warm green, blue, pastel yellow, lavender,  and light brown shades.
What colours of oversized shirts suit a dark skin tone?
If you are dark-skinned, wear colours that contrast with your skin tone. Bright colours such as yellow, green, and orange can make your radiant dark skin pronounced.
Can a plus-sized woman wear oversized shirts?
Although it's unnecessary to hide your belly fat in an outfit, you can get not-so-big shirts that will make you comfortable and look smart.
Can I wear an oversized shirt to the office?
Certainly! An oversized shirt can be worn as a business casual or semi-formal outfit to not-so-serious official engagements.  It can be worn for an appointment with a client, on a Friday work day, or to a semi-formal event.
Related Posts