How To Dress Like A Tomboy
The perfect mix of masculine-feminine style, popularly known as the tomboy style, is something every girl would want to try out at least once in her lifetime. I'm sure everyone craves those occasional breaks from being strapped in really fitted outfits. Thankfully, the tomboy style comes in handy and when moments you need those breaks come, you can dress like a tomboy.
It's interestingly amazing how girls have the liberty to wear boys' clothing and more so, rock them elegantly. Most guys actually think it cute to see a girl dressed up in an oversized shirt, baggy trousers, and a pair of nice sneakers to match.
Joining The Tomboy Geng

Girls, based on their biological makeup, have been conditioned unavoidably to the feminine-feminine fashion style. As a result, those wanting to dress like a tomboy may find that they struggle a little. This struggle usually occurs when it comes to putting outfits together and deciding what colours to stick with.
But It's Really Not Difficult!
Taking a tip from a tom-boy, dressing like a tomboy is almost like putting most of your feminine fashion sense on hold and really thinking like a guy. This shouldn't come off as difficult for you especially when the feminine-feminine fashion style begins to feel bland to you. You'll find that this might be one of those phases when you would rather climb a tree than wear a lace dress or put on makeup.
Also Read: Outfits For All Occasions
Rocking The Tomboy Feminine Style
To get a hang of the masculine-feminine fashion style and move effortlessly from the struggle phase to the "rocking it" phase, we'll explore the wardrobe of a tomboy and talk about each tomboy fashion staple as we go.
The Tomboy Kinda Shirts
When we think tomboy t-shirts, what patterns usually comes to mind?
Let's head over to the source (boys)
Boys are usually found putting on and having a collection of graphic tees, plain tees and distressed shirts. Since bulk of the inspiration for dressing like a tomboy comes from boy clothing, it is not unlikely to find a tomboy's wardrobe flooded with t-shirts of this nature.
You'll scarcely see a tomboy wearing body hugging clothes as this out-rightly rebels against the most laws of "tomboyism" which is meant to shed more light on the masculine fashion sense. We don't see boys going about wearing overly body hugging clothes now, or do we? Most of the shirts you'll find in the wardrobe of a tomboy are loose and really comfortable. Aside t-shirts, plaids, collared shirts, sweaters and hoodies are other shirts tomboys rock effortlessly.
What's there not to love about plaids and hoodies? We'll get to see just how handy plaids can be when we need something to throw over that plain shirt without having the formal look that comes along-side a jacket.
When you begin to heat up while wearing a plaid or hoodie, you can conveniently take them off and tie them around your waist for a nonchalant, boyish look.
Making Trousers And Shorts A Norm
Tomboys, if not never, are scarcely, found in skirts or dresses. They are characterized pretty much by the absence of these in their dressing style. They rather find it a lot more comfortable rocking cool trousers or shorts, particularly the ones having that boyish look. A very common example of trousers with this boyish look is the boyfriend jean (as the name implies), which has become a fashion trend, even among girls.
It's really intriguing how the boyfriend jean works with all kinds of tops from plain shirts to collared shirts to strappy tank tops to halter neck tops among others.
Aside from boyfriend jeans, joggers, pantsuits, track pants, distressed jeans, leggings and boot-cut jeans other trousers tomboys rock effortlessly.
Wondering How To Dress Like A Boyish Girl For A Business Casual?
A plain cotton shirt or collared shirt can be paired conveniently with a pantsuit. You can choose to rock this look with the shirt (either a plain cotton shirt or a collared shirt) tucked into your pantsuit. If you feel this would make you look too formal, you could swing in a sweater vest. This way, you can conveniently escape tucking in your shirt. Dungarees rather than conventional belts can be used as an accessory here. Take a shot at this outfit idea, then go look at yourself in the mirror. You'll see that you're gradually getting a hang of dressing like a tomboy.
Now, let's talk about the feet.
Flats Over Heels
As already established, when we think of dressing like a tomboy, we think of loose and comfortable outfits. A tomboy outfit is definitely not complete without shoes. Athletic shoes, flats, sneakers, high-top sneakers, and chunky boots are some shoes tomboys who find extremely comfortable.
The high-top sneakers are a top pick for casual wear, lunch or date nights (#wink), and are used especially when you want the preferred look to lean more on the feminine side rather than the masculine.
what do tomboys look like
As explained before, tomboys are simply girls who wear outfits belonging to men, and while they do not have to completely avoid wearing other female clothing, they are just cool with wearing pants that are comfortable plus enjoy that boyish look.
Find below some sample pictures of what tomboys look like: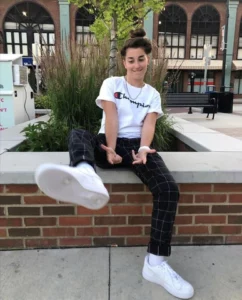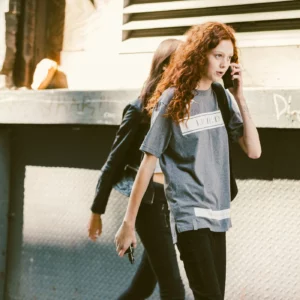 Parting Thoughts
The tomboy fashion style is one fashion style that never goes without being noticed in a crowd. This fashion style is built to stand out, particularly with the heavy dose of chicness, brassiness and sophistication it carries.
Dressing like a tomboy really isn't difficult. As with every other fashion style, it's all about striking a balance between masculinity and femininity, the colours, cuts and proportions. More so, dressing like a tomboy doesn't mean that your fashion sense automatically drops to point zero or that you would begin to dress like a snob or look unkempt. Guys have a fashion sense too you know and since boys do, tomboys should too, considering the fact that masculinity is the major inspiration for this fashion style.
Your wardrobe is yours to play with. You can also choose to accessorize your outfits with hats, face caps, beanies, chains and sunglasses.
At what point did you realize you have boyish interests? What do you think about the masculine-feminine fashion style? Would you rather wear this all year long?
Related Articles:
Top Fashion Trends In The Last Decade