Eye bags are a common cosmetic concern that can affect people of all ages. Therefore, let me ask, Are your eyes carrying the weight of the world? Those pesky eye bags can be a downer, making you look tired and older. But fear not, because we're about to dive into the fascinating world of eye bags, exploring their causes and revealing the best treatments to help you bid them farewell. From genetics to lifestyle habits, we'll uncover the secrets behind those puffy, dark circles under your eyes. So sit back, relax, and get ready to discover the ultimate solutions to reclaiming your bright-eyed and youthful appearance. It's time to say goodbye to those eye bags and hello to a refreshed and revitalized you!
What are Eye Bags?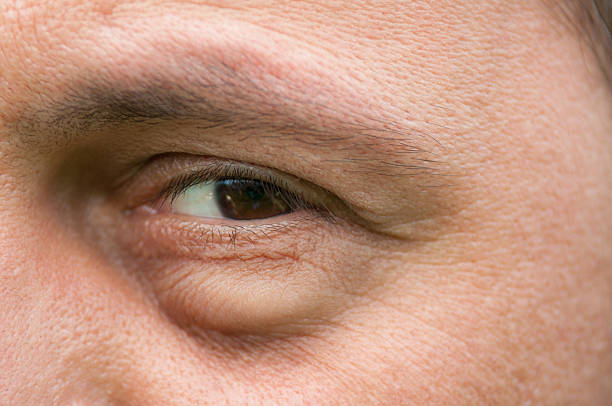 An
eye bag
refers to a puffiness and darkened area under the eyes. So, it happens due to various factors, including genetics, aging, allergies, and lifestyle habits, which contribute to its development. Although eye bags are not a severe medical condition, they can be visually unappealing.
Furthermore, causes of dark circles under the eyes can include a family history of dark circles, exhaustion, lack of sleep, allergies, excessive eye rubbing, or prolonged sun exposure. So, these causes are not necessarily due to an underlying disease.
Finally, bags under the eyes are typically a cosmetic concern and rarely indicate a serious condition. To improve their appearance, one can try at-home remedies such as applying cool compresses. In cases where under-eye puffiness persists or becomes bothersome, eyelid surgery may be considered as an option.
Symptoms of Eye Bags
1. Puffiness: The Area under the eyes appears swollen or inflated, giving a bag-like appearance.
2. Dark circles: The skin under the eyes may appear darker than the surrounding area, creating a shadowed or tired look.
3. Swelling: The skin around the eyes may feel tender or slightly swollen to the touch.
4. Loose or sagging skin: Eye bags can cause the skin under the eyes to lose its elasticity, resulting in a droopy or sagging appearance.
5. Fine lines and wrinkles: Eye bags can contribute to the development of fine lines and wrinkles, particularly in the lower eyelid area.
Causes of Eye Bags
1. Genetics: Eye bags can be hereditary. So, If your parents or other family members have eye bags, you are more likely to develop them.
2. Aging: As we age, the skin around our eyes loses elasticity and fat, which can cause eye bags to form.
3. Allergies: Allergies can cause inflammation and swelling in the tissues around the eyes, which can lead to eye bags.
4. Dehydration: When you are dehydrated, the skin around your eyes can become dry and puffy, which can make eye bags more noticeable.
5. Lack of sleep: When you don't get enough sleep, the blood vessels around your eyes can become enlarged, which can also make eye bags more noticeable.
6. Excessive sun exposure: The sun's ultraviolet (UV) rays can damage the skin around your eyes, which can lead to the formation of eye bags.
7. Smoking: Smoking can damage the blood vessels around your eyes, which can also lead to the formation of eye bags.
8. Fluid retention: Fluid retention can cause the tissues around your eyes to swell, making eye bags more noticeable. This can be caused by a number of factors, such as pregnancy, menstruation, and certain medications.
Eye Bag Treatment
A. The use of cold compress for under-eye treatment
Applying cold to the area can help the blood vessels to narrow quickly, reducing the puffiness. So, a cold compress can be purchased from any store around you. In addition, in the absence of a cold compress, you can use a DIY(Do It Yourself) Method
Some DIY Method includes:
The use of a chilled teaspoon(you place the cold teaspoon on the begged eye to relax and narrow the blood vessel)
The use of Cool Cucumber
The use of a wet washcloth
The use of bagged frozen veggies
Note: You only need to apply your compress or the DIY method for a few minutes.
B. The use of Tea Bags for under-eye treatment
Surprisingly you can use tea bags that have caffeine in them. So, the caffeine in the tea has antioxidant and anti-inflammatory properties that may increase blood flow to the skin and protect it from UV rays. It is also said to slow the aging process. In addition, green tea is a good choice for this purpose because it has been shown to have stronger antioxidant and anti-inflammatory effects than other types of tea.
Here are the steps on how to use tea bags for dark circles and bags:
Steep two tea bags for 3 to 5 minutes in hot water.
Let the tea bags chill in the refrigerator for 20 minutes.
Then, Remove the tea bags and squeeze out any excess liquid
 Apply it to the under-eye area for 15 to 30 minutes.
C. The Use of Retinol Cream for Eye Bag Treatment
Retinol creams are widely used for the treatment of acne, psoriasis, aging, etc. Also, retinol creams can be used to treat eye bags because they help improve collagen deficiency. You can buy this in any cream product but it will be in lower concentrations however for a higher concentration usage, you will need a prescription from a dermatologist.
Note: This application should be used once a day. However, it is not advisable usage this during pregnancy but you can replace it with Vitamin A
D. Visit a dermatologist for Eye Bag Treatment
A dermatologist may prescribe long-term solutions for puffy eyelids, such as recommending prescription creams or performing cosmetic procedures. These treatments actively reduce swelling and discoloration. Some options include:
Micro-needling: This procedure uses tiny needles to create micro-injuries in the skin. This stimulates the production of collagen and elastin, which can help to reduce wrinkles and improve the appearance of puffy eyelids.
Laser therapy: This procedure uses lasers to remove or improve the appearance of skin blemishes, such as puffy eyelids.
Chemical peels: This procedure uses acids to remove the top layer of skin. This can help to improve the appearance of puffy eyelids and other skin problems.
Injectable fillers: They inject these fillers into the skin to plump it up and reduce the appearance of wrinkles and puffiness.
Good Practice to Prevent or Reduce Eye Bags
A. Wash your face before bed
To avoid bags under your eyes, actively improve your nightly routine. So, make sure to wash your face thoroughly before bed, especially if you wear makeup.
Sleeping in makeup can have several negative effects on your eyes. It can irritate them, trigger allergic reactions, or even lead to infections that cause redness, puffiness, or other symptoms.
In addition, neglecting to wash your face can also result in wrinkles and other skin damage. So, when you sleep with makeup on, your skin is exposed to free radicals, which can cause oxidative stress. This stress may accelerate the signs of aging, causing your skin to show premature aging.
B. Stay elevated while you sleep
You can reduce puffiness by elevating your head while you sleep. So, Use two or more pillows or a wedge pillow to achieve this. Because, elevating your head actively prevents fluid from pooling in your lower eyelids, which causes puffiness during sleep.
Note: If propping up your head causes neck discomfort or difficulty falling asleep, you can also raise the entire top end of your bed by a few inches. Place bricks under the bed posts or use specialized bed risers designed for this purpose.
C. Reduce Alcohol
Alcohol can increase puffiness. This is so because alcohol, similar to not drinking enough water, which contributes to dehydration. Dehydration, in turn, can result in the appearance of bags and dark circles under your eyes.
If you're in the mood for alcohol, consider opting for flavored sparkling water or infusing regular water with fruit.
D. Quit smoking
Quitting smoking will give you healthier skin. This is because smoking contains nicotine that depletes vitamin C stored in the body.  So, vitamin C is essential for producing healthy collagen, which keeps your skin youthful. If you smoke, you may experience issues such as wrinkles, discoloration, under-eye bags, and dark circles.
Furthermore, quitting smoking not only improves your skin but also offers numerous other health benefits. It can add years to your life and significantly reduce the risk of developing various health conditions and diseases.
To support smoking cessation, doctors typically recommend tools or programs. These may include medications or other products to help manage nicotine withdrawal symptoms.
D. Stay Hydrated
Under-eye bags can be actively influenced by dehydration. Surprisingly, approximately half of people worldwide fail to meet the daily water recommendations.
So, how much water is enough? The recommended intake varies, ranging from 6 to 12 cups, depending on factors such as age, activity level, climate, sex assigned at birth, and pregnancy status.
If you're not a fan of plain water, the good news is that all fluids contribute to your daily hydration. However, water remains a low-calorie option. You can try alternatives like sparkling waters, flavored waters, or even water infused with fruit. Another excellent choice is hot or cold herbal decaffeinated tea.
Conclusion
Actively addressing the causes of eye bags, seeking appropriate treatment, and implementing best practices for prevention can help maintain a youthful and refreshed appearance. By understanding the underlying factors, taking proactive steps, and seeking professional guidance when needed, you can effectively manage and reduce the appearance of eye bags for a more vibrant and rejuvenated look.
FAQs on Eye Bags
Does lack of sleep cause eye bags?
Yes, lack of sleep can cause eye bags. This is because when you don't get enough sleep, the blood vessels under your eyes become more pronounced. Also, lack of sleep can cause fluid to build up under your eyes, resulting in puffiness.
What is the difference between under-eye bags and under-eye circles?
Under-eye bags are caused by a buildup of fluid or fat under the eyes making one look puffy and tired.
Under-eye circles are caused by the darkening of the skin under the eyes. This is caused by a number of factors, including genetics, allergies, lack of sleep, and sun exposure.
Other Related Articles