Smoothie recipes that are clean, well-processed, creamy and tasty are the best. Can smoothies be consumed by children?  Growing up, I don't like fruits and this is very essential for any living human being, so my mom blends it for me and I enjoy it. So yes, smoothies can be consumed by children, adults, the old-aged and everyone.
Smoothie is a thick, smooth drink of fresh fruit pureed with yoghurt, or milk. Smoothies basically consists of mashed or blended mixture of vegetables, fruits and together with some oats, peanut, cashew nuts or nuts in general, yoghurts and sometimes ice. Smoothies help to keep the body energized, replenish worn out tissues, and maintains good-looking skin.
Ready to discover how to prepare these miracle smoothies that help boost your immune system?
Then, let's dive in!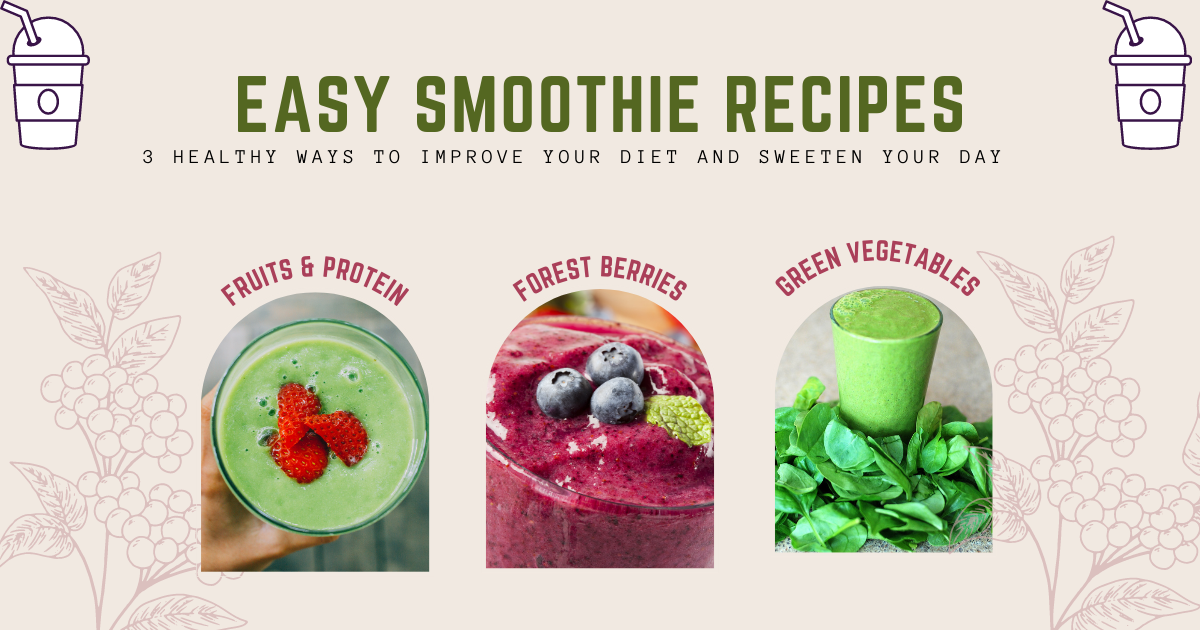 Smoothie recipes don't only revitalize you body, they also enhance your looks, keeps your skin fresh and away from wrinkles, keeps you healthy and away from the hospital at all times. They include the following:
fruits and protein, forest berries and green vegetable smoothies
.
#1 Fruit and Protein Smoothie Recipes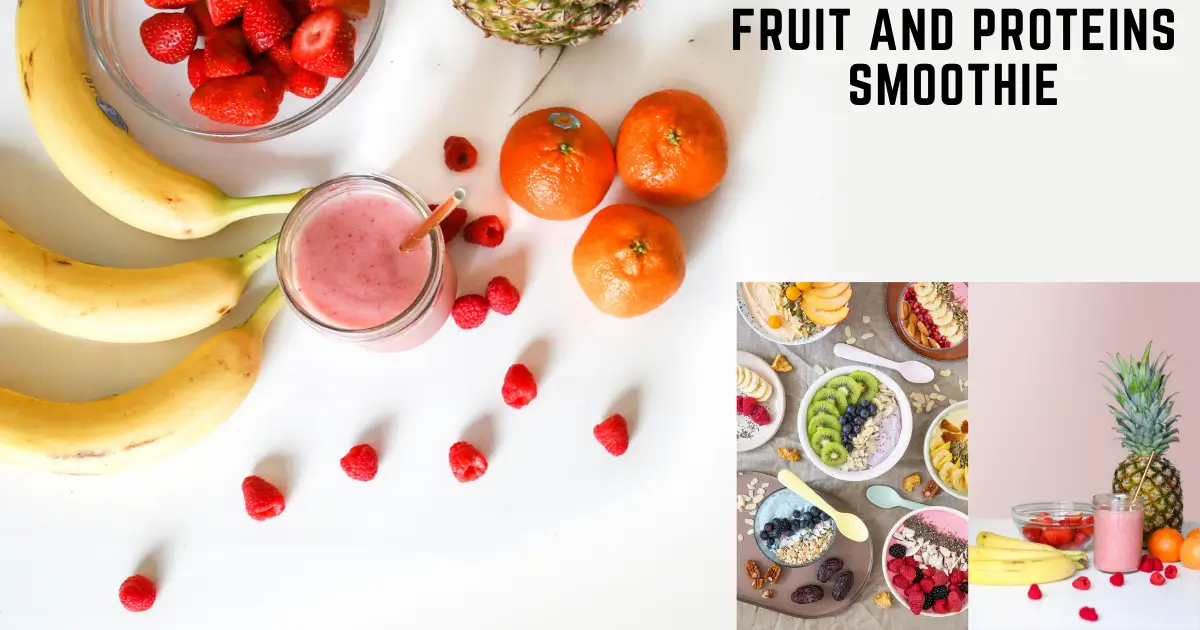 Smoothie recipes containing proteins are important part of your diet. Bananas, mangoes, pineapple, melon, strawberries, blueberries and raspberries are fruits that are high in proteins. These fruits can help with weight gain, muscle gain, loss of weight, and overall keeps your health in check. Smoothies can be made using a range of different ingredients, from fruits and vegetables to superfoods to liquids like milk and coconut water and the coconut itself.
Some examples of "fruit and protein" smoothies for weight gain are; Chocolate peanut butter shake and Greek yoghurt, Avocado smoothie with flaxseed, coconut milk smoothie, peaches and cream oatmeal smoothie, banana coffee smoothie, blueberry and chia smoothies etc. examples of proteins include; chia seed, flaxseed, oat and nuts.
This smoothie recipe of fruit and protein smoothie can be made with the following ingredients; blender or grinder, ice blocks (optional washed, diced or chopped then pour inside a mug or glass container for consumption. Ice blocks (optional)
Protein fruit smoothie recipes can be made the night before and stored the fridge for the next day. If the recipe contains banana, it's best to add it the morning you plan to eat it. Otherwise, your smoothie will be an unappetizing brown color and just not look as fresh. The flavor and nutritional state will be the same, though. 
If you are using whey or casein protein powder, store your smoothie in a glass container. This is because the plastic is absorbent and may take on a funny smell if left sitting containing the mix. 
How To Make Peaches and Cream Oatmeal Smoothie
The ingredients in making Peaches and Cream Smoothie recipe are sweet peaches, creamy Greek yogurt, vanilla, and cinnamon to make an excellent healthy peach smoothie. You can make this smoothie in 5 minutes and take it for breakfast, lunch or during snack time. The following steps include:
Get your blender or grinder
Wash your peaches or use frozen peaches to give it a frosty texture
Put the peaches, vanilla extract, Greek yoghurt and cinnamon in the blender or grinder.
Blend until it becomes smooth. If it is too thick, add some more milk either almond milk or soy milk.
Pour in a glass container and garnish with fresh peaches. You can also put some ice cubes.
#2 Forest Berries Smoothie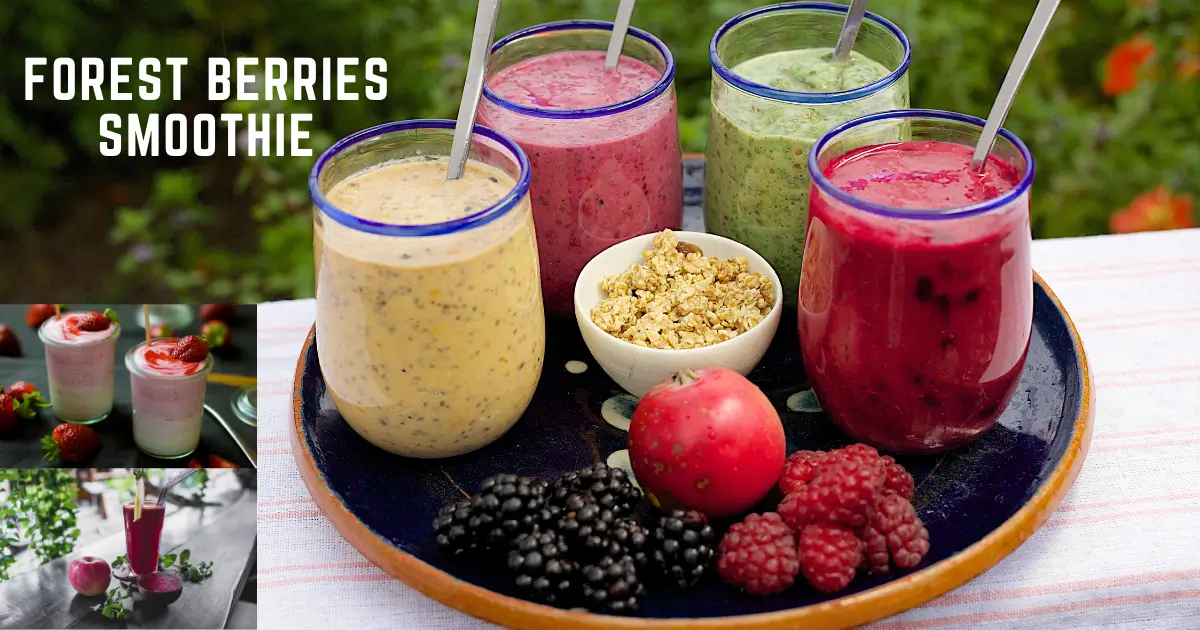 Before you consume any of these berries, make sure you identify it because there are some poisonous ones which you won't want to eat. It is very important to do that to avoid risking your health. Make as much research as you can. Forest fruits are also known as "berries from a bush". You are most likely to come across them in a forest or on a market stall. They include wild strawberries, raspberries, dewberries, blueberries and blackberries. They might differ in shape and size, but what they have in common is that they are very healthy.
One of the greatest advantage to these fruits is the pigments in found in them helps to increase blood flow to the eyes and improve the eyesight. so people with bad eyesight might consider taking this fruit raw or blended. it can also put on top of other smoothies for garnishing.
To make a smoothie recipe out of these berries, you can mix two or more berries together, you wash it, chop or dice and then blend. You can also add ice block.
How To Make Oat Smoothie With Forest Berries
The ingredients in making Oat Smoothie with forest berries are strawberries, blueberries, raspberries, blackberries, oat and milk. The steps include:
Add milk, oat, and frozen forest berries(strawberries, blueberries, raspberries, blackberries) in a blender.
Blend well until smooth
Serve in a cup. You can also add some sweetener to your taste either honey or brown sugar. If you are using brown sugar, make sure to add it before blending.
#3 Green Vegetables Smoothie Recipes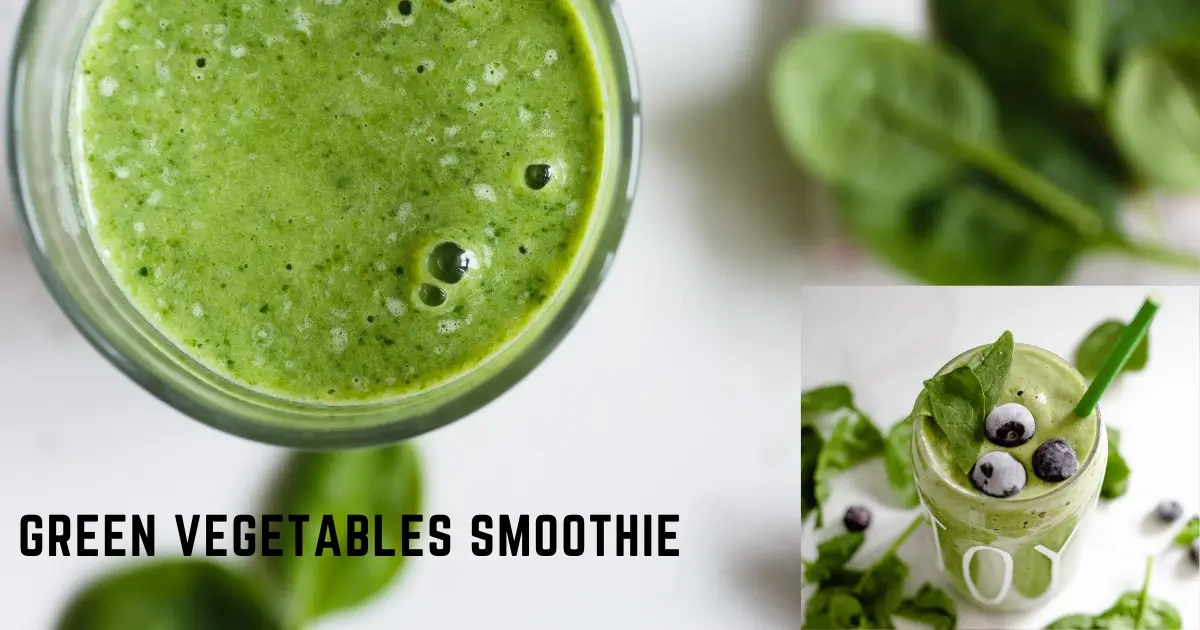 Green vegetables smoothie recipe include leafy greens. The leafy green that is very common is raw spinach because it has small to no flavor and display a beautiful green color to smoothies. Others include; lettuce, cauliflower, kale, collard green, and swiss chard. The leafy greens are nutrient-dense and  are high in fiber so adding as much as needed to your smoothie offers plenty of benefits. For example greens are high in potassium, folate, and vitamins C and K as well as antioxidants.
Examples of green vegetable smoothie are red and green layered smoothie which consist of frozen mango, frozen banana, baby spinach, soy milk, ginger, pomegranate and citrus and then you blend. The reason why you should use frozen fruit is to give your smoothie a frosty texture. Other examples of green vegetable smoothie recipes are; grapefruit green smoothie, pear smoothie, strawberry pineapple green smoothie etc.
How To Make Grapefruit Green Smoothie
The ingredients required to make grapefruit green smoothie are grapefruit, sweet apple, spinach, banana, almond milk or water and ginger. The steps include:
Add all ingredients to a blender

and blend until creamy and smooth

Add more liquid if it is too thick, ice cubes to thicken, and banana or apple to sweeten the smoothie. 
21 Smoothies That Will Keep You Full Till Lunch
Taking breakfast is one of the difficult thing to do because when you wake up you will just want the easiest thing to eat such as snacks and move on with your day. But with these healthy smoothies, you can be satisfied and full till lunch. These smoothies have high calories and fiber. They will keep you healthy and energized all day long. Below are list of the smoothies, these include:
Salted Caramel Chip Smoothie From Olivia Noceda
Chocolate protein shake from minimalist Baker
Lemon smoothie from real Food Whole Food
Vegan Beaming Banana Berry Detox Smoothie from Blissful Basil
Protein-Packed Cookies and Cream Smoothie
Tropical Oatmeal Smoothie from The Fitchen
Banana, Coconut, and Cacao Smoothie
Blueberry Peanut Butter Protein Smoothie
Green Machine Smoothie from Garden in the Kitchen
Vanilla Fig Smoothie With Cinnamon Whipped Cream
Pomegranate Berry Smoothie from Kitchen Confidant
Peach, Kale, and Coconut Smoothie
Blueberry Spinach Breakfast Smoothie from Kristine's Kitchen
Detox Green Smoothie With Chia Seeds from Ally's Cooking
Chocolate Green Smoothie
High Protein Blueberry Kale Smoothie from The Lemon Bowl
Glowing Chocolate Cherry Smoothie from Hello Glow
Ginger Mango Spinach Smoothie from Alaska from Scratch
Chocolate Peanut Butter Protein Smoothie from The Recipe Rebel
Vegan Almond Butter Banana Oatmeal Smoothie from Ambitious Kitchen
Green Peanut Butter Smoothie from Bon Appétit.
Final Thoughts
All the above smoothie recipes can be consumed either for breakfast, in the afternoon before of after eating lunch, and as deserts. The fruits can be used in its fresh or frozen form. There are also some additives you can add in your smoothie such as ginger, lemon, mint. 
Spices such as turmeric or cinnamon, floral extract such as rose water or orange flower water or vanilla extract can also be added to your smoothies. Fruits like bananas, mangos, pineapples and peaches have thicker flesh with smooth consistency. Furthermore, veggies like carrots, cauliflower, celery and spinach are high in fiber, mild in taste, makes the skin smooth and shiny.
There are some common mistakes that will make your smoothies unhealthy. These include; adding too many fruits, adding a lot of sugar, storing it for too long and overdoing the ingredients.
FAQs
What is the best anti-aging smoothie?
The best anti aging smoothie is the Berry Smoothie. This has all the essentials in order to get rid of wrinkles and makes one look young. The ingredients required in making Berry Smoothie are; raspberries(frozen), blackberries(frozen), almond milk, vanilla extract, honey(optional), collagen peptides, and banana. All these ingredients will be blended into a mixture. Enjoy and stay young and fresh!
What can I add to my smoothie to gain weight?
There are some high-calorie ingredients you can add to your smoothie in order to gain weight. These include: banana, Avocado, dry fruits(plump, Fig and apricot), coconut oil, dates, full-fat milk, and full-fat yoghurt. Add any of these to your smoothie and experience the gain weight you want to achieve!
What does drinking a smoothie every morning do?
Smoothies help in keeping you hydrated all day long. When smoothie is consumed in the morning it keeps you hunger free till lunch. When you consume smoothie every day, it keeps the fluid in your body intact. And this is very important to your skin, digestive system and your overall body function. So add smoothie to your daily routine especially in the morning!
Related Posts