Nigerians have been protesting and calling for the government to #EndSARS for weeks now. And many people have come forward to lead and to lend their voices. But none has stood out as much as the iconic hijab-wearing lady, fondly called "Nigeria's living statue of liberty". Her clenched fist provides the much-needed ginger for protesters to continue the struggle, and Aisha Yesufu is showing no signs of stopping anytime soon. It has caused many to ask, who is Aisha Yesufu?
Who Is Aisha Yesufu?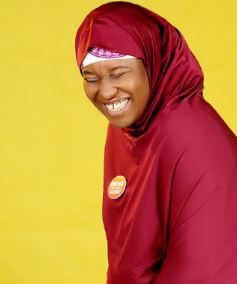 Aisha Yesufu was born in December 1974 in Kano. She is 46 years old, a trained microbiologist, and a businesswoman. She is an alumnus of Bayero University, Kano. Aisha Yesufu is an activist and a co-covener of the Bring Back Our Girls Movement, alongside Oby Ezekwesili. Aisha says she has always been an activist ever since she was a girl growing up in a heavily patriarchal environment. In her words,
"by the time I was 11 years old, I didn't have any female friends because all of them had been married off but I wanted to be educated and leave the ghetto."
Aisha is from Abgede in Edo state and is married to an Auchi man. And she has defied the religious constraints that surround women like her. She says,
"some people say a woman should not be heard, especially a Muslim woman. But over time in history, there have been exceptional women, who stood out in the Muslim world and did a lot of things. We have people like Aisha, one of the prophet's wives (peace be unto him), who would stand for justice and would not tolerate any form of injustice. She was very outspoken, very intelligent, and very knowledgeable. There was a time she went to war against a particular caliphate that was involved in some issues she felt wasn't right."
Read also: eleven habits of successful people
Aisha, in one of her interviews also said,
"relegating women to the background is not about Islam. It's about the culture of those involved. The woman has many places in Islam. Yes, there are some things she cannot do, but overall, her right has been given to her and she has a lot she can do. She has the right to property, she can inherit, she can be inherited from and there is child support in case of divorce. But these are things people do not do again. They forgot and tie it to Islam. Being a Muslim woman doesn't mean one cannot have one's voice out there."
What Keeps Aisha Yesufu Going?
Aisha has made the following statement a mantra.
"I only seek a Nigerian society where the son of a nobody can become somebody without knowing anybody."
This is the fuel in her engine, the drive behind her forcefulness. This coupled with her fearlessness has lent her some sort of immortality. Aisha is not afraid of death. She says,
"When I was 10 years old, I came to the realization that the worst thing any human being can do to me is to kill me. I don't even know how I came about this thought. I am someone who always thinks that anything can happen. But then, I realize that no matter what, I am going to die anyway. So, basically, dying is not really the worst thing. Death is inevitable, and as a Muslim, I believe that my life is in God's hands. Whatever is destined to happen will occur."
So much courage, so much bravery. Aisha Yesufu in many ways reminds us of Funmilayo Ransome-Kuti, a founding mother of Nigeria's independence.
Oh, and here's one more thing you didn't know about Aisha Yesufu: she is not a fan of house chores! Haha!