For travel enthusiasts, the chances are high that you have encountered various types of waterfalls during your explorations, ranging from the iconic Niagara Falls to the mesmerizing but transient phenomenon known as the Firefall in Yosemite National Park. Yet, it is unlikely that you have witnessed an underwater waterfall.
Just off the shores of a petite island in the Indian Ocean, there exists what seems to be a submerged waterfall within the ocean depths.
The Illusionary Underwater Waterfall in Mauritius.
Mauritius, a tropical paradise in the Indian Ocean, has long been renowned for its stunning natural beauty. Among its many wonders, one captivating spectacle stands out – the illusionary underwater waterfall. Just to be clear, it isn't an actual waterfall, but rather an illusion which can only be seen from up top.
This mesmerizing phenomenon has become a symbol of Mauritius' enchantment, but the allure doesn't end there. The island also offers a myriad of other breathtaking views, from pristine white-sand beaches fringed with palm trees to lush green mountains and vibrant coral reefs teeming with marine life.
Exploring Mauritius is an invitation to immerse oneself in a world of awe-inspiring landscapes and unforgettable natural wonders.
Just off the southern tip of the island lies a captivating sight that can only be described as an underwater waterfall, with water seemingly cascading into the depth of the ocean. However, all may not be exactly as it seems.
According to science blogs, what appears to be an underwater waterfall is actually the result of sand and silt from the shores of Mauritius being carried by ocean currents off the high coastal shelf and descending into the darker ocean depths of the southern tip.
This remarkable phenomenon, which is especially stunning when viewed from the air, is not only an optical illusion but also a fascinating natural occurrence. While most of the waters around Mauritius reach depths of up to 150 meters, the shelf at the island's southern tip plunges thousands of meters to the bottom of the ocean.
But not to worry, the beautiful white sand of Mauritius remains intact and the underwater waterfall is visible year-round, safe for swimming and even surfing.
To fuel your wanderlust, let's delve into how this magical phenomenon operates on this paradise island. Located on the southwestern coast, specifically on the Le Morne Peninsula, the phenomenon takes place in the Turquoise Lagoon, where the remarkably clear water allows for visibility.
It is through this crystal clear water that the mystery is unravelled. Contrary to initial impressions, it is not the water itself that falls into the unknown, but rather, the perpetual movement of sand and silt sediments.
As a relatively young island, Mauritius sits on a raised ocean shelf, with a gradual slope that abruptly ends in a 4000-meter-deep abyssal drop. This marine topography creates various shades of blue due to the shifting sand and silt deposits along the slopes. It is this harmonious interplay of hues that generates the optical illusion, captivating admirers from around the world.
To fully appreciate this gift from mother nature, nothing beats a helicopter ride above the Le Morne Peninsula, enhanced by the UNESCO World Heritage Peak, offering an even more breathtaking view that begs for countless snapshots and videos.
In conclusion, the so-called underwater waterfall is not an actual waterfall but an awe-inspiring optical illusion that can only be seen from the top view using a helicopter or drone camera. The sediment of sand and silt is responsible for creating this dramatic spectacle, showcasing the magic that operates in this enchanting corner of the world.
Other Breathtaking Views
1. The Chamarel Waterfall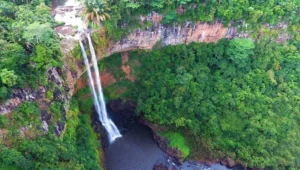 Without a doubt, the Chamarel Waterfall stands as the tallest single-drop cascade in Mauritius, reaching an impressive height of approximately 100 meters.
This remarkable natural wonder is situated amidst dense vegetation, creating a striking spectacle that captures the attention of all who behold it. As you approach the Chamarel Waterfall, you are greeted by the gentle roar of cascading water, creating a symphony of nature's melody.
The sound alone is enough to stir your senses and evoke a sense of awe. The sight that unfolds before you is nothing short of mesmerizing. The Chamarel Waterfall is not just a scenic wonder, but also an important part of Mauritius' cultural and ecological heritage.
It serves as a sanctuary for various species of plants and animals, contributing to the rich biodiversity of the region.
2. Seven-Colored Earth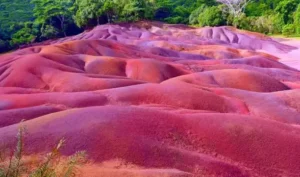 The Seven Colored Earth in Mauritius is a geological phenomenon that never fails to astonish visitors. Located in the Chamarel region, this extraordinary landscape showcases a kaleidoscope of vibrant hues that span across the earth's surface.
The sands of the Seven-Colored Earth consist of distinct mineral-rich layers, each displaying a different colour ranging from red, brown, violet, green, blue, purple and yellow.
This mesmerizing display of natural pigments is a result of volcanic activity and subsequent mineral deposits. As sunlight dances upon the undulating dunes, the colours intensify, creating a breathtaking visual spectacle.
The Seven Colored Earth is a testament to the awe-inspiring wonders that nature has to offer, leaving visitors in awe of its unique and captivating beauty.
3. Black River Gorges National Park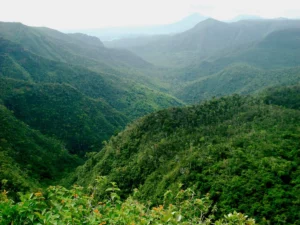 The Black River Gorges National Park in Mauritius is a pristine and captivating natural sanctuary. Spread over an expansive area, this national park is a haven for nature lovers and adventure seekers alike. The park is renowned for its lush green forests, cascading waterfalls and diverse wildlife.
Towering ebony trees and endemic plants dominate the landscape, creating a captivating and immersive experience for visitors. Trails wind through the park, offering opportunities for hiking, birdwatching, and discovering hidden treasures along the way.
The park is home to a rich array of wildlife, including rare bird species, colourful butterflies and unique reptiles. Black River Gorges National Park is not only a place of breathtaking natural beauty but also a vital conservation area, playing a crucial role in preserving Mauritius' unique ecosystems for generations to come.
4. Sir Seewoosagur Ramgoolam Botanical Garden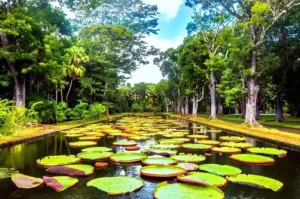 The Sir Seewoosagur Ramgoolam Botanical Garden, located in the district of Pamplemousses, Mauritius, is a true botanical paradise that spans an impressive area of over 37 hectares. This historic garden is a living testament to the island's rich flora and botanical heritage.
Named after the first Prime Minister of Mauritius, the botanical garden showcases an astounding collection of indigenous and exotic plant species. Strolling through its meticulously manicured pathways, visitors are greeted by towering palm trees, vibrant tropical flowers, and a captivating array of fragrant spices.
One of the highlights of the garden is the famous giant water lilies, known as Victoria amazonica, whose immense leaves float gracefully on the tranquil ponds. The garden also houses an array of other attractions, including an enchanting talipot palm, an old sugar mill turned museum, and a spice corner that tantalizes the senses.
A visit to the Sir Seewoosagur Ramgoolam Botanical Garden is an immersive experience that celebrates the natural wonders of Mauritius and provides a peaceful sanctuary where visitors can connect with the beauty of nature.
5. Blue Bay Marine Park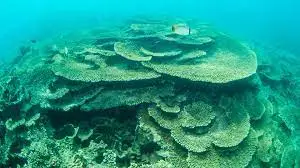 Nestled along the southeastern coast of Mauritius, the Blue Bay Marine Park is a breathtaking marine sanctuary that captivates visitors with its crystal-clear turquoise waters and vibrant underwater world. For those seeking a deeper immersion, scuba diving excursions provide an opportunity to explore the park's hidden treasures, such as underwater caves and fascinating shipwrecks. Beyond the underwater splendour, the Blue Bay Marine Park boasts stunning white sandy beaches lined with swaying palm trees, making it a perfect spot for sunbathing and relaxation.
6. Le Morne Brabant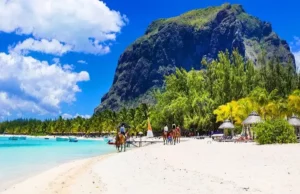 Le Morne Brabant is a majestic and iconic landmark located on the southwestern tip of Mauritius. Rising 556 meters above the surrounding turquoise waters, this UNESCO World Heritage Site is not just a mountain but a symbol of freedom and resistance. Its towering presence and rugged beauty make it a captivating sight for visitors. Le Morne Brabant holds historical significance as a refuge for escaped slaves in the 18th and 19th centuries, and its slopes have witnessed stories of courage and defiance. Today, it stands as a powerful reminder of the island's complex past.
What are the 4 types of Waterfalls?
1. Block/Plunge Waterfalls
These waterfalls are characterized by a powerful and vertical descent of water, often with a single drop. The water falls freely from a height and crashes directly into a pool or body of water below. Block waterfalls are known for their dramatic and forceful display of cascading water.
2. Tiered/Cascade Waterfalls
Tiered waterfalls consist of a series of multiple drops or tiers. The water flows down in a staggered manner, creating a cascading effect as it descends from one level to another. Each tier may vary in height and width, adding to the overall beauty and visual appeal of the waterfall.
3. Horsetail Waterfalls
Horsetail waterfalls are characterized by the water maintaining contact with the rock face as it descends. The water flows down in a narrow stream, resembling the tail of a horse. Horsetail waterfalls are often found on steep slopes or cliffs, with the water maintaining a continuous flow down the rock face.
4. Fan Waterfalls
Fan waterfalls are characterized by the spreading out of the water as it descends, creating a fan-like shape. The water cascades down in a wide and fan-shaped manner, often hitting several intermediate ledges or rocks before reaching the bottom.
Fan waterfalls tend to have a more gentle and delicate appearance compared to other types of waterfalls.
Each type of waterfall possesses its own unique charm and characteristics, contributing to the diversity and beauty of these natural wonders.
The 4 Largest Waterfalls in the World
The four largest waterfalls in the world, based on their total height and volume of water flow, are:
1. Angel Falls (Salto Ángel) in Venezuela
With a height of 979 meters (3,212 feet) and a plunge of 807 meters (2,648 feet), Angel Falls is the tallest waterfall in the world. It is located in the Canaima National Park and is known for its mesmerizing beauty and remote location.
2. Victoria Falls in Zambia and Zimbabwe
Victoria Falls is one of the world's most famous waterfalls, spanning approximately 1,708 meters (5,604 feet) in width and reaching a height of 108 meters (354 feet). It is situated on the Zambezi River, forming the border between Zambia and Zimbabwe.
Victoria Falls is renowned for its sheer power and grandeur, earning it the title of the largest waterfall based on the combined width and height of its cascade.
3. Iguazu Falls in Argentina and Brazil
Iguazu Falls is a magnificent waterfall system shared by Argentina and Brazil. It stretches approximately 2,700 meters (8,858 feet) in width and reaches a height of up to 82 meters (269 feet). Known for its impressive scale and numerous cascades, Iguazu Falls offers a breathtaking display of nature's might and is recognized as one of the most spectacular waterfalls in the world.
4. Niagara Falls in Canada and the United States
Niagara Falls is a renowned natural wonder situated on the international border between Ontario, Canada, and New York, United States. It consists of three main waterfalls: Horseshoe Falls, American Falls, and Bridal Veil Falls. With a collective width of approximately 1,066 meters (3,498 feet) and a height of up to 51 meters (167 feet), Niagara Falls attracts millions of visitors each year, offering a captivating blend of power & beauty.
These four waterfalls stand as awe-inspiring testaments to the raw power and breathtaking beauty of nature, captivating the hearts and minds of people worldwide.
Conclusion
In conclusion, the illusionary underwater waterfall in Mauritius is just one example of the countless breathtaking views this island paradise has to offer.
The extraordinary sights of Charamel Waterfall, Seven Colored Earth, La Morne Brabant, Black River Gorges National Park and Blue Bay Marine Park remind us of the incredible beauty and diversity found in nature and the importance of preserving and appreciating these wonders for generations to come.
Whether you're an adventure seeker, a nature lover, or simply in search of awe-inspiring vistas, Mauritius holds a treasure trove of captivating views that will leave an indelible mark on your soul. Mauritius is currently closed to non-citizens.
It is expected that limited travel will be allowed from April 15 to May 31, when the country will re-open, depending on current COVID-19 conditions.
Related Posts