Depression and Anxiety! In the depths of the human experience, there exists a silent battle that usually does not show to the outside world. It is the battle we fight inside the walls of one's mind, where the weight of doubt and darkness can be oppressive. Thus even the most brilliant souls can be victims of these two deadly foes, depression and anxiety.
Causes, symptoms, and management—these three pillars hold the key to understanding and navigating the intricate labyrinth of depression and anxiety. So, they provide a ray of optimism amid the chaos and serve as our compass as we navigate the storm. Nevertheless, we must first go into the depths of this emotional chasm to fully understand its significance.
What is depression?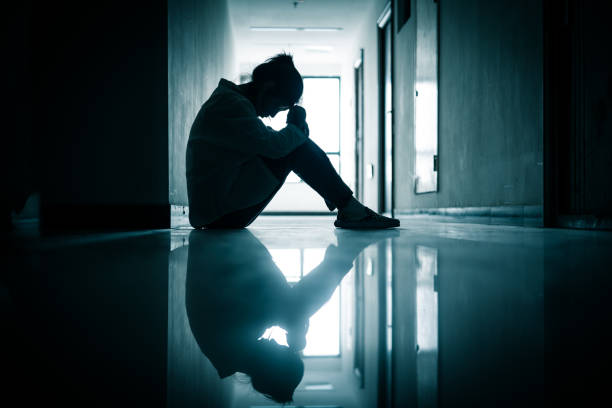 Depression is beyond the feeling of sadness. Medically it is a mental health condition diagnosed as persistent feelings of sadness, hopelessness and a lack of interest or pleasure in activities. Thus, It affects a person's everyday life, relationships, and general well-being significantly and goes beyond ordinary emotions of sadness or loss.
Common symptoms of depression include:
1. Persistent sadness or a low mood
2. Loss of interest or pleasure in activities once enjoyed
3. Changes in appetite and weight (either significant weight loss or gain)
4. Sleep disturbances (insomnia or excessive sleeping)
5. Fatigue or loss of energy
6. Feelings of worthlessness or excessive guilt
7. Difficulty concentrating or making decisions
8. Restlessness or slowed movements
9. Recurrent thoughts of death or suicide
10. Unexplained aches and pains or gastrointestinal concerns
What are the causes of depression?
Depression is a complex condition, and a lot of factors can contribute to it. So, the exact cause is not known but here are some factors that can contribute to it:
1. Biological factors: Certain brain chemicals (specifically neurotransmitters like serotonin, norepinephrine, and dopamine) can cause imbalances that may contribute to depression. Moreover, fluctuations in hormone levels, such as those experienced during pregnancy, the postpartum period, or menopause, can also play a part in the manifestation of depressive symptoms.
2. Genetics: Having a family history of depression or other mood disorders can increase the risk of developing depression. However, it's important to note that genetics alone do not determine whether someone will experience depression.
3. Environmental factors: Specific life occurrences or encounters have the potential to initiate or add to depression. Such instances might encompass the demise of an adored individual, issues within relationships, monetary struggles, unemployment, trauma, mistreatment, or persistent strain. Adverse encounters during childhood, commonly known as ACEs, can likewise enhance the possibility of developing depression in the future.
4. Personality traits: Certain personal characteristics, such as having a diminished sense of self-worth, a pessimistic outlook, or a proclivity for excessive pondering or dwelling on thoughts, may render individuals more vulnerable to experiencing depression.
5. Medical conditions: Certain medical conditions, such as chronic pain, chronic illness, thyroid disorders, or neurological conditions, can increase the risk of developing depression.
6. Substance abuse: Substance abuse, including alcohol or drug misuse, can contribute to the development of depression.  So, substance abuse can worsen depressive symptoms and make treatment more challenging.
Does depression have treatment?
Yes, depression can be treated. There are various treatment options available, including therapy, medication, lifestyle changes, etc. Here are some common approaches:
1. Psychotherapy: Different types of therapy, such as cognitive-behavioral therapy (CBT), interpersonal therapy (IPT), and psychodynamic therapy, can help individuals identify and address the underlying causes of their depression. Therapy sessions provide a supportive environment to explore thoughts, emotions, and behaviors.
2. Medication: Antidepressant medications, such as selective serotonin reuptake inhibitors (SSRIs) or serotonin-norepinephrine reuptake inhibitors (SNRIs), may be prescribed by a psychiatrist or a healthcare professional. These medications can help regulate brain chemicals and alleviate depressive symptoms. It's essential to consult with a healthcare professional to determine the most suitable medication and dosage.
3. Lifestyle changes: Engaging in regular exercise, maintaining a balanced diet, and getting enough sleep can have a positive impact on mood. Additionally, avoiding alcohol and drug use, as well as reducing stress through relaxation techniques like meditation or yoga, can be beneficial.
4. Support network: Building a strong support network of family, friends, or support groups can provide emotional support and understanding. Therefore, sharing experiences and feelings with others who have gone through similar challenges can be helpful.
5. Alternative therapies: Some individuals find complementary and alternative therapies, such as acupuncture, herbal supplements, or mindfulness practices, to help manage their depression. It's important to discuss these options with a healthcare professional before incorporating them into a treatment plan.
What is anxiety?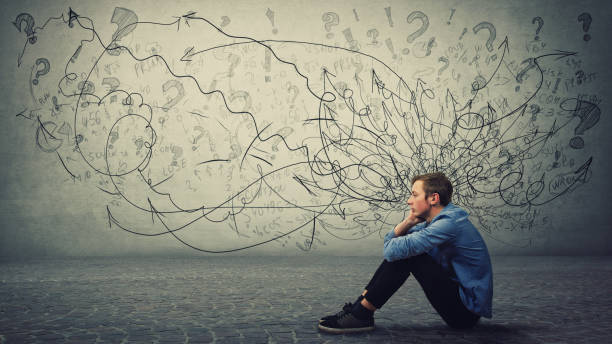 Anxiety is a normal reaction to stress or imagined threats. It's a typical and frequently positive emotion that gets us ready to face challenges and react appropriately. Nonetheless, anxiety might be classified as an anxiety disorder if it becomes too strong, pervasive, and interferes with daily life.
A group of psychological problems known as anxiety disorders are characterized by extreme and excessive worry, fear, or unease. They include generalized anxiety disorder (GAD), panic disorder, social anxiety disorder, particular phobias, and more, and they can manifest in a variety of ways.
Common symptoms of anxiety include:
1. Excessive worry.
2. Restlessness or feeling on edge.
3. Difficulty concentrating or finding it hard to focus.
4. Feeling easily annoyed, agitated, or irritable.
5. Experiencing muscle tension, aches, or trembling.
6. Having trouble falling asleep, staying asleep, or experiencing restless sleep.
7. Having a rapid stream of thoughts or feeling overwhelmed by thoughts.
8. Avoiding situations or places that trigger anxiety.
9. Experiencing physical symptoms such as rapid heartbeat, shortness of breath, sweating, dizziness, or gastrointestinal issues.
Causes of Anxiety
Anxiety can have various causes, and it is often a combination of factors contributing to its development. Here are some common causes of anxiety:
1. Genetic factors: Research suggests that certain genetic factors can make individuals more prone to the onset of anxiety disorders.
2. Neurological Balance: Disproportions in brain neurotransmitters like serotonin, dopamine, and norepinephrine can play a role in fostering anxiety.
3. Environmental factors: Stressful life events, such as trauma, abuse, or significant life changes, can trigger or intensify symptoms of anxiety.
4. Personality traits: Individuals displaying particular personality traits such as perfectionism, excessive concern, or a propensity for intense self-evaluation might exhibit a heightened vulnerability to anxiety.
5. Medical conditions: Certain medical conditions, such as thyroid disorders, heart disease, or chronic pain, can be associated with anxiety symptoms.
6. Substance abuse: The consumption of substances like drugs or alcohol can indicate anxiety, both while under the influence and during the withdrawal phase.
7. Caffeine and stimulants: The consumption of excessive quantities of caffeine or other stimulants can incite or exacerbate symptoms of anxiety in certain individuals.
The treatment of Anxiety
The treatment of anxiety can vary depending on the severity of the symptoms and individual needs. Here are some common approaches:
1. Therapeutic Approaches (therapy): Cognitive Behavioral Therapy (CBT) is frequently suggested for addressing anxiety. It aids in recognizing and altering negative thought patterns and behaviors that contribute to anxiety. Other forms of therapy, such as exposure therapy or mindfulness-centered therapy, may also prove advantageous.
2. Medicinal Intervention: In certain instances, medical professionals may prescribe medications like selective serotonin reuptake inhibitors (SSRIs) or benzodiazepines to assist in managing anxiety symptoms. These should be taken following the guidance of a healthcare expert.
3. Lifestyle Alterations: Participating in regular physical activity, upholding a balanced diet, ensuring sufficient sleep, and moderating caffeine and alcohol consumption can positively influence anxiety levels.
4. Techniques for Stress Control: Acquiring and applying stress management techniques like deep breathing exercises, meditation, yoga, or gradual muscle relaxation can contribute to the reduction of anxiety.
5. Network of Support: Constructing a robust network of companions, ie a strong support network of family, or support communities can furnish emotional backing and comprehension.
What is the link or relationship between depression and anxiety?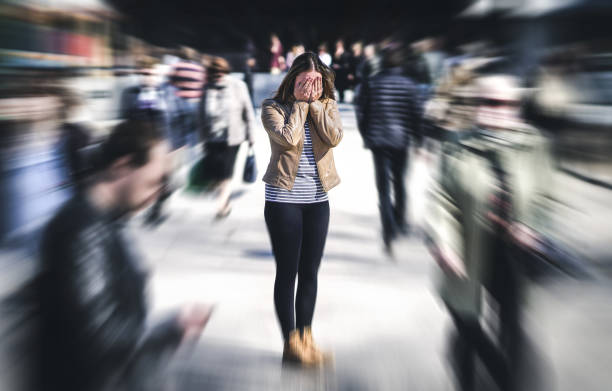 Depression and anxiety are closely related mental health conditions that mostly coexist and share some common symptoms. Although being separate conditions, they commonly co-occur and have an impact on one another.
Depression is characterized by persistent feelings of sadness, hopelessness, and a loss of interest or pleasure in activities. Anxiety, on the other hand, involves excessive worry, fear, and apprehension about future events or situations.
The link between depression and anxiety are explained in the ways below:
1. Similar symptoms: Both anxiety and depression are present with symptoms including fatigue, irritability, difficulty focusing, and sleep difficulties. It might be tough to distinguish between the two illnesses because of these overlapping symptoms.
2. Similar underlying causes: Such as genetic susceptibility, brain chemical imbalances, or traumatic life events, may be present in both illnesses. Both depression and anxiety may be influenced by these elements.
3. Negative thought patterns: Negative thought patterns are frequently present in depression and anxiety. So, those who are depressed could view life as hopeless, whereas anxious people might be preoccupied with threats all the time. Both of these conditions may be fueled and made more challenging to treat by these unfavorable thoughts.
4. Feedback loop: Anxiety and depression may produce a feedback loop in which one state worsens the other. As an illustration, anxiety can cause social disengagement, which can exacerbate feelings of loneliness and despair. Similar to how melancholy can drain vitality and drive, anxiety-provoking circumstances might be more difficult to handle.
Management of Depression and Anxiety
A lot of people are asking, can Depression and Anxiety be managed? YES, it can! But it will require professional help like mental health professionals, such as therapists, counselors, or psychiatrists. And also the use of medications like antidepressants, anti-anxiety medications, mood stabilizers, etc.
Ways on how you can manage anyone with depression and anxiety
Supporting a friend or relative with depression and anxiety can make a positive difference in their well-being. Here are some simple steps you can take to help manage their condition:
1. Educate yourself to fully understand what your friend/relative is going through by learning about depression and anxiety. So, this will enable you to offer knowledgeable assistance and empathy.
2. Promote open conversation by providing a secure and supportive environment for your relative to share their emotions. So, encourage them to share their stories as you listen intently without offering advice.
3. Provide your relative emotional support by letting them know you are there for them. For an instant, give words of support, assurance, and compassion. So, these simple acts of presence and attentive listening can bring about great comfort.
4. Recommend that your relative contact a mental health expert for professional assistance. Be a therapist or doctor and also accompany them to appointments.
5. Persuade your friend/relative to give self-care practices a high priority because they are good for their well-being. So, this includes getting exercise, eating well, sleeping sufficiently, and using relaxation methods like deep breathing or meditation.
6. Recognize that healing takes time and that there may be ups and downs along the road. Avoid pressuring your friend/relative to "get better" right away by being patient with them. So, throughout their journey, extend sympathy and understanding.
7. Promote healthy lifestyle choices by assisting your relative in developing healthy routines.
8. Refrain from passing judgment and using stigmatizing language when referring to mental health.
9. Assist your relative with daily chores or obligations that may seem burdensome to them eg housework.
10. Assist your relative in keeping social relationships and participating in activities they find enjoyable like gouging out with friends etc.
Conclusion
Depression and anxiety are two common mental health disorders that can significantly impact a person's well-being and daily functioning. Both conditions have distinct symptoms, but they can often coexist or overlap. Recognizing the symptoms is crucial in seeking appropriate help and support.
Changes in eating, sleep patterns, loss of interest, and a variety of other symptoms are some of the hallmarks of depression. On the other hand, anxiety is characterized by excessive concern, agitation, difficulty focusing, and outward signs like tense muscles or racing thoughts.
Combining methods is frequently necessary to effectively treat depression and anxiety. Therapy, medication, lifestyle modifications, and stress reduction strategies are all potential treatment choices. So, for a precise diagnosis and individualized treatment strategies, it is essential to seek expert assistance from mental health professionals.
There is no one-size-fits-all method of managing depression and anxiety. Therefore, it is crucial to keep in mind that everyone's experience with these conditions is different. People can find relief and reclaim control of their lives with the right support, comprehension, and therapy.
It is crucial to contact healthcare providers or helplines if you or someone you know is experiencing depression or anxiety to get the assistance and direction you need. Keep in mind that there is hope and support is accessible. Also, you can seek help from betterhelp.com
FAQs
What are the types of depression?
Depression can manifest in various forms, and here are some common types:
Major Depressive Disorder (MDD)
Persistent Depressive Disorder (PDD)
Seasonal Affective Disorder (SAD)
Postpartum Depression (PPD)
Bipolar Depression
Psychotic Depression
Is depression a side effect of anxiety?
Depression and anxiety are two distinct mental health conditions, but they can often coexist and influence each other. While anxiety and depression are not direct side effects of one another, they can be interconnected and share common symptoms. So, people who are depressed often feel anxious and worried.
What triggers anxiety?
Anxiety can be triggered by various factors, and it can vary from person to person. Some common triggers for anxiety include:
Stressful life events
Trauma
Genetics
Brain chemistry
Medical conditions
Substance abuse
Caffeine and stimulants
Personality traits
Related post: