Are you planning your next holiday and craving a unique coastal experience? Are you looking forward to exploring a new experience other than sightseeing, hiking, etc? Look no further than the mesmerizing sea glass beach that dots the shores of our planet.
So what is sea glass, you might be wondering? Well, it's garbage, but the unique thing about this garbage is that a natural process occurs that turns discarded trash into something beautiful that people collect and repurpose. So technically, one man's trash is another man's treasure. Sea glass is perfect for crafts, jewelry making, mosaics, wall art, sun catchers, home décor, garden displays, art projects, countertops, candle holders, ornaments, etc.
Sea Glass is trash. It's glass that has been discarded in our oceans and on our beaches. It can start out as broken bottles, windows, glass tiles or really any other glass product that has been thrown away. So how does broken glass turn into something so beautiful? Well, the salt water, waves, rocks and sand create a natural tumbling process that turns regular broken glass into glass with smooth round edges leaving you with something that looks more like a gem than garbage. In addition to the smooth edges, real sea glass has a natural frosted appearance from years of exposure to salt water. The process to turn regular glass in the sea glass can take 20 to 40 years or even more.
You may have also heard it referred to as beach glass but beach glass is different from sea glass. Beach glass is formed in fresh water and you won't get the same frosted appearance that you'll find on sea glass. So the next time you're combing the beaches and find a piece of sea glass, just remember that your new found treasure started out as garbage.
In this blog post, we'll be reviewing 11 amazing sea glass beaches around the world you could consider exploring for your next holiday. These extraordinary beaches, scattered across the globe offer a mesmerizing blend of natural beauty and captivating history. From the rugged coastlines of California to the remote islands of Russia, I have compiled a list of 11 awe-inspiring sea glass beaches that will leave you in awe of nature's transformative power.
Embark on a journey with me as we explore these stunning destinations, where waves have transformed discarded shards into jewels of the sea.
11 Amazing Sea Glass Beaches Around the World for Your Next Holiday
1. Glass Beach, Fort Bragg, California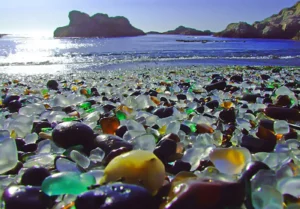 Glass Beach was actually one of 3 water dump sites. The third site that many know as glass beach today was an active dump site from 1949 to 1967. These 3 sites were used to dump just about anything from glass bottles to appliances and even vehicles. After several decades passed, the glass and pottery was made smooth from being tossed around by the rough waves of the ocean. These pieces were scattered all across the beach creating the beautiful beach many hear about. Today, the beach has an average of about 1100 visitors per day in the summer. Although collecting glass is prohibited, many collect it anyway. Many locals recall a time when the beach seemed to sparkle with glass, however, the illegal collection of sea glass obviously has led to less glass on the beach. Apart from the sea glass, the beach itself boasts of stunning coastal scenery, with rugged cliffs, crashing waves, and breathtaking panoramic views.
2. Seaham Beach, Durham England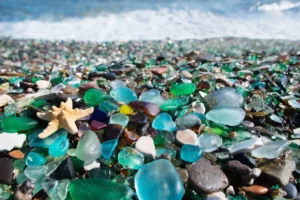 Renowned as one of the best sea glass beaches in the United Kingdom, Seaham Beach offers an abundance of sea glass treasures just waiting to be discovered. The beach is known for famous multicolored sea glasses, ranging from deep blues and vibrant greens to soft pastels and shimmering whites. As you stroll along the shoreline, the sound of crashing waves and the sight of glistening glass fragments will transport you to a world of tranquility and natural beauty. With each step, you'll uncover unique and polished sea glass pieces, shaped by the relentless tides of the North Sea. Whether you're a sea glass enthusiast or simply seeking a serene seaside escape, Seaham Beach is a must-visit destination for your next holiday.
3. Davenport Beach, Santa Cruz, California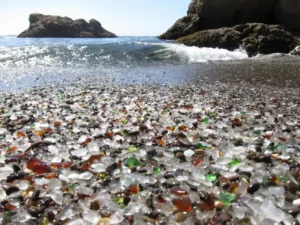 Davenport Beach in Santa Cruz, California is an absolute gem. Davenport Beach boasts of an impressive collection of frosted sea glass pieces, making it a paradise for collectors and beachcombers alike. The waves of the Pacific Ocean have worked its magic on discarded glass bottles and jars over the years, transforming them into smooth, colorful treasures. Strolling along the shoreline, you'll be mesmerized by the vibrant hues of sea glass that sparkle under the sun. Whether you're a seasoned sea glass enthusiast or simply looking to immerse yourself in the beauty of nature, Davenport Beach offers a serene and enchanting experience. So, pack your sunscreen, grab your beachcombing tools, and prepare to discover a coastal wonderland brimming with one-of-a-kind sea glass treasures.
4. Grant Park Beach, Milwaukee, Wisconsin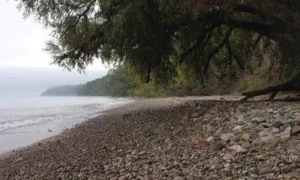 Nestled along the beautiful shores of Lake Michigan, Grant Park Beach is a hidden treasure for sea glass enthusiasts. As you wander along the sandy shoreline, the rhythmic lapping of the waves will guide you to a captivating assortment of sea glass gems. This beach is known for its diverse range of colors, including vivid blues, soothing greens, and delicate pastels. With each discovery, you'll be captivated by the smoothness and beauty of the sea glass pieces, each one a testament to the power of nature's artistry. Grant Park Beach offers not only a peaceful and picturesque setting, but also a chance to connect with the wonders of the lake and uncover unique treasures. Whether you're a seasoned collector or simply looking for a serene beach getaway, Grant Park Beach in Milwaukee promises an unforgettable experience filled with the magic of sea glass.
5. Dead Horse Bay, Brooklyn, New York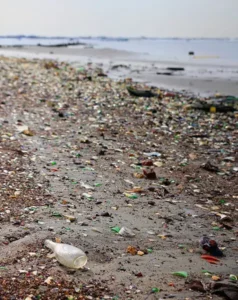 This unique beach holds a fascinating history and offers an abundance of sea glass treasures for avid collectors. Once a landfill site, Dead Horse Bay has transformed into a captivating destination where discarded bottles and ceramics from the past have been smoothed and shaped by the relentless waves. As you explore the shoreline, you'll find yourself immersed in a sea glass wonderland, with glimmers of vibrant colors peeking through the sand. Each step unveils a new discovery, whether it be a piece of cobalt blue glass or a fragment of delicate seafoam green. Beyond the sea glass, the beach is also known for its intriguing relics, adding to the allure and charm of the area. Dead Horse Bay provides a unique opportunity to engage with history, nature, and the thrill of uncovering one-of-a-kind treasures. Plan your visit to this captivating sea glass beach in Brooklyn for a holiday filled with curiosity and adventure.
6. Steklyashka Beach, Ussuri Bay, Vladivostok, Russia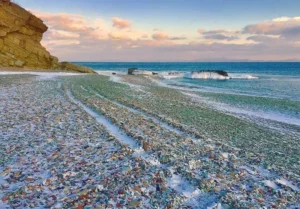 Known affectionately as the "Glass Beach of Russia," Steklyashka Beach offers a captivating display of sea glass that will leave you in awe. The beach's name, which translates to "Little Glass" in Russian, perfectly captures the essence of this extraordinary destination. Over the years, discarded bottles and porcelain have been transformed by the relentless action of the waves, resulting in a mesmerizing array of smooth and colorful sea glass pieces. As you stroll along the shoreline, you'll be greeted by a breathtaking sight—the beach adorned with glimmers of blues, greens, and various shades of frosted glass. The experience of collecting sea glass here is truly one-of-a-kind, as you'll discover beautifully crafted glass remnants that have taken on unique shapes and patterns. So, prepare to immerse yourself in the wonders of this remarkable sea glass beach, and let the beauty of Ussuri Bay in Vladivostok, Russia, enchant you on your next holiday.
7. Essaouira Beach, Morocco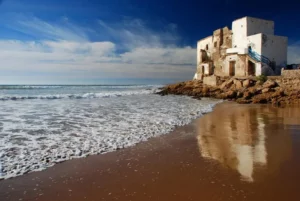 Essaouira offers a perfect blend of coastal beauty and rich cultural heritage. As you explore the sandy shores, you'll be delighted to discover an abundance of sea glass treasures adorning the beach. The crashing waves and gentle ocean currents have meticulously polished discarded glass bottles, transforming them into beautiful jewels of the sea. The sea glass found in Essaouira comes in an array of colors, from soothing blues and greens to delicate pastels, creating a kaleidoscope of coastal charm. Alongside the thrill of collecting sea glass, you can also immerse yourself in the vibrant atmosphere of Essaouira's medina, a UNESCO World Heritage site. Essaouira offers a truly unique and unforgettable holiday experience where the beauty of the sea glass beach seamlessly merges with the allure of Moroccan culture.
8. Glass Beach, Port Townsend, Washington, USA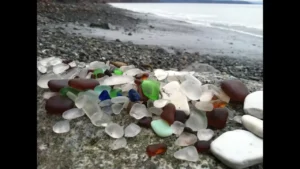 Sea Glass Beach, also known as Glass Beach, is a popular attraction in Port Townsend, Washington. It is not a natural beach but rather a stretch of coastline where the shoreline is covered with colorful pieces of sea glass. It is located in a picturesque area near Fort Worden State Park where visitors can enjoy scenic views of the Strait of Juan de Fuca, explore nearby hiking trails, visit the historic military structures, and appreciate the natural beauty of the coastline.
9. Port Allen Beach, Kauai, Hawaii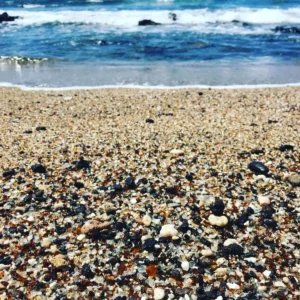 Located in Port Allen on Kauai's southwestern coast, Glass Beach is known for its abundance of colorful glass pebbles. It is a unique beach known for its abundance of colorful sea glass that covers the shoreline. Today, visitors to Glass Beach can enjoy the sight of millions of tiny glass fragments that cover the beach, creating a shimmering spectacle of colors. The beach is particularly popular among collectors and photographers who are drawn to the vibrant hues of the sea glass, which can range from green, blue, and brown to rarer colors like red and purple. Glass Beach in Port Allen, Kauai, offers a unique and visually stunning experience for visitors who appreciate the beauty of sea glass and the natural wonders of Hawaii's coastline.
10. Sea Glass Beach and Black Bay Beach, Ireland Island, Bermuda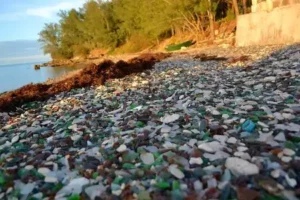 This picturesque island paradise offers a haven for sea glass enthusiasts and beach lovers alike. With its crystal-clear waters and stunning coastline, this beach is a feast for the eyes. The sea glass, ranging in hues from translucent white to vibrant greens and blues, adds a touch of magic to the shoreline. Just a short distance away, you'll find Black Bay Beach, another idyllic spot for sea glass hunting. Known for its tranquil atmosphere and stunning natural beauty, this beach offers the perfect setting to relax and explore. As you meander along the sandy shores, you'll be captivated by the glistening fragments of sea glass that dot the beach. Whether you're an avid collector or simply seeking a serene coastal escape, Sea Glass Beach and Black Bay Beach in Bermuda are sure to leave you with unforgettable memories of their beauty and charm.
11. Sea Glass Beach, Okinawa Japan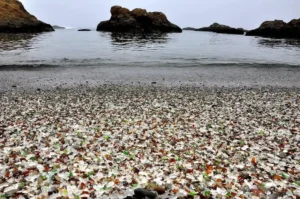 What sets Sea Glass Beach apart is its stunning display of sea glass, which has been naturally tumbled and polished by the ocean waves over time. As you stroll along the shoreline, you'll be greeted by a kaleidoscope of colors, with sea glass pieces ranging from soft pastels to vibrant hues of blue, green, and amber. The beach's scenic beauty, with its azure waters and picturesque surroundings, adds to the magical ambiance of the place. Whether you're searching for sea glass treasures, enjoying a leisurely stroll, or simply basking in the tranquility of the beach, Sea Glass Beach in Okinawa offers a serene and unforgettable holiday experience. Immerse yourself in the beauty of this coastal gem and let the allure of the sea glass captivate your senses.
Where does Sea Glass come from?
Sea glass is formed through a natural process involving the interaction of glass and the ocean over an extended period of time. Sea glass begins as discarded glass objects such as bottles, jars, windows, automobiles, or even glassware. These items are often discarded into bodies of water, including rivers, lakes, and oceans. While in the water, the glass pieces are subjected to the forces of nature.
With the combination of wave action, water currents, and abrasion against rocks and sand to begin the process of weathering, the glass is tumbled and churned by the water, which wears away its sharp edges and creates a frosted appearance. As the glass pieces continue to be exposed to these forces of nature, various chemical reactions take place. The constant exposure to sunlight, saltwater, and minerals in the water alters the composition of the glass. Over time, the outer layer of the glass dissolves, resulting in a smoother texture and giving it the frosted look that sea glass is known for.
It's important to note that not all glass items have the potential to become sea glass. Some modern glass compositions, such as tempered glass or laminated glass, do not weather in the same way as traditional glass and are less likely to transform into sea glass.
Why is Sea Glass special?
Sea glass is highly valued for its beauty and uniqueness, and it has become a sought-after material for jewelry, art, and decorative purposes. Collecting sea glass has also become a popular hobby for beachcombers around the world. Sea glass is special for the following reasons:
Its Beauty: Sea glass has a unique and captivating beauty that sets it apart from regular glass. The frosted appearance, smooth texture, and vibrant colors make it appealing to the eyes. It can come in various shades, including greens, blues, browns, and even rare colors like red or purple. The translucent quality of sea glass allows light to pass through, enhancing its beauty when held up to the sun.
Its Scarcity: Genuine sea glass has become increasingly scarce as the practice of dumping glass into the ocean has declined. Collecting sea glass has become a treasure hunt, and finding a rare color or shape adds to its allure.
Its Historical and Cultural Significance: Sea glass carries a sense of history and nostalgia. Many pieces of sea glass are remnants of old glass bottles, jars, and tableware, some of which may date back to decades or even centuries. Holding a piece of sea glass can evoke a connection to the past, allowing us to imagine the people and stories behind its origins.
Its Environmental Message: Sea glass serves as a reminder of the impact humans have on the environment. It represents a transformation of discarded waste into something beautiful through the natural forces of the ocean. Sea glass prompts us to reflect on our consumption habits and the importance of reducing, reusing, and recycling.
Its Symbolism: Sea glass has symbolic meanings associated with it. It is often associated with the ocean, symbolizing peace, tranquility, and healing. Its journey from broken glass to a smooth, polished gem can be seen as a metaphor for personal transformation and resilience.
Conclusion
Sea glass beach offers a fascinating glimpse into the transformative power of nature and the beauty that can emerge from discarded materials. From the shimmering shores of Glass Beach in Port Allen, Kauai, to the hidden gems scattered across the globe, these coastal treasures captivate visitors with their unique colors, smooth textures, and intriguing histories. Whether you're a collector, a nature enthusiast, or simply seeking a serene and awe-inspiring destination, exploring the enchanting sea glass beaches around the world is an experience that will leave you marveling at the wonders of our natural world.
Other Related Posts