In today's fast-paced digital world, a select group of technology companies reign supreme, shaping our lives in countless ways.
Known as the "Big 5," these industry powerhouses have not only revolutionized technology but have also left an unforgettable mark on society. From search engines to smartphones, e-commerce to social networking, their innovations have become woven into the fabric of our daily routines.
Who are the Big 5? Let's talk about the Big 5 – the select group of technology companies that dominate the fast-paced digital world we live in.
First, What Is Big Tech?
The Term Big Tech is used every time to refer to the largest and most influential technology companies with global representation. These companies are often characterized by their giant sizes, visible/clearcut market dominance, and the significant effect they have on various aspects of our everyday lives.
In the following paragraphs, we will explore the big 5 tech companies in the world plus, their area of interest, their impact on our everyday lives and why they are considered one of the big 5.
Who are the big 5 in technology
Apple, Google, Amazon, Facebook, and Microsoft combined are worth about 9 trillion US dollars, which is way more than the entire GDP of Japan. Holy cow, but how did these companies get so freaking big? Let's have a quick look at how each one of these tech titans grew to become a member of the tech industry's big five.
1. Microsoft
Microsoft is the first of the companies to be formed, everyone knows Microsoft for Windows, but it was the earlier MS-DOS (Microsoft Disk Operating System) that vaulted the company into international relevance. Back in 1980, IBM (Known for its hardware and software products, including computers, servers, storage systems, and networking equipment) needed an operating system for its new Intel-based personal computer and got in touch with the company Digital Research to license an Operating System called CP/M.
However, IBM and Digital Research couldn't work out a deal, so IBM asked Microsoft to create an Operating System instead. Ironically, Microsoft licensed an Operating System called 86-DOS, which was very similar to CP/M, and tweaked it to create MS-DOS. By the time IBM released its original PC in 1981, Microsoft had already written lots of software for MS-DOS. The IBM PC took off in popularity quickly, and as a result, so did Microsoft software. As other computer companies created IBM compatibles, MS-DOS and later Windows quickly spread to those PCs as well, setting the stage for Microsoft to dominate home computing to this day.
Fun fact: I am writing this article with a Windows PC.
2. Apple
Another member of the Big Five tech companies, Did you know they very nearly went bankrupt as recently as 1996? Apple was selling overpriced products, and still selling, but back then their overpriced products were underpowered, and Apple had way too many of them, meaning consumers often didn't even know what they were buying.
Apple had to do something drastic to avoid going under, so Steve Jobs was brought back in 1997, and he made a crucial decision to partner with Apple's old rival, Microsoft. After Microsoft invested 150 million dollars into Apple, Steve Jobs simplified the product lineup( Jobs cut all of the desktop models—there were fifteen—back to one, He cut all portable and handheld models back to one laptop and completely cut out all the printers and other peripherals. He also cut development engineers) and brought in Jony Ive ( Ive was the Chief Design Officer (CDO) of Apple Inc. from 1997 until 2019 (known as senior vice president of industrial design until 2015), and serves as  Chancellor of the Royal College of Art) and Jony transformed Apple into a design-focused company.
The result was the original iMac in 1998, a simple, attractive device that was extremely popular and kept Apple afloat. This was followed by the iPod in 2001, which further solidified Apple's position. The iPod's practical design and clever marketing got the public to start thinking of Apple as a lifestyle brand, a perception that was cemented after the iPhone came out in 2007.
3. Amazon
Started in 1994 as an online bookseller. Jeff Bezos chose books because they didn't cost much to buy wholesale, and he believed there was a demand for books people had a hard time finding in physical stores. Amazon's online-only model allowed them to sell a far wider selection of books than its brick-and-mortar competitors. This initial success allowed Amazon to buy more warehouse space and sell products like DVDs and toys. Again, the low overhead meant Amazon could undercut traditional retailers, and before long, Amazon had enough money to take chances on niceties like free shipping and one-click ordering.
The latter gave Amazon insights into customer behavior, a relatively ahead-of-the-curve idea at the time. But perhaps the most consequential decision was to make Amazon Web Services available to the public. Originally a system aimed at making Amazon's internal IT more efficient, this move happened in 2006, meaning Amazon got ahead of the game in terms of cloud computing. This earned Amazon so much money that the company kept extending its reach into everything from game streaming to movies to home security.
4. Google
You could consider Google to be the OG cloud computing company. Its first product, Google Search, is all about asking a computer in some distant location to fetch you an answer. Although Google wasn't the first search engine when it launched in 1997, it did something cool that other search engines weren't doing. Instead of presenting results based on how many times your search string appears on a page, it looked at how many times other pages linked to a page to determine relevance and importance. Although Google's algorithm today is much more complicated, this innovation made it much more accurate and popular than its rivals.
This made Google an appealing platform to advertise on, and Google wisely kept its ads text-based for a cleaner look, meaning it could load results quickly, further boosting its popularity. The money it made off of search meant it could buy Android in 2005 and YouTube in 2006. As important as smartphones and online video are now, the rest, as they say, is history.
5. Facebook (Meta)
Founded in 2004, Facebook is the fastest among the big five to rise to become a global superpower. it was primarily a social network for Harvard students. After expanding to other colleges, Investors saw the potential in the platform, which opened to the general public in 2006. Because Facebook offered more features and less spam than its competitor MySpace, it overtook the latter in popularity in 2009.
By this time, Facebook had already become a very valuable company through ad revenue, and it put that revenue to good use in 2012 when it bought Instagram for one billion dollars. Just two years later, it spent another 19 billion dollars on WhatsApp, as the service already had around half a billion users and was growing at a rate of a million new users per day. Not only has WhatsApp since become extremely popular in huge swaths of the world, but it has also allowed Facebook to expand the reach of its other services as well.
Comparison Analysis of the Big Five Tech Giants
The big five tech companies—Apple, Google, Amazon, Facebook, and Microsoft—have achieved remarkable success and hold immense significance in the tech industry.
While collectively dominant, each company possesses unique strengths and approaches. From Apple's sleek design and user-friendly ecosystem to Google's search engine dominance and data-driven solutions, Amazon's disruptive e-commerce and cloud services, Facebook's vast social networking reach, to Microsoft's software and enterprise solutions, these tech giants have left an indelible mark on how we interact with technology.
Let's review factors that make each tech giant remarkable;
1. Innovation and Product Offerings:
| Company | Key Innovations and Products |
| --- | --- |
| Apple | Sleek design, user-friendly ecosystem (iPhone, MacBook, Apple Watch, etc.) |
| Google | Advanced search algorithms, and data-driven solutions (Google Search, Android) |
| Amazon | E-commerce platform, cloud services (Amazon.com, Amazon Web Services) |
| Facebook | Social networking platforms, digital communication (Facebook, Instagram) |
| Microsoft | Software solutions, productivity tools (Windows, Office Suite, Azure) |
2. Market Reach and Revenue Streams:
| Company | Market Research | Revenue Streams |
| --- | --- | --- |
| Apple | Global hardware and software presence | Sales of devices, App Store, Apple Services |
| Google | Global Internet search dominance | Advertising revenue, Google Play, Cloud Services |
| Amazon | Global e-commerce and cloud dominance | Retail sales, Amazon Web Services, Advertising |
| Facebook | Global social media and messaging reach | Advertising revenue, Oculus VR, Messaging apps |
| Microsoft | Global software and cloud solutions | Software licenses, Cloud services, Enterprise |
3. User Base and Data Collection:
| Company | User Base | Data Collection Practices |
| --- | --- | --- |
| Apple | Cultivated user base, emphasis on privacy | Limited data collection, focus on device security |
| Google | Vast user base, data-driven ad targeting | Extensive data collection for personalized ads |
| Amazon | Large customer base, personalized shopping | Data collection for personalized recommendations |
| Facebook | Extensive user network, ad targeting | Comprehensive data collection for targeted ads |
| Microsoft | Enterprise-focused user base, data privacy | Emphasis on data security and privacy practices |
4. Cultural Impact and Public Perception:
| Company | Cultural Impact | Public Perception |
| --- | --- | --- |
| Apple | Sleek design, premium branding | Innovation leader, high-quality products |
| Google | Internet search dominance, information access | Reliable search engine, tech innovation |
| Amazon | Disruption of retail, logistics | Convenient online shopping, customer-centric |
| Facebook | Social networking, digital communication | Connection with friends, privacy concerns |
| Microsoft | Influence on personal computing, productivity | Established software, enterprise solutions |
It has been an Informative and exciting Journey, learning about the Big 5 and their rise to fame. From the early days of Facebook to Apple's close run-in with bankruptcy, before when conclude, let's review some additional information such as 'Who is bigger Microsoft or Google?' and The IT hub of the World.
Who is bigger Microsoft or Google?
We may still think Microsoft is the market leader, but in recent years, Google has caught up with Workspace and it is actually the market leader in the market. According to Statista, Google holds 50% of the office productivity software market, while Microsoft has about 47.9%
Another factor to consider is Google's Search Engine, Clearly, Google is far larger than Microsoft, when speaking of search. According to Statista, Google controls 84.7% of the search market worldwide. and Bing came in second place with just 8.9% of the search market, the gap between the two is huge and it is not questionable that Google has a very wide channel in search.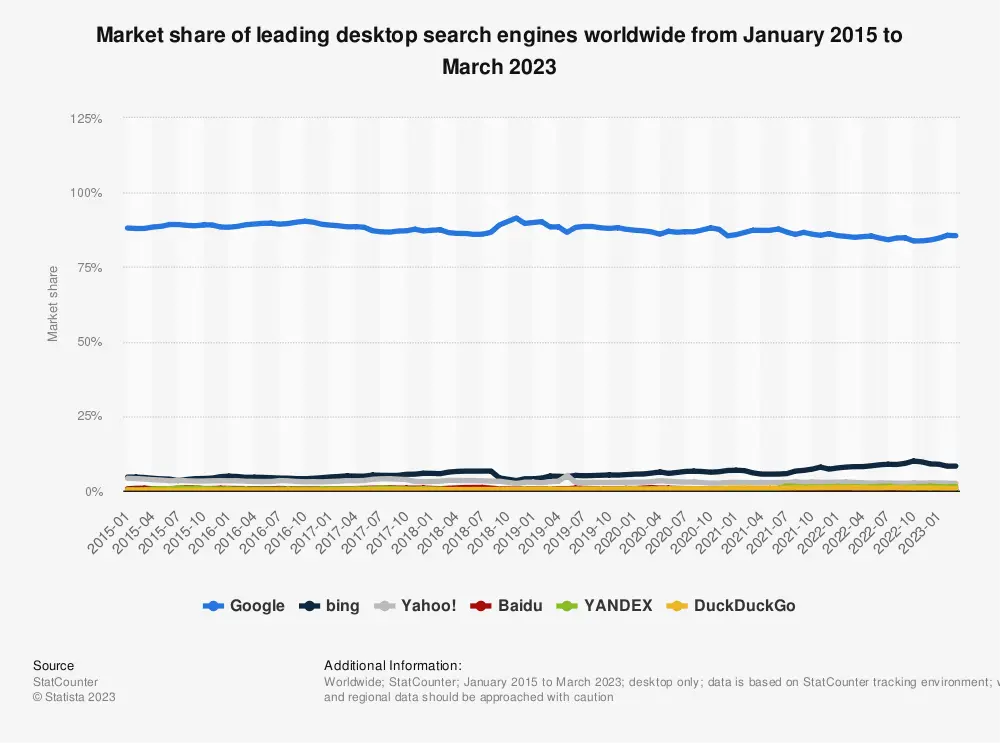 Which is the IT hub of the world?
Silicon Valley is arguably the most famous tech hub in the world. It is home to big global tech companies such as Google, Apple, Facebook, and Tesla. It is located in the San Francisco Bay Area.
Silicon Valley has been instrumental in driving technological innovation and has served as the birthplace of numerous groundbreaking companies. It has nurtured the growth of giants like Google, Apple, Facebook, Tesla, and many others, which have had a profound impact on various industries and transformed the way we live, work, and communicate.
Wrapping Up
The big five tech giants—Apple, Google, Amazon, Facebook, and Microsoft—have revolutionized the world with their cutting-edge innovations, extensive reach, and dominant market presence. Each company possesses unique strengths and approaches that have propelled them to the forefront of the tech industry.
Related Posts.