Are you a startup founder looking to take your business to new heights? Understanding the concept of business growth is crucial for your success.
So, in this comprehensive guide, we will delve into the stages, methods, and strategies that can help your startup thrive and achieve sustainable growth.
What is the Meaning of Business Growth?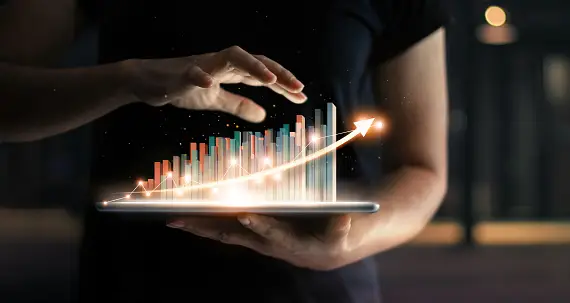 Business growth is the increase in size, revenue, market share, and overall success of a business over time. Hence, It is a measure of the expansion and development of a company's operations, customer base, and profitability. So, business growth can be achieved through various means, such as increasing sales, expanding into new markets, introducing new products or services, acquiring other businesses, or improving operational efficiency.
This makes it an essential goal for most businesses as it shows progress, increased competitiveness, and the ability to capitalize on new opportunities. However, business growth should be managed strategically to ensure sustainability and long-term success.
Understanding the Stages of Business Growth
By understanding the stages, methods, and strategies outlined in this comprehensive guide, you can navigate the path to success with confidence. So, know that every startup is unique, so tailor your growth strategies to your specific circumstances and goals. Therefore, embrace challenges, stay agile, and never stop learning. Finally, with the right mindset and strategies, your startup can achieve remarkable growth and make a lasting impact in the business world. Now let's see the stages of business growth:
Stage 1: Seed Stage
Your business idea is just a seed waiting to sprout in this first stage. So, conduct thorough market research to know, be certain of your brand niche, and identify your target audience. Therefore,  develop a solid foundation by crafting a compelling value proposition and building a prototype or minimum viable product (MVP).
Stage 2: Startup Stage
Here you are at a startup stage where your startup is now up and running! Furthermore, this stage is all about gaining traction and acquiring your first customers. Hence, Focus on refining your product-market fit, establishing a strong brand presence, and securing funding to fuel your growth. So, embrace the challenges that come your way and learn from them.
Stage 3: Growth Stage
Now it's time to scale your business rapidly. So, Optimize your operations, streamline processes, and invest in a talented team. Furthermore, Develop effective marketing and sales strategies to attract and retain customers. Also, make sure to embrace innovation and continuously improve your product or service to stay ahead of the competition.
Stage 4: Expansion Stage
At this stage,  you will explore new markets, and expand your product lines, or form strategic partnerships. You get to expand your horizons by entering new territories, diversifying your offerings, or collaborating with complementary businesses. Hence, be prepared to face new challenges and adapt your strategies accordingly.
Methods for Business Growth
It's important for businesses to carefully evaluate each method of growth and choose the ones that align with their goals, resources, and market conditions. Often, a combination of these methods will achieve sustainable development.
1. Organic Growth
Organic growth involves leveraging your existing resources and customer base to expand your business. Increase your market share by targeting new customer segments, improving customer retention, and enhancing customer satisfaction. Continuously innovate and adapt to meet evolving customer needs.
2. Inorganic Growth
If organic growth isn't enough, consider inorganic growth methods such as mergers, acquisitions, or strategic partnerships. Join other businesses to access new markets, technologies, or talent. However, carefully evaluate potential partners and ensure alignment with your long-term goals.
3. Market Expansion:
Market expansion involves entering new geographic markets or targeting new customer segments. This method allows businesses to tap into untapped markets and reach a wider audience. Market expansion strategies include opening new locations, expanding distribution channels, or adapting products to suit the needs of different customer segments.
4. Diversification
Explore new markets or develop new products/services to diversify your revenue streams. However, carefully assess the risks and ensure that diversification aligns with your core competencies and long-term goals. Seek opportunities that leverage your existing strengths and mitigate potential downsides.
5. Scalability and Operational Efficiency
As you grow, focus on scalability and operational efficiency. Streamline processes, automate repetitive tasks, and leverage technology to optimize your operations. This will enable you to handle increased demand while maintaining quality and profitability.
How to Effect Growth for Startups
1. Clearly define your unique value proposition by asking who your target audience is and what uniqueness will separate you from your competitors.
2. Invest in building a strong brand identity that resonates with your target market. E.g. Compelling brand story, designing a memorable logo, and maintaining digital/ media appearance.
3. Implement effective marketing strategies to acquire new customers. So, this includes digital marketing techniques such as SEO, social media marketing, content marketing, and paid advertising. Additionally, consider partnerships, referrals, and influencer marketing to expand your reach.
4. Prioritize customer satisfaction and provide an exceptional experience at every touch point.
5. Utilize data and analytics to gain insights into customer behavior, market trends, and business performance.
6. Implement strategies to retain existing customers and encourage repeat business e.g. promo offers, customer discounts, and installment services.
7. Seek Funding and InvestmentExplore various funding options to support your growth plans. Eg Investors
8. Surround yourself with a talented and dedicated team that shares your vision. Therefore, hire individuals with diverse skill sets and expertise to complement your own. Additionally, fosters a positive work culture that encourages collaboration, innovation, and continuous learning.
9. Monitor your business performance, market trends, and customer feedback.
10. Build relationships within your industry and seek opportunities for collaboration.
Business Tips and Habits You Need to Succeed as a Startup
Have a clear vision and mission. What do you want your startup to achieve? What problem are you solving? Why are you passionate about this? So, having a clear vision and mission will help you stay focused and motivated when things get tough.
Do your research. Before you launch your startup, it's important to do your research and understand your target market, your competition, and the industry you're entering. Hence, this will help you make informed decisions about your business model, marketing strategy, and product development.
Build a strong team. No one can build a successful startup alone. Therefore, you need to surround yourself with talented and passionate people who share your vision. Build a team of experts in different areas, such as marketing, sales, engineering, and finance.
Create a business plan. A business plan is a roadmap for your startup. So, you should outline your goals, strategies, and financial projections. A business plan will help you attract investors and partners, and it will also serve as a guide as you grow your business.
Be persistent and adaptable. The road to success is not always smooth. There will be setbacks and challenges along the way. But if you're persistent and adaptable, you'll be able to overcome them and achieve your goals.
Be willing to learn and take risks. The business world is constantly changing. In order to succeed, you need to be willing to learn new things and take risks. Don't be afraid to experiment and try new things.
Build a strong network. Networking is essential for any business, but it's especially important for startups. Your network can provide you with valuable advice, support, and opportunities.
Give back. As your startup grows, don't forget to give back to the community.
Conclusion
In this comprehensive guide, we have explored the concept of business growth and provided insights into the stages, methods, and strategies that can help startups thrive. Understanding the stages of business growth, from the seed stage to expansion, allows entrepreneurs to navigate the challenges and opportunities that arise at each phase. By employing the proper methods, such as organic or inorganic growth, startups can choose the most suitable approach for their unique circumstances.
Moreover, the strategies discussed, including market penetration, product development, diversification, and scalability, provide a roadmap for startups to effectively drive growth. By tailoring these strategies to their specific goals and resources, startups can position themselves for success in their respective industries.
However, it's important to remember that business growth is not a one-size-fits-all process. So, each startup has its own unique journey and challenges. As an entrepreneurs, you can use this guide as a foundation and adapt the strategies to suit your individual circumstances.
Don't forget what I said earlier, that with the right mindset, strategies, and a commitment to continuous improvement, your startup can achieve remarkable growth and make a lasting impact in the business world. Therefore, embrace the challenges, stay agile, never stop learning, stay focused on your vision, surround yourself with a talented team, and leverage the insights gained from this guide to make informed. The future is yours to shape, and this comprehensive guide is your compass. Best of luck on your journey to business growth!
FAQs
1. What is a profitable growth strategy?
Profitable Growth is the combination of profitability and growth, more precisely the combination of Economic Profitability and Growth of Free cash flows. Profitable growth is aimed at seducing the financial community; it emerged in the early 80s when shareholder value creation became firms' main objective
2. What are 3 factors that help a business succeed?
There are many factors that can help a business succeed, but here are 3 most important factors:
Strong market demand
Good business model
A dedicated and talented team
In addition to these three factors, there are many other things that can contribute to a business's success, such as good marketing, strong financial management, and a positive corporate culture. ETC.
Other Related Article