Take a moment to Imagine a world totally run by robots, A world where robots possess intelligence that surpasses our own, where machines not only understand but also outsmart us.
As technology continues to push the boundaries of what once seemed impossible, a fascinating question arises: What happens when robots exceed human intelligence? With artificial intelligence and robotics at the forefront of innovation, examining the potential outcomes of a future where machines possess unrivalled cognitive abilities is crucial.
Brace yourself for this captivating dive into the impending reign of our very own creations.
What Happens When Machines Become Smarter than People?
This result would be an exponential situation where human intelligence is quickly and completely left far behind by machine intelligence. Consequently, Humans would lose authority and control. In the best-case scenario, we become slaves to the machines; in the worst case, we're wiped out.
The prospect of robots surpassing human intelligence is a topic that both fascinates and raises concerns in equal measure. While we have witnessed remarkable advancements in artificial intelligence (AI) and robotics, the question of what will happen if robots become more intelligent than humans remains a subject of speculation and debate.
Advantages of Robotics & AI
Advancements in robotics and AI have brought forth a new era of possibilities and numerous benefits. These technologies have revolutionized various industries and had a profound positive impact on our lives.
Let's take a closer look at some key areas where robotics and AI have made significant advancements:
1. Healthcare
Surgeon-assisting robots: These advanced robots assist surgeons during complex procedures, enhancing precision and reducing risks.
AI-powered diagnostics: Algorithms powered by AI enable faster and more accurate diagnosis of diseases, leading to improved patient outcomes.
2. Manufacturing and Logistics:
Streamlined operations: Robots have transformed manufacturing and logistics by automating tasks such as assembly lines and material handling, increasing efficiency and productivity.
Workplace safety: By automating repetitive and hazardous tasks, robots have contributed to improved workplace safety and reduced risks for human workers.
3. Personal Assistance:
Virtual assistants: AI-powered virtual assistants like Siri, Alexa, and Google Assistant have become universal, providing convenience and assistance in our daily lives.
Smart home automation: Integration of AI and robotics in smart home devices enables automation of tasks such as temperature control, security systems, and appliance management.
Remarkable Achievements in Robotics and AI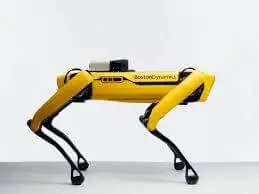 This four-legged robot has made significant advancements in mobility and perception. With its ability to navigate complex terrains, climb stairs, and even perform backflips, Spot demonstrates remarkable progress in robotic locomotion.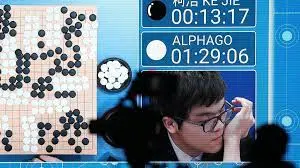 AlphaGo is an AI system developed by DeepMind, a subsidiary of Alphabet Inc. In 2016, AlphaGo defeated a world champion Go player Lee Sedol in a five-game match, showcasing the superior computational abilities of AI in a complex strategy game.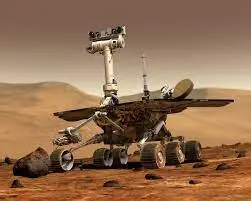 The Mars rovers, including Spirit, Opportunity, and Curiosity, have revolutionized space exploration. These robotic vehicles have navigated the harsh Martian terrain, collected valuable data, and expanded our understanding of the Red Planet.
Robots and Ethics
The emergence of intelligent machines raises important ethical considerations that warrant careful examination. Let's delve into the ethical aspects surrounding robots and AI:
1. Human-Robot Interaction:
Informed consent: The issue of obtaining consent arises when humans interact with robots, particularly in sensitive areas such as personal information or physical contact.
Privacy concerns: The collection and utilization of data by robots can raise privacy concerns, as personal information may be accessed or shared without consent.
2. Autonomous Decision-Making:
Responsibility and accountability: When robots make independent decisions, it becomes crucial to determine who is accountable for the outcomes, especially in cases where harm or damage occurs.
"Consider a thought-provoking real-life scenario that challenges the decision-making capabilities of AI systems. Imagine a situation where a self-driving car (FSD) is faced with a critical dilemma: should it hit a mother with her baby in a stroller or collide with a fast-approaching truck? In such a scenario, who should be responsible for such decisions?"
Ethical decision-making: Ensuring that robots are programmed to make ethical choices when faced with complex situations becomes a significant concern.
3. Job Displacement and Economic Impact:
Employment implications: The advancement of robotics and AI has the potential to automate various jobs, leading to job displacement and the need for retraining or career transitions.
Economic inequality: The impact of automation on employment can worsen economic inequality if not properly addressed.
4. Bias and Fairness:
Algorithmic bias: The algorithms used in AI systems can unknowingly uphold biases present in the data, leading to discriminatory outcomes in areas like hiring, lending, or criminal justice.
Fairness in decision-making: Ensuring fairness and equity in the decision-making processes of AI systems is crucial to prevent unjust or biased treatment.
Potential Risks and Disadvantages
Advancements in robotics and AI also bring forth potential risks and disadvantages that need to be carefully considered.
1. Job Displacements:
The increasing automation of tasks and the rise of AI-powered systems can potentially lead to job displacement, particularly in industries where routine and repetitive tasks are common. This shift in the workforce can have socioeconomic implications and require reskilling and upskilling efforts.
2. Ethical Dilemmas: The ethical considerations surrounding the development and use of AI systems become more pronounced as robots become smarter. Some key concerns include:
Privacy and Data Security: AI systems often rely on vast amounts of data, raising concerns about the privacy and security of personal information.
Bias and Discrimination: If AI algorithms are trained on biased datasets, they may perpetuate existing biases and discrimination, leading to unfair outcomes.
Lack of Human Oversight: As robots become more autonomous, there is a potential loss of human control and oversight, raising questions about accountability and decision-making.
3. Security Risks: Highly advanced robots and AI systems can become targets for malicious activities, including hacking and misuse. Ensuring robust security measures is crucial to safeguard against potential threats and breaches.
4. Unforeseen Consequences: The complexity and uncertainty of AI systems pose challenges in understanding their potential long-term consequences. Unintended behaviors, errors, or system failures could have significant impacts, emphasizing the need for thorough testing, validation, and risk assessment.
5. Dependency and Reliance: Overreliance on robots and AI systems may lead to human dependency on these technologies, potentially diminishing critical skills and problem-solving capabilities.
Humans vs. Their Creations
To gain a clearer perspective on the potential implications of robots surpassing human intelligence, let's compare some key attributes of humans and robots:
| | Humans | Robot |
| --- | --- | --- |
| Creativity | Inventive and innovative | Limited, based on programmed algorithms |
| Emotions | Experience a wide range of emotions | Devoid of emotional experiences |
| Adaptability | Flexible and adaptable | Rigid, designed for specific tasks |
| Learning | Capable of learning from experience | Learn through data analysis and algorithms |
| Physical Abilities | Possess varied physical capabilities | Designed with specific physical abilities |
| Ethical Decision-making | Guided by complex ethical considerations | Follow programmed rules and algorithms |
Humans possess exceptional qualities that make us uniquely human. Our creativity enables us to generate new ideas, think outside the box, and make innovative discoveries. Emotions play a fundamental role in our lives, allowing us to experience joy, empathy, and a spectrum of feelings. Our adaptability enables us to adjust to different situations, learn from our experiences, and apply knowledge to new situations.
In contrast, our creations (robots) are designed with specific functions and capabilities. While they may exhibit intelligence and efficiency in performing tasks, their abilities are limited to programmed algorithms and data analysis. They lack the capacity for emotions, ethical decision-making, and the superior learning that comes from human experiences.
The advancement of robotics and AI raises intriguing questions about the future relationship between humans and robots. As robots become increasingly intelligent, they may excel in specific areas, such as data processing, speed, and precision. However, it is crucial to acknowledge and value the unique attributes that make us human.
Can robots survive without humans?
The most intelligent machines or robots need a human to fulfill their basic tasks. A human is required to feed the data into the system so that the machine can run analytics on it. Without a human to fill the nuances of a machine, the machine will eventually be rendered useless.
Therefore humans and AI are not interchangeable, and AI / Robots can't exist without people.
What human jobs cannot be replaced by robots?
Jobs AI Can't Replace;
Chief Executive Officers (CEOs)
Lawyers.
Graphic Designers.
Editors.
Computer Scientists and Software Developers
PR Managers
Event Planners
Marketing Managers
Human Resources Managers
Why robots can't replace humans
Robots/AI cannot replace human beings due to reasons like; lack of creativity, Lack of Emotional Intelligence, Inability to Understand Irrational Thought, and so on. Humans possess a unique ability to think creatively and come up with new and original ideas. Creativity is a complex trait influenced by various factors such as emotions, culture, and experiences.
Conclusion
While robots have the potential to outperform humans in certain tasks, they lack essential human qualities such as creativity, empathy, and moral judgment. It is crucial to strike a balance between leveraging the strengths of robots and preserving the unique capabilities of humans.
By prioritizing responsible innovation and ensuring that AI technologies align with our values, we can shape a future where humans and robots coexist harmoniously, leading to progress and a better world for all.
Related Posts.