The Central Bank of Nigeria has begun the distribution of cash and inputs to cocoa farmers in Nigeria. This loan scheme is under the Anchors Borrowers Programme.
The flag-off ceremony took place in Akure, Ondo state and was attended by members of the Cocoa Farmers Association of Nigeria(CFAN). The ceremony was attended by representatives, cocoa farmers of the beneficiary states and stakeholders in the cocoa value chain business.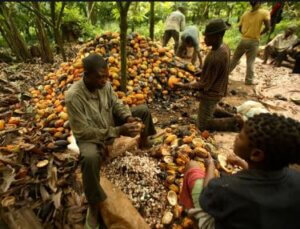 Reputable sources reported that cash and inputs worth #770 million were distributed to 1222 farmers in ten cocoa producing states of the country. The breakdown of beneficiaries is as follows: Ondo-365. Edo-214, Ekiti-38, Osun-193, Kwara-43, Osun-118, Oyo-156, Delta-17, Abia-4.
In addition,
The sources also reported that each farmer would get 300 sachets of Ultima Plus, 12 litres of Clear Weed herbicide, 9 litres of Avesthrin insecticides, 6 litres of Folar cocoa fertilizer and cash.
Mr Adeola Adegoke, the president of the cocoa farmers association of Nigeria, CFAN, said that the assistance of the CBN would lead to an increase in the yield of farmers per hectare. He revealed that under the Anchor Borrowers Scheme the sum of N197,444 was being given out as loan per hectare with a maximum of three hectares per farmer. The loan also attracts a 9% interest payable in 18 months.
Read also: if you are not captured on IPPIS, you are a ghost worker! Buhari slams ASUU
Adegoke said that "the loan is expected to increase beneficiaries production from about 350kg of cocoa beans per hectare to about 600kg". The Anchor Borrowers Scheme for cocoa farmers is being managed by Wema bank. All beneficiaries have opened accounts with the bank for the purpose of the loan scheme.
The President of the association also said that the leadership of the CFAN should be commended for the scheme. He affirmed that the scheme was for farmers who already own farms and want to increase their yield. Adegoke also pleaded with the federal government to assist with irrigation facilities as the country can no longer rely on rainfall.