Unexpected expenses, like car repairs or medical bills, can arise at any moment, leading to financial emergencies and a need for fast cash. Thankfully, the development of loan and lending apps has made it easier than ever to access quick cash advances and overdraft protection. However, with numerous loan applications available in 2023, it can be challenging to determine which lending apps offer the best deals and features for your needs.  The best loan apps provide convenient services without hidden or added costs.
Best Loan Apps 2023
1. Branch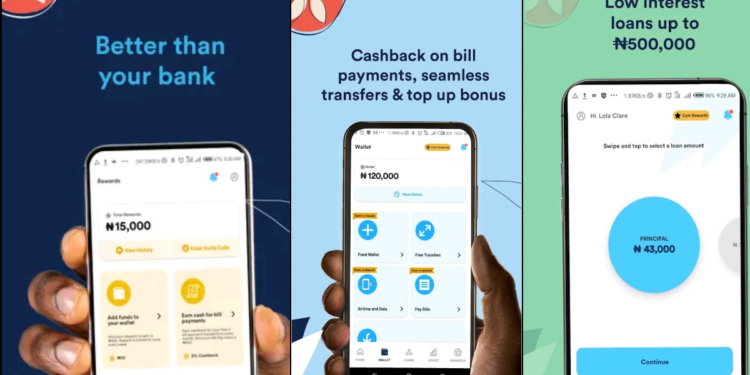 Branch offers quick online loans in Nigeria. Today, the app is one of the most downloaded apps in the lending category on Google Play Store with over 10 million + active downloads and 985k reviews.
The app determines loan eligibility and personalizes loan offers using the lender's smartphone data. The app's monthly interest rates range from 3% – 23% depending on the customer's risk profile. With a good repayment history, you can receive quick access to personal loans ranging from N2,000 to N500,000, and with a loan term ranging from 62 days to one year, the funds will be disbursed within 24 hours.
Interest rates and repayment terms: If you borrow N60,000 at an Annual Percentage Rate (APR) of 181% with a 62-day tenure, based on our analysis the total repayment amount will be N78,400. This figure includes N60,000 principal and N18,400 in interest.

Feature: One of the remarkable features of this lending app is the option to repay your loan in installments. This means that you can choose to make two payments, which can make it more manageable for you to pay off your debt.
2. Palmcredit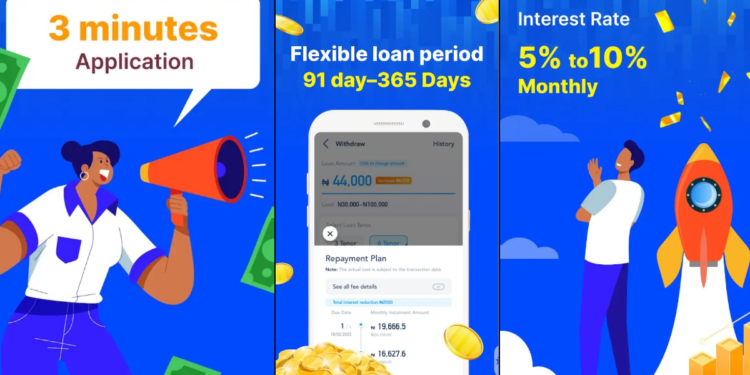 Palmcredit is another lending platform with over 5 million+ active downloads and 151k reviews, This loan app qualifies as one of the best loan apps in the country. This app can provide a quick loan of up to N300,000 which will be disbursed into your account within 24 hours.
Palmcredit uses the interconnected relationships between itself, telecommunication companies, and the banks to provide convenient and instant credit to its users without Collateral or the need to sign paperwork.
Interest rates and repayment terms: the interest rate is between 14% to 24%, the Equivalent Monthly interest is 4%~4.7%, and the Annual Percentage Rate (APR) on a Palmcredit loan is 48%~56%. The loan term is between 14 days to 180 days.
Feature: The user interface of this loan app is easy to navigate and their disbursement speed is fast.
3. FairMoney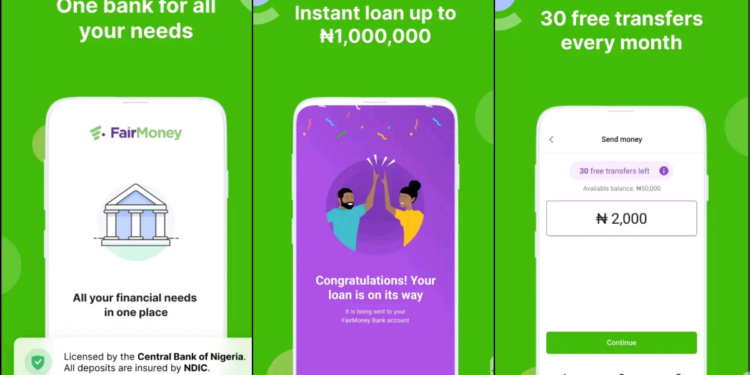 This is a lending platform with 10 million+ active downloads on Google play store and with 571k reviews. FairMoney offers fast loans with easy disbursements with no collateral.
FairMoney offers loans ranging from N1500 to N3,000,000. Your loan amount and tenure will depend on factors such as your lending history and credit behavior. In other words, if you have a positive borrowing track record, you may be eligible for higher loan amounts and longer repayment terms.
Interest rates and repayment terms: Repayment periods from 61 days to 18 months with monthly interest rates which range from 2.5% to 30% (Annual Percentage Rate (APRs) from 30 % to 260%). i.e. If you borrow N100,000 over 3 months, you'll need to make a monthly repayment of N43,333, resulting in a total repayment of N130,000 at the end of the 3-month period.
Feature: FairMoney offers installments repayment and the ability to extend your repayment period if needed.
4. Cabon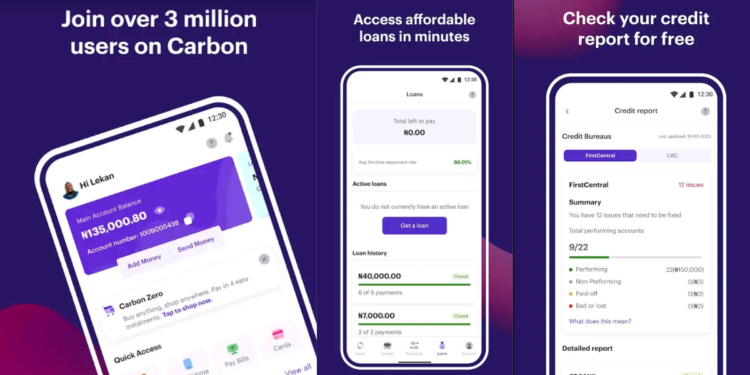 A digital financial service platform that offers a range of financial services, including personal loans, business loans, payments, funds transfers, credit scoring, savings, and investments. With 1 million + active downloads and 145k reviews.
Carbon offers various loan amounts based on customer account history, credit score, financial history, and repayment capacity. As a new customer, you may qualify for Loans 1-4 with amounts ranging from ₦30,000 to ₦800,000 depending on the low ticket criteria. Existing customers who have repaid initial loans can access loan amounts up to ₦1,000,000 (Loan 4+). Timely repayments can increase your borrowing limit.
Interest rates and repayment terms: Their rates range from 2% to 30%, and this depends on the loan repayment period and the amount of money you wish to borrow.
Feature: If you pay on time, you get lower rates and a longer time to repay on your next loan.
11. BlackCopper
BlackCopper loan app is a lending platform that gives you access to a Non-collateral loan and allows you to repay within a specific period of time. This app has 100k + downloads and 1k reviews.
Interest rates and repayment terms: A loan of N15,000 for three months @3% requires repayment of 16,350 at maturity principal N15,000 interest N1,350, and a loan of N15,000 for six months @3% requires repayment of 17,700 at maturity principal N15,000 interest N2,700.
Feature: Transactions Confirmation with the Use of Fingerprint & Facial ID, which is a good security feature.
12. Okash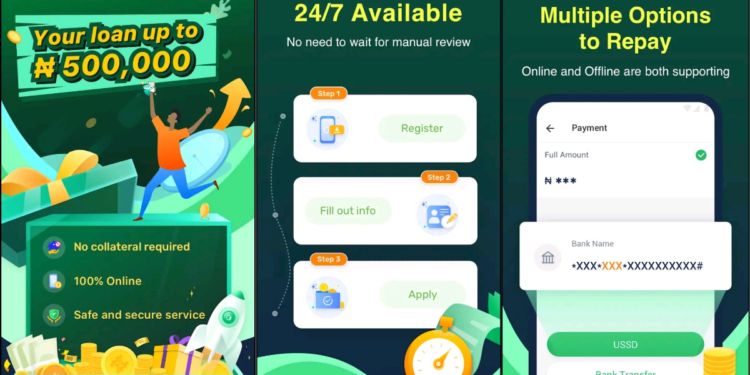 Okash is a convenient quick online loan platform for Nigeria mobile users managed by Blue Ridge Microfinance Bank Limited, with 5 million + active downloads, and 145k reviews. loan options range from N3,000 to N500,000, and customers can choose a repayment plan from 91 days to 365 days.
Interest rates and repayment terms: The company's range from 0.1% to 1%. However, Okash interest rate is calculated on a daily basis, which amounts to an Annual Percentage Rate (APR) of between 36.5% to 360%.
Feature: OKash fulfills customers' financial needs 24/7 completely online.
We are coming to the end of this article and I hope it has been informative enough, when unexpected bills come knocking at your door, You will know what to do and which loan apps to seek out. Before we go let's briefly discuss Cash Advances and overdraft protection. We will also check out the list of fake loan apps in Nigeria, apps you need to flee from, no matter how juicy their offer seems. Finally, we will see loan apps that don't require Bank Verification Number (BVN) in Nigeria, Let's get to it;
Cash Advances
A cash advance is a short-term loan from a bank or an alternative lender. This is basically a short-term loan offered by your credit card issuer. When you take out a cash advance, you're borrowing money against your card's limit.
Pros and Cons of Cash Advance
Cash Advance apps can help consumers avoid overdraft fees and cover minor, unexpected expenses—but they're just a bandaid, not a long-term solution. Consider the pros and cons before committing to one;
Pros of Cash Advance
Access to fast access to cash in an emergency
Can be cheaper than paying an overdraft fee to your bank
Often accessible to users with bad credit
Cons of Cash Advance
Fees and tips can equate to high-interest rates
This can still lead to an overdraft fee if funds aren't available when repayment is due
Overdraft Protection
Overdraft protection is a service that ensures a check, ATM, wire transfer, or debit card transaction will be approved even if there are insufficient funds in the account. However, overdrawn accounts may be charged high overdraft fees and interest. Fees vary depending on the type of linked account.
List of Fake Loan Apps in Nigeria
15 loan apps that are banned in Nigeria
ChaCha.
Easy Moni.
EasyCredit.
GoCash.
Here4U.
Kashkash.
Maxi Credit.
SoftPay.
CashCash
GoCash
Cashmall
Cash Lion
Cash Wallet
GG Money
Borrow now
These fake loan apps need to be avoided at all costs, As of January 2023, the FCCPC said a total of 78 companies had secured full approval to operate as digital lenders in the country. A total of 40 others are said to have gotten conditional approval from the Commission, bringing the total number of digital lenders under the watch of the FCCC to 118.
Loan app without BVN in Nigeria
After much research In the Digital lending space, I can confidently tell you that there is no reputable loan app that will lend you money without your Bank verification number (BVN), this is because your BVN is like an Identification Number, and financial institutions consider individuals without BVNs a flight risk.
Conclusion
Obtaining a loan in Nigeria is now easier than ever, thanks to the availability of loan apps. However, the difficulty lies in knowing the legitimate apps from fraudulent ones. This can lead to confusion and misconceptions among borrowers. However, we have highlighted only the loan apps that are registered and approved by the CBN and Nigerian government.