A suitcase is an essential item for any traveler; however, with the abundance of various types and sizes of suitcases available on the market, determining which one suits your needs can be quite challenging.
In this blog post, we will discuss everything you need to know about buying and packing a suitcase, from choosing the right size and material to packing your clothes efficiently. Additionally, we will also provide tips on how to avoid common packing mistakes and keep your suitcase organized.
How to Buy the Perfect Suitcase
When you're about to set off on your journey, the very first crucial step is picking the perfect suitcase that fits your requirements.
You've got two main choices: Hard Shell and Soft Shell. Let's break down both options, as each comes with its unique benefits.
Hardshell Suitcase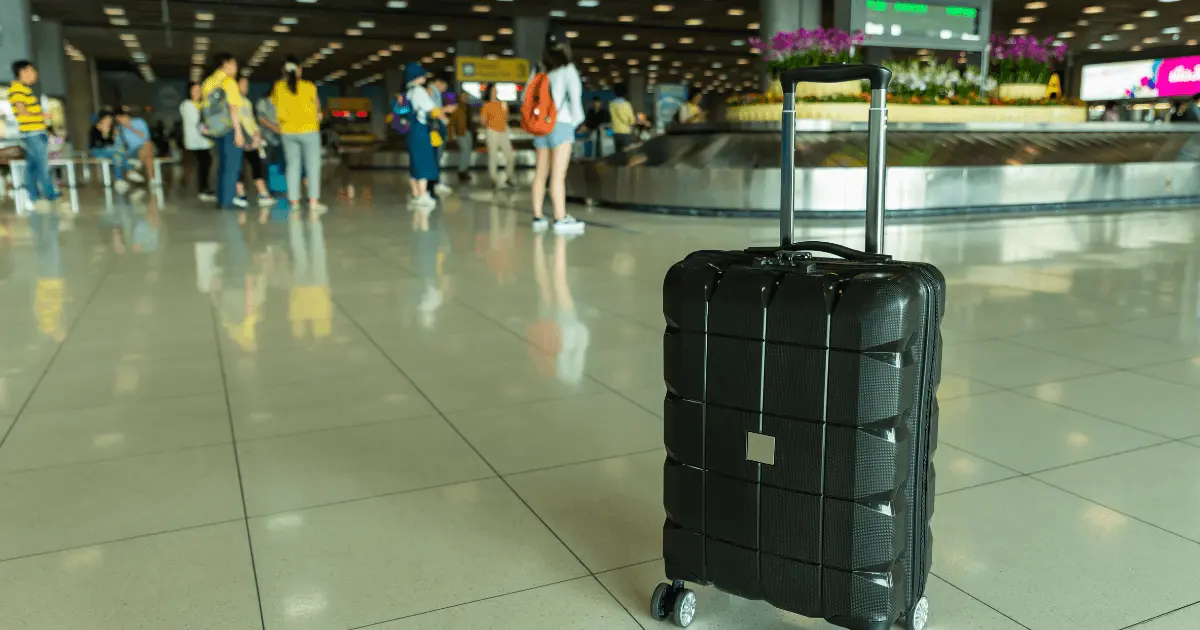 Hardshell suitcases are known for their rigid and sturdy exterior, making them a popular choice for travelers seeking robust protection for their belongings.
Features:
Constructed from tough materials like polycarbonate, ABS, or aluminum.
Clamshell-style opening with two equal-sized compartments.
Often equipped with TSA-approved locks for security.
| | |
| --- | --- |
| Advantages of Hardshell Suitcases | Disadvantages of Hardshell Suitcases |
| – Exceptional protection for fragile items. | – Vulnerable to cracking, especially in extreme conditions. |
| – Resistant to water, stains, and odors. | – Prone to scratches and dents. |
| – Suitable for organized packing with dual compartments. | – Limited flexibility for tight storage spaces. |
Factors to Consider When Buying One:
Material choice: Polycarbonate for durability, ABS for budget-conscious travelers.
Wheel type: Spinner wheels for ease of maneuverability, but also check for durability.
Size: Choose according to your travel needs and airline restrictions.
Exterior finish: Matte finishes are less prone to visible scratches.
Price Range:
Budget-friendly hard shell suitcases: $50 – $150
Mid-range options: $150 – $300
Premium hard shell suitcases: $300 and above
Softshell Suitcase
Softshell suitcases are known for their flexibility and lighter weight, making them a versatile choice for a wide range of travelers.
Features:
Typically made from durable fabrics like ballistic nylon or polyester.
Single large compartment for packing.
Exterior pockets for convenient storage.
Often equipped with zippers and expandable sections.
| | |
| --- | --- |
| Advantages of Softshell Suitcases | Disadvantages of Softshell Suitcases |
| – Excellent flexibility for fitting into tight spaces. | – Offers less protection for fragile items compared to hardshell. |
| – Lightweight design reduces overall luggage weight. | – Light-colored options can be challenging to clean. |
| – Exterior pockets provide quick access to essentials. | – Prone to wear and tear over time. |
Factors to Consider When Buying One:
Material choice: Ballistic nylon for durability, polyester for affordability.
Wheel type: Ensure the wheels are sturdy and suitable for your travel terrain.
Size: Comply with airline size restrictions for carry-on or checked luggage.
Exterior pockets: Check for ample storage if you need quick access to items.
Price Range:
Budget-friendly soft shell suitcases: $30 – $100
Mid-range options: $100 – $250
Premium soft shell suitcases: $250 and above
Now that we've talked about the first thing to think about when you're getting a new suitcase, furthermore, let's look at some other important stuff. We'll talk about understanding the difference between suitcases with four wheels that spin and those with two wheels that don't spin much. We'll also see how to pick the right size for your luggage and check how strong the suitcase materials are.
Four-Wheel Spinners vs. Two-Wheelers Suitcase
Wheel configuration is another critical factor to carefully weigh before making your purchase. Ensuring a smooth and hassle-free travel experience hinges on selecting the ideal wheel configuration for your suitcase.
| Aspect | Four-Wheel Spinners | Two-Wheelers |
| --- | --- | --- |
| Maneuverability | Excellent maneuverability with 360-degree rotation. | Less maneuverable than spinners but offer good stability. |
| Ergonomics | More ergonomic as they reduce strain on arms and wrists. | Require more effort to pull, potentially causing strain. |
| Stability | May tip over when not properly balanced. | Generally more stable when standing upright. |
| Durability | Wheels are more exposed and may be vulnerable to damage. | Typically more durable as they lack complex rotating parts. |
| Suitable Terrain | Ideal for smooth surfaces, like airports and hotels. | Better suited for uneven terrain like cobblestones or gravel. |
| Packing Space | Spinner wheels occupy some internal space. | Two-wheelers provide more internal packing space. |
Choosing the Right Size of Suitcase
Selecting the right size for your luggage is essential and can make your travels more comfortable and stress-free.
Here are factors to consider:
Travel Duration: The length of your trip will determine the size of your suitcase. Short trips can be managed with a carry-on, while longer journeys will require larger checked luggage.
Airline Restrictions: Check the baggage size and weight limits of the airlines you frequently use, especially for carry-on luggage. Different airlines have different rules.
Storage Space: Consider where you'll store your suitcase when not in use, both at home and during your travels. Ensure it fits comfortably in your living space and accommodations.
Transportation: Think about how you'll be traveling. If you'll be navigating public transportation, compact luggage will be more convenient.
Suitcase Materials and Durability
| Luggage Material | Durability | Weight | Scratch Resistance |
| --- | --- | --- | --- |
| Polycarbonate | High | Moderate | High |
| ABS (Acrylonitrile Butadiene Styrene) | Moderate | Low to Moderate | Moderate |
| Ballistic Nylon (Soft Shell) | Moderate | Low to Moderate | High |
| Aluminum | High | High | Moderate |
Here are factors to consider when deciding on the best material for your suitcase;
Your Travel Style: Frequent travelers may benefit from investing in more durable materials.
Weight: Consider the weight of the material, especially if you want to maximize your packing capacity while staying within airline weight limits.
Budget: Your budget might influence your choice of materials.
Finally, you might want to go for suitcases with extra functionalities, here are some useful features ;
Built-in USB Chargers:  Built-in USB ports and removable battery banks for charging devices on the go.
Expandable and Compressible Designs: Expandable zippers and compression systems will help maximize packing space.
Modular Systems: Detachable components or bags that can be combined for customized packing solutions.
Built-in Scales: Integrated digital scales which allow you to check your luggage's weight instantly is another feature that is worth investing in.
How to Pack Your Suitcase for Travel
When it comes to packing for a trip, it's essential to strike a balance between bringing everything you need and keeping things minimal. The key is to pack smartly, ensuring you have everything you need without overloading your suitcase.
1. Organizing Your Clothes
The first step is to organize your clothes effectively. Consider rolling them up into compact rolls, it is a great technique to keep everything neat and save space. Don't forget to consider the weather at your destination and pack accordingly. Planning your outfits based on your itinerary will help avoid overpacking.
2. Underwear and Socks
Use a small pouch or bag to keep your underwear and socks organized. his prevents them from getting scattered in your suitcase, and it's easy to find what you need.
3. Hygienic Separation
Also, consider bringing a small laundry bag for your dirty clothes. This keeps them separate from the clean ones and maintains hygiene throughout your trip.
4. Toiletries
Invest in a toiletry bag that helps you keep your personal care items organized and clean. It's a good idea to pack your toiletries the morning of your trip to ensure you have everything you need.
5. Accessories and Jewelry
It is advisable to use pouches or small bags for accessories, jewelry, and hair ties. This keeps them from tangling or getting lost in your luggage.
6. Footwear
Place them in separate bags to maintain hygiene.
7. Personal Items and Essentials
For personal items, such as passport, wallet, and glasses, keep them easily accessible in your carry-on bag.
8. Electronic Gear
If you're carrying electronic gear, pack it safely and separately in designated bags or cases to prevent damage.
9. Travel Comfort
To ensure a comfortable journey, consider packing items like lip balm, hand cream, and wet wipes. These simple additions can make a significant difference in your travel experience, especially in dry or unfamiliar environments.
10. Carry-On Essentials
Your carry-on bag should contain essentials for your trip/flight. Include items like a portable charger, headphones, and any personal necessities you'll need during the journey. Having these items easily accessible can make your travel experience more enjoyable.
11. Packing Strategy
Efficient packing starts with smart organization. Roll your clothes to save space and keep everything neat then plan your outfits according to your schedule, and don't forget to check the weather at your destination, you can check here for weather updates. Consider wearing heavy items during your journey to reduce the weight of your suitcase and maximize space.
Women Suitcase
When it comes to choosing a suitcase, women often seek a blend of style and functionality. After all, your luggage should reflect your personality and meet your travel needs.
Here are some considerations for selecting the perfect women's suitcase.
| Features | Description |
| --- | --- |
| Fashionable Designs | Women's suitcases offer a wide range of stylish designs and colors to match your style. |
| Durability and Quality | Look for high-quality materials and construction to ensure your suitcase can withstand the rigors of travel. |
| Size and Weight | Consider the size that suits your travel needs, whether it's a compact carry-on or a spacious checked bag. Look for lightweight options for ease of handling. |
| Interior Organization | Many women's suitcases feature well-organized interiors with compartments, pockets, and dividers to keep your belongings neat. |
| Security Features | Prioritize safety with suitcases that offer reliable locks and zippers. Some may even have built-in TSA locks for added security. |
| Maneuverability | Choose suitcases with multi-directional spinner wheels and adjustable telescopic handles for effortless mobility. |
| Versatility | Opt for suitcases with adaptable features like removable compartments or expandable sections to accommodate various travel scenarios. |
| Tech Integration | Some women's suitcases come with integrated charging ports, perfect for staying connected on the go. |
| Brand and Warranty | Select a reputable brand known for quality and check for a warranty that reflects the manufacturer's confidence in their product. |
Wrap Up
In the world of travel, your suitcase transcends its role as mere luggage; it becomes your faithful travel companion. Having reviewed the crucial aspects of selecting the ideal suitcase, such as the choice between a hard shell and a soft shell, maneuverability, materials, style, and functionality, it's clear that finding the right match is paramount.
Ultimately, the key takeaway is ensuring that your ideal suitcase aligns perfectly with your unique travel requirements, regardless of whether you're a frequent or occasional traveler. This thoughtful choice will undoubtedly enhance the ease and seamlessness of your journeys.
FAQ's
How many Litres is a 23 kg suitcase?
80 – 100 liters.
How many kg are allowed on international flights?
23KG/50LBS.
Related Posts